Collectibles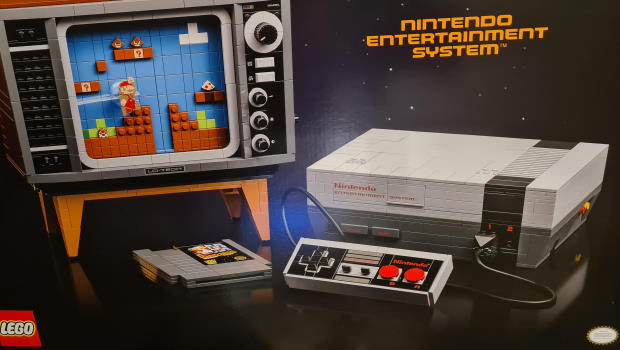 Published on August 29th, 2021 | by Chris O'Connor
Lets'a Lego NES
I turned 43 recently and I'm very pleased to say my wife knows that age is just a number… because she/my family got me a Lego NES! I'd seen these floating around for a while and I was curious as to what they entailed… well now I know.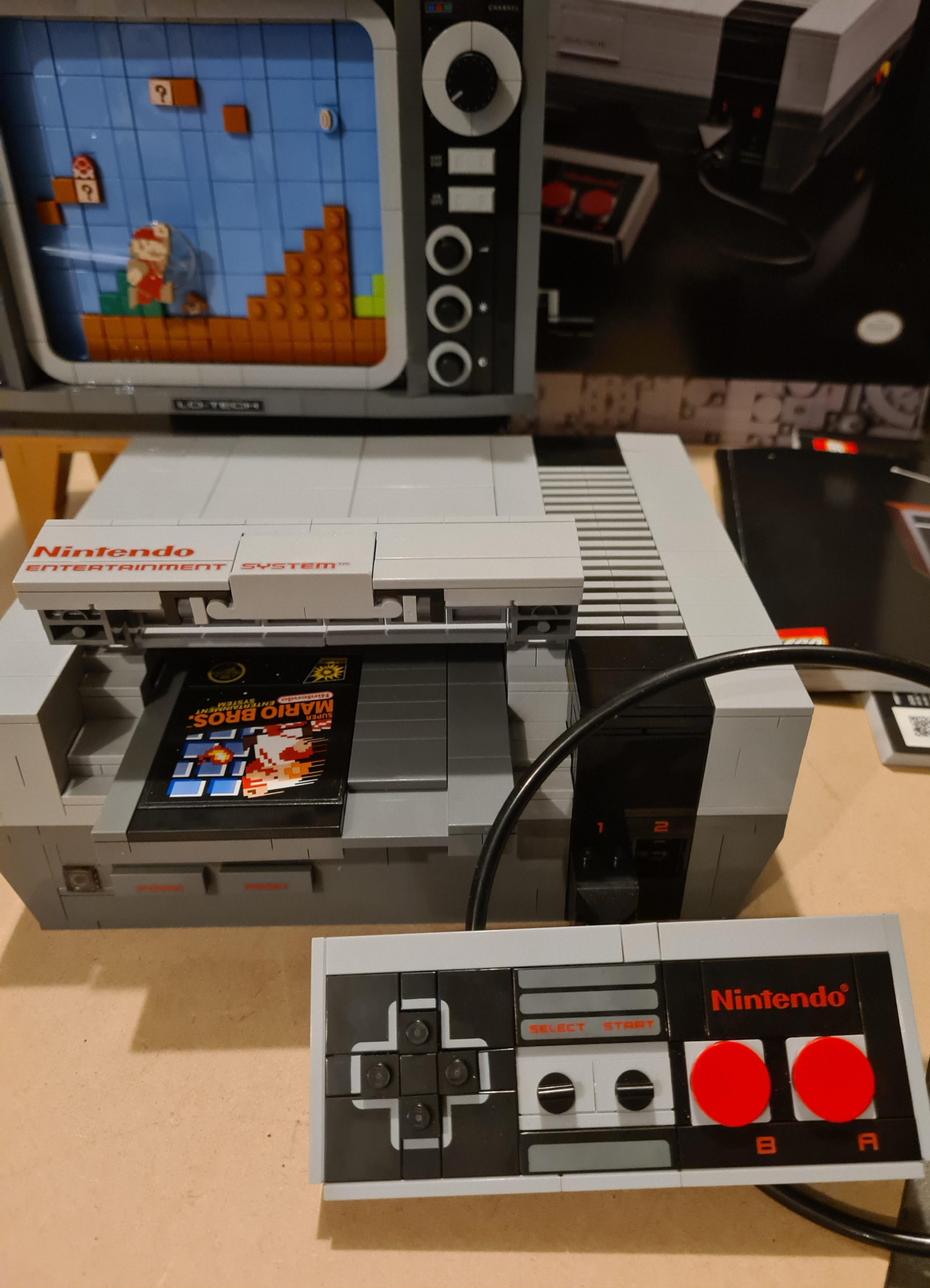 First off the box gives you a decent idea, they certainly seem to have all the bases covered… the sticker for the game title on the cartridge was expected… but I wasn't expecting the sticker for the back of the TV… now that's attention to detail.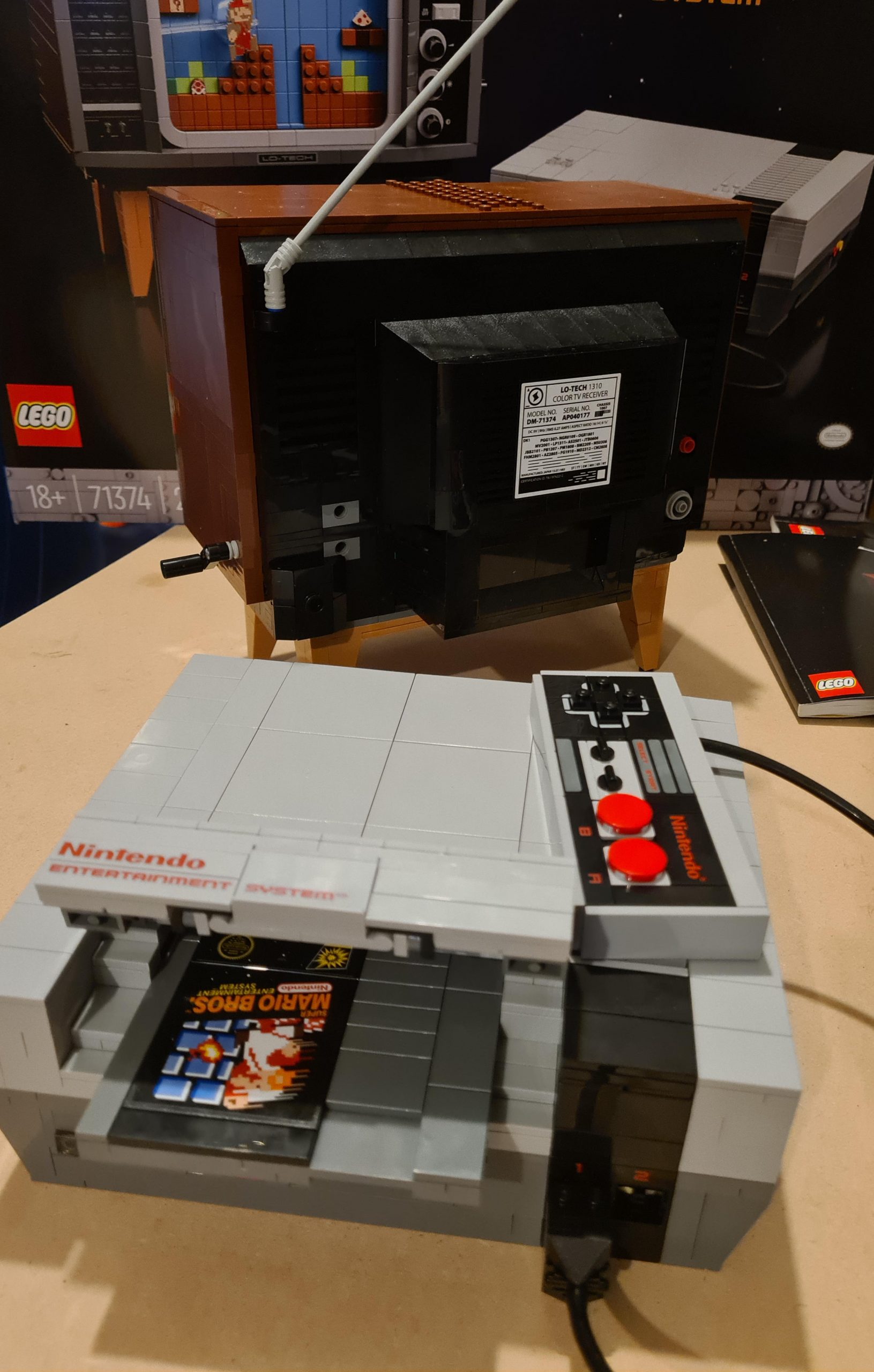 I had my two youngest children helping with this build. The set is split into two instruction manuals, one for the TV and one for the console. The TV had more pages and looked like it was more complex so I took that any my son and daughter tackled the console (my son is 11 and my daughter is 9 and they did a great job putting the console together).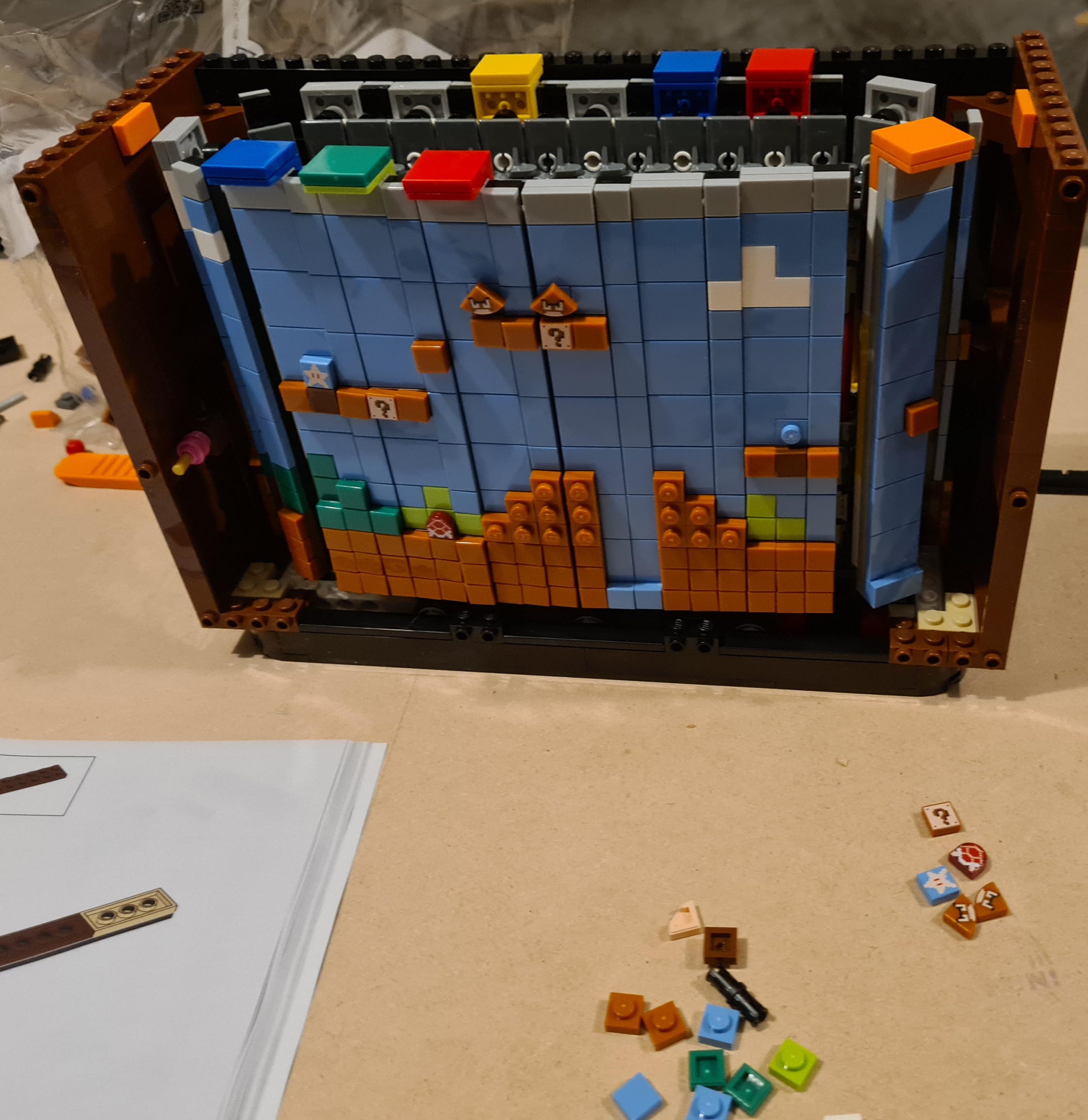 There are a few features I'd like to call out. The first, which is somewhat apparent from the picture on the box, is that the scene is scrollable. I was curious how they were going to manage the scrolling with bricks and it turns out they use a kind of "tank tread" with bricks placed on it approach that works brilliantly. As I was putting that together I noted that there were some coloured bricks at the top at certain intervals and I couldn't figure out what they were there for as they would basically be covered by the frame of the TV… it wasn't until the follow day when my son took his Lego Mario (from a separate but as it turns out compatible set) and hovered him over the little code square on top, then plopped him into the little gap in the front of the top of the TV… then as you turn the crank to scroll the screen, Mario reacts to what is happening in the scene (so the coloured bricks were triggers).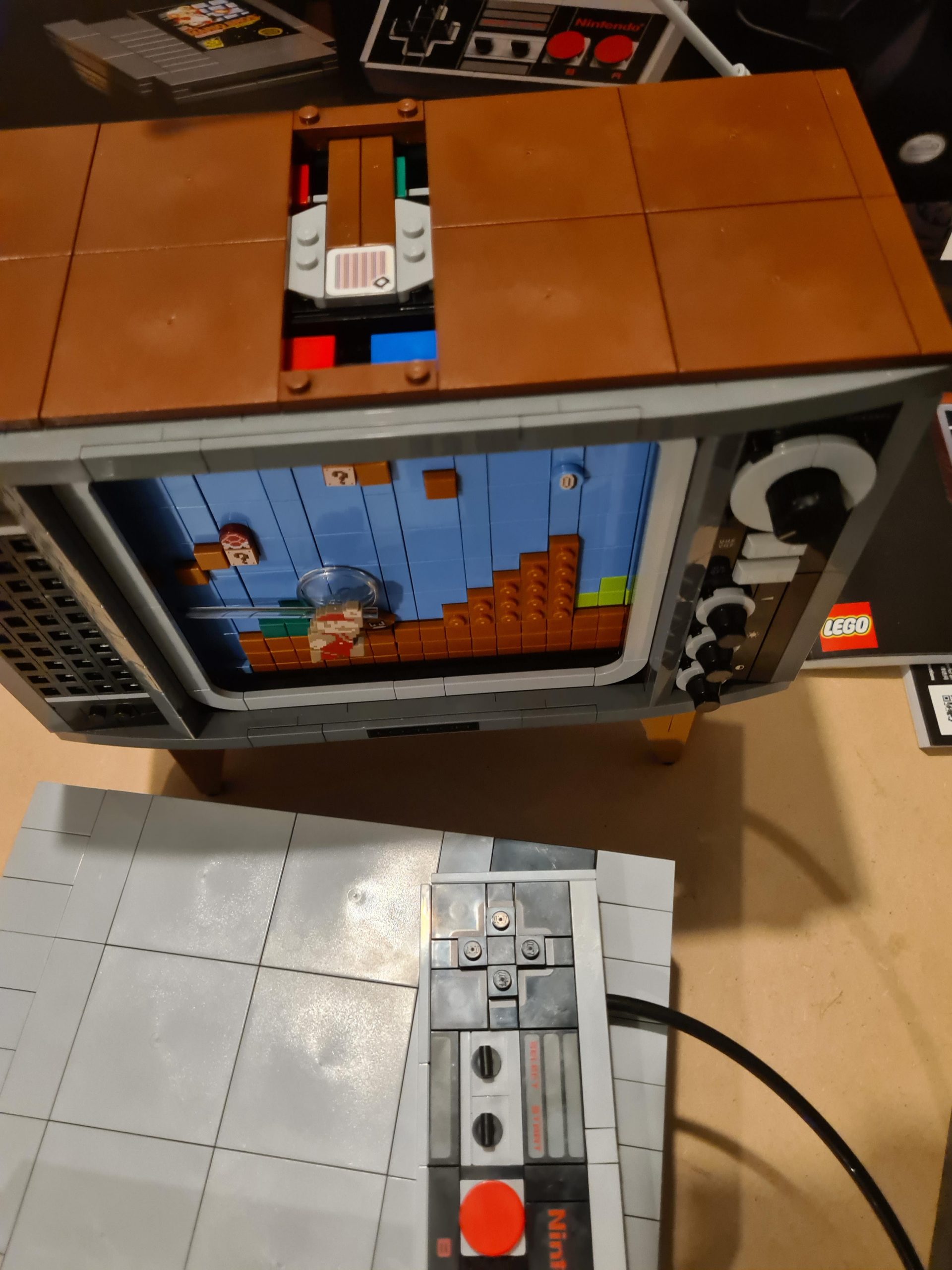 Also within the TV is a rubber "stick" that sits just behind the channel dial… the effect of it's placement is the dial feels like it is really changing between channels and it even has a click sound as you turn it. The aerial can be put up and adjusted just like the old aerials some of us remember having to adjust to try and get decent reception. The console itself has an impressive spring loaded cartridge loading system so you can push the cartridge in and down and it will lock in place… then press it to release it again.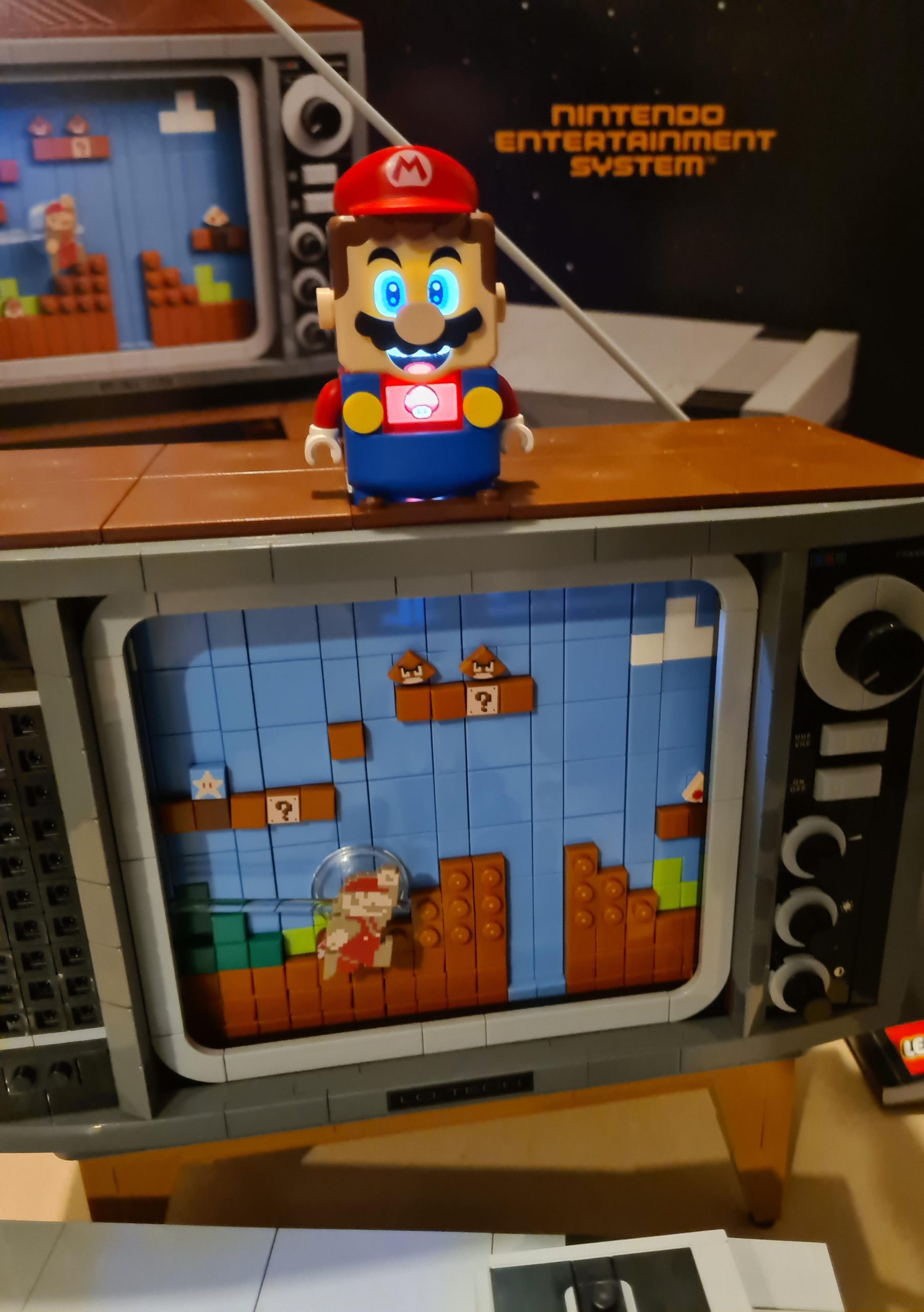 I was thrilled with it just as it was… but finding out it was compatible with the Lego Mario set is icing on the cake. Another excellent creation from Lego and their talented designers!