News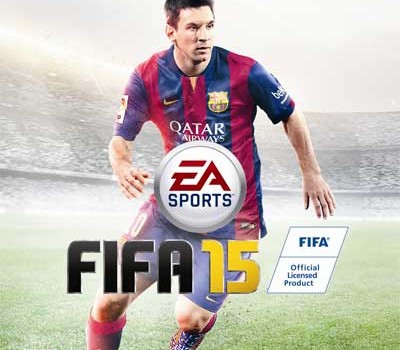 Published on July 15th, 2014 | by admin
LEO MESSI TO STAR ON GLOBAL COVER OF FIFA 15
EA SPORTS today announced that Leo Messi is set to appear on the global cover of EA SPORTS FIFA 15 – due out late September 2014.  Falling just short after a stunning performance that saw him receive top individual honors at the 2014 FIFA World Cup, the 27 year-old won four Man of the Match Awards and scored the same number of times in the tournament. Messi had 28 goals for FC Barcelona this past season. EA SPORTS is honored to have Messi lead a roster of international superstars set to appear on the cover of FIFA 15.
This season will mark the fourth consecutive time that Messi stars on the cover of a FIFA title previously appearing on FIFA Street, FIFA 13, and FIFA 14. In that time, Messi has been on top of the football world at FC Barcelona, setting the record for most goals in a year (91) and marking a milestone as the only player to receive the FIFA Ballon d'Or four times. Leo Messi was originally announced as an EA SPORTS Football Ambassador in November 2011, a partnership that has not only put him on the cover of multiple FIFA titles but also brought a new street football pitch to Barcelona thanks to the Messi foundation and EA SPORTS.
FIFA 15 Global Cover is attached to this press release.
Messi stats:
International debut: 2005
International games: 93
International goals: 42
World Cup goals: 5
La Liga Titles: 6
FC Barcelona Goals: 243
European League Titles: 3
European League Goals: 68
FIFA Ballon d'Or: 4
FIFA 15 brings football to life in stunning detail so fans can experience the emotion of the sport like never before. Witness the intensity of crowds chanting and cheering on match day, and listen to commentators guide fans through the story of the game with Dynamic Match Presentation. For the first time ever, all 22 players on the pitch are connected with Emotional Intelligence allowing players to react to opponents and teammates within the context, and relative to the narrative of the match. Football is the greatest drama on earth and FIFA 15 puts fans center stage, allowing them to feel the emotion and intensity of the world's greatest sport.
FIFA 15 hits store shelves on September 25 in Australia and September 26 in the New Zealand. Pre-order your copy today, and pick up the Ultimate Edition to get exclusive content.
Stay tuned to EA SPORTS FIFA Twitter and Facebook to find out who will be joining Messi on the pack in different parts of the world.