Hardware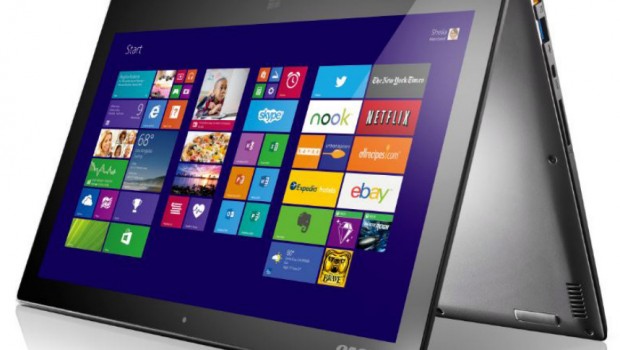 Published on October 30th, 2013 | by admin
Lenovo Unveils Its First Multimode Yoga Tablet
Debuts three innovative modes and incredible 18 hours of battery life  
SYDNEY – October 30, 2013: Multimode computing leader Lenovo (HKSE: 992) (ADR: LNVGY) today debuted its first multimode Yoga Tablet at a livestream event at the YouTube Space LA with Ashton Kutcher, the company's newest product engineer. Known for pioneering innovative multimode devices like the Yoga convertible laptop, Lenovo now brings people a new way to get the most out of their tablet experience.
The game-changing Yoga Tablet features three unique modes, giving consumers a better way to use a tablet. With hold, tilt and stand modes the tablet adapts to the way people use it instead of forcing people to adapt to the technology. Additionally, the Yoga Tablet has an amazing up to 18 hours of battery life1 to truly fit user's ultra mobile lifestyles.
"Watching and discovering that people frequently use tablets in three main ways allowed us to break the mould on the current 'sea of sameness' designs, giving them a better way to read, browse, watch and interact with content," said Liu Jun, senior vice president and president, Lenovo Business Group, Lenovo. "As consumers' continue to demand innovative multimode designs we're thrilled to have Ashton Kutcher on board with us to help further develop the immersive and complementary hardware and rich-content experience."
Matt Codrington, Managing Director for Lenovo ANZ further added "We're proud to bring this unique product to Australia. This is a next generation tablet which has been designed specifically in response to consumer feedback about current tablet limitations. The Yoga Tablet extends Lenovo's PC+ leadership in Australia and provides a new multimode choice for local consumers".
Yoga Tablet: Three Modes & Longer Battery Life Give Tablets A Better Way
One size does not fit all, especially when it comes to tablets. Lenovo designers and engineers identified three challenges tablet users face: fatigue when holding and using the tablet; no self-supporting mechanism when laid on a flat surface; and an inadequate viewing angle when set on a table. These scenarios inspired Lenovo to break the mould on the "sea of sameness" design and to create Yoga Tablet's unique modes.
With its exclusive cylindrical handle, hold mode is designed to fit an individual's hand, so it's easier to hold and offers more control over the device whereas other tablets require two hands. Hold mode makes reading, checking social media and browsing the web easy and parallels how people hold magazines when reading.
To convert the Yoga Tablet into stand mode, simply rotate the side cylinder 90° so that the tablet stand deploys and the tablet stands by itself on a desk or table. Users can change the viewing angle to fit what's comfortable to them from 110° to 135°. Stand mode makes it easy for users to comfortably watch movies, place video calls and interact with the ten finger touchscreen without having to rely on add-on accessories.
Users can lay the Yoga Tablet down in tilt mode to type directly on the tablet, play games and just surf the Internet with a better viewing angle. To further enhance the rich content and multimode tablet experience, users can enable the tablet's Smart Side Bar that automatically brings up frequently used apps in hold and stand modes.
The Yoga Tablet's multimode design not only provides a better usability experience, it offers dramatically longer battery life of up to 18 hours1, which is significantly more than the amount of typical tablets. Its cylindrical handle packs in powerful, dual batteries and unlike most tablets, it uses batteries typically found in laptops. The Yoga Tablet can even charge other devices such as smartphones via its USB on-the-go2. The 10 inch and 8 inch models run on a powerful MTK 1.2 GHz quad-core processor and runs on Jelly Bean, Android 4.2. Also equipped with Dolby® audio, Yoga Tablet's front-facing speakers create a powerful surround sound experience through the device speakers and with headphones.
Extremely mobile, both models are featherweights weighing in at 605g for the 10-in model and 401g for the 8-in model. They feature high definition 1280 x 800 IPS displays, a 5 MP auto focus rear camera plus an additional 1.6MP front camera, a micro SD expansion slot, expandable up to 64GB storage, WiFi, a micro USB connection and Dolby DS1 for rich audio. Lenovo offers an optional Bluetooth keyboard for the Yoga 10 model that functions as a cover and even wakes up the tablet when it's removed and puts the tablet to sleep when it's attached.
For the latest Lenovo news, subscribe to Lenovo RSS feeds or follow Lenovo on Twitter and Facebook. Also follow news about the Yoga Tablet at #betterway. The press kit is available at: http://news.lenovo.com/betterway.
Pricing and Availability3
MSRP is $349 and $399, for the 8-in and 10-in, respectively available the first week of November, the 8-in model and 10-in model are available at JB Hi Fi and www.lenovo.com.au. The Lenovo Yoga 10 Bluetooth Keyboard Cover is $99 and will also be available first week of November at JB Hi Fi and www.lenovo.com.au.