Hardware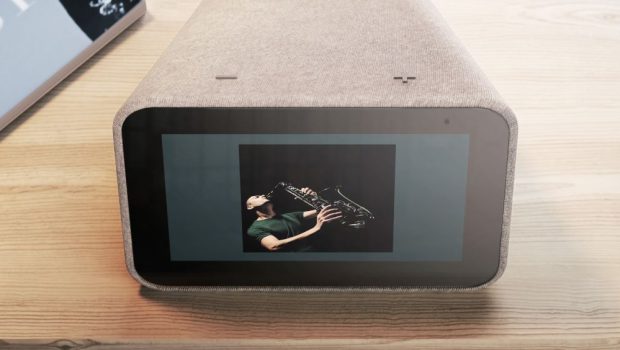 Published on May 23rd, 2019 | by Admin
Lenovo™ introduces Smart Clock with Google Assistant and Smart Essentials in Australia
Announced at CES 2019, the Lenovo Smart Clock with Google Assistant is now available for pre-order in Australia. The latest addition to Lenovo's innovative smart living product line is purpose-made for your bedroom, helping you unwind in the evening, kick start your day, control your smart home and listen to your favourite music with multi-room audio grouping.
The Lenovo Smart Clock is the latest device in the smart home family to bolster Lenovo's continued commitment to making families' lives easier and more productive. In July this year, Australia will also see the Lenovo Smart Home Essentials added to the line-up to bring a fully immersive smart home experience.
The Lenovo Smart Clock is your bedroom's new best friend, supporting voice and touch control on a subtle 4-inch IPS screen. With its compact size, it will fit perfectly on a nightstand and blend into your bedroom décor, with a full fabric soft-touch cover.
Sleep soundly
The Lenovo Smart Clock is optimised to help users develop healthier sleep habits. Recent studies have shown that excess cognitive stimulation through too much screen time before bed can disrupt sleep patterns. Most of us know this already—we've all stayed up way past bedtime to binge-watch a new show on our smartphones or tablets or scrolled through notifications and emails just before bed. Our sleep is now more interrupted—a third of us wake up in the middle of night just to check our phones, while 10 percent check them the first thing in the morning.
That is why Lenovo has created the Lenovo Smart Clock to serve as your ultimate bedroom companion to cut down on disruptive screen time throughout the evening and help improve your sleep hygiene. The Google Assistant makes it easier to set up sleep routines, such as dimming the lights and displaying your first calendar event with just a single command, such as "Hey Google, Good Night." With a full-size USB port for convenient phone charging, there is one less thing to worry about.
Lenovo Smart Clock can be programmed to complement your wake and sleep cycles, while offering visually assisted experiences when you need them the most. Just start with "Hey Google."
Full smart speaker insider, great audio outside
Research also shows that ambient noise, relaxing music or guided sleep meditation can help promote more restful sleep, which is why Lenovo has paid extra attention to speaker quality in the Lenovo Smart Clock. Ask the Google Assistant to play some relaxing music or guided meditation, and the Lenovo Smart Clock will play clearly.
Don't get fooled by its compact size – the Lenovo Smart Clock hides a full-range 6W speaker and two passive radiators that can fill up a large bedroom, tuned with the latest background noise reduction technology for enhanced radio listening. And with multi-room functionality, you can also add the Lenovo Smart Clock to a home speaker group and play music, audiobooks, podcasts and radio across multiple devices in several rooms. The Lenovo Smart Clock also works with ChromecastTM, so you can stream shows and music on your TV or speakers with just your voice.
Wake up more refreshed
Awakening to the Lenovo Smart Clock is designed to be as pleasant and refreshing as possible with the Google Assistant's gentle wake-up routine. Set your lights to progressively brighten and your alarm to gradually increase in volume starting 30 minutes before your scheduled wake time. Your customised morning alarm will then automatically trigger a morning routine, telling you about today's weather, your personal agenda and reminders, as well as displaying your commute to work. And whatever your choice of sound, music or ringtones to wake up to, just tap on the Lenovo Smart Clock to snooze or dismiss the alarm.
What's more, users can now have another convenient and affordable hub from which to control their home. Set the Lenovo Smart Clock when you wake up to automatically turn on your coffee maker in the kitchen or heater in the living room. Or check your front door security camera and the kids' room from your bed. The Lenovo Smart Clock connects seamlessly with every smart device in your home, supporting over 10,000 products and 1,000 partners and brands.
Smart Clock pricing and availability in Australia
The Smart Clock is available for pre-order from 23rd May, and in store from 6th June for $129 at JB Hi-Fi, Harvey Norman, Officeworks, The Good Guys and Lenovo.com.au.
Lenovo Smart Home Essentials launching in Australia
Lenovo Smart Home Essentials offer new users the ultimate starter pack for a smart home that's both easy to set up and flexible. The Lenovo Smart Plug lets you power any compatible plug-in device off and on, while the Lenovo Smart Bulb can brighten and dim any room, or even adjust the colour temperature—all from the app.
Users can easily control their Smart Home Ecosystem devices using the Lenovo Link app on their phone or simply with their voice, as they will work with the Google Assistant or Amazon Alexa platforms.
Smart Home Essentials pricing and availability in Australia
The Lenovo Smart Bulb (white and multi colour) and the Lenovo Smart Plug will launch in Australia in July 2019. The Smart Home Essentials will be available at JB Hi-Fi, Harvey Norman, The Good Guys, Officeworks.