Books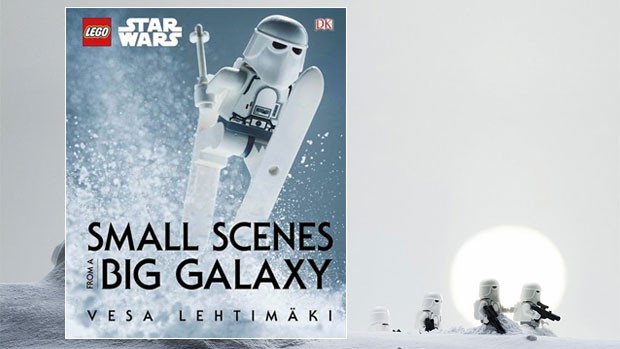 Published on November 10th, 2015 | by Tory Favro
LEGO Star Wars Small Scenes from a Big Galaxy Review
Summary: LEGO Star Wars Small Scenes from a Big Galaxy captures the amazing photography and talent of Avanaut which showcases both Stars Wars and LEGO in this book
I've been involved in capturing pictures of toys, specifically Lego for quite a few years now and posting them online, particularly to Instagram where I go by the handle of idiotboxradio. I love taking these shots and sharing them with whoever happens to follow my account or stumble across it. Whilst I certainly have enthusiasm, I know that there are those out there that take pictures that stagger even non Lego fans and Vesa Lehtimaki aka Avanaut is one of them.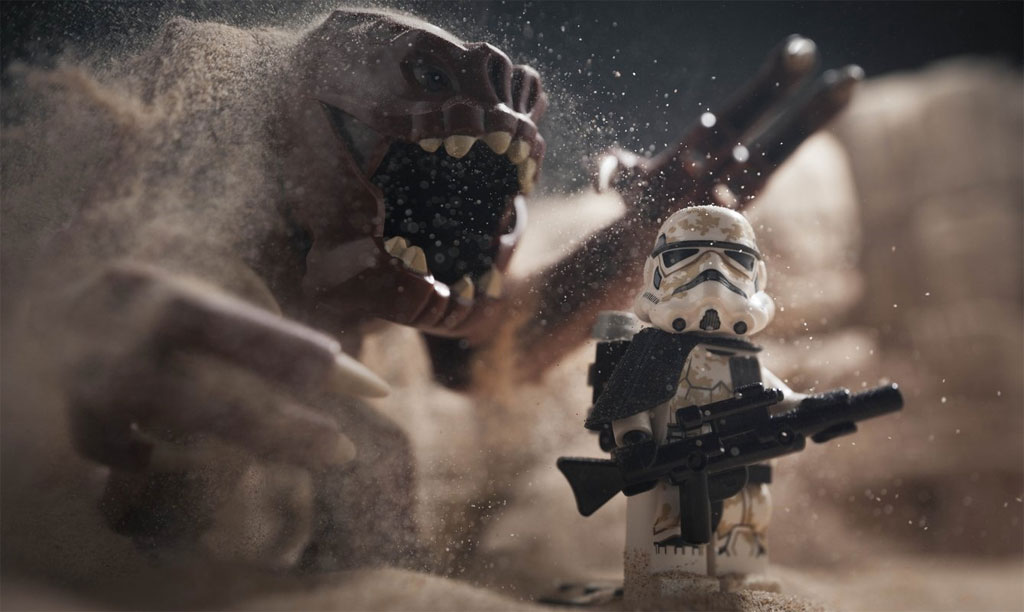 This book, LEGO Star Wars Small Scenes from a Big Galaxy is a beautiful tribute to his work. Avanaut tooks pictures that blow you away to the extent sometimes you forget you are looking at a Lego minifigure, and believe the little person he has captured is a real creature experiencing whatever predicament he has placed them in that focuses on a Star Wars theme. There is a realism to be found here that makes this book a must buy.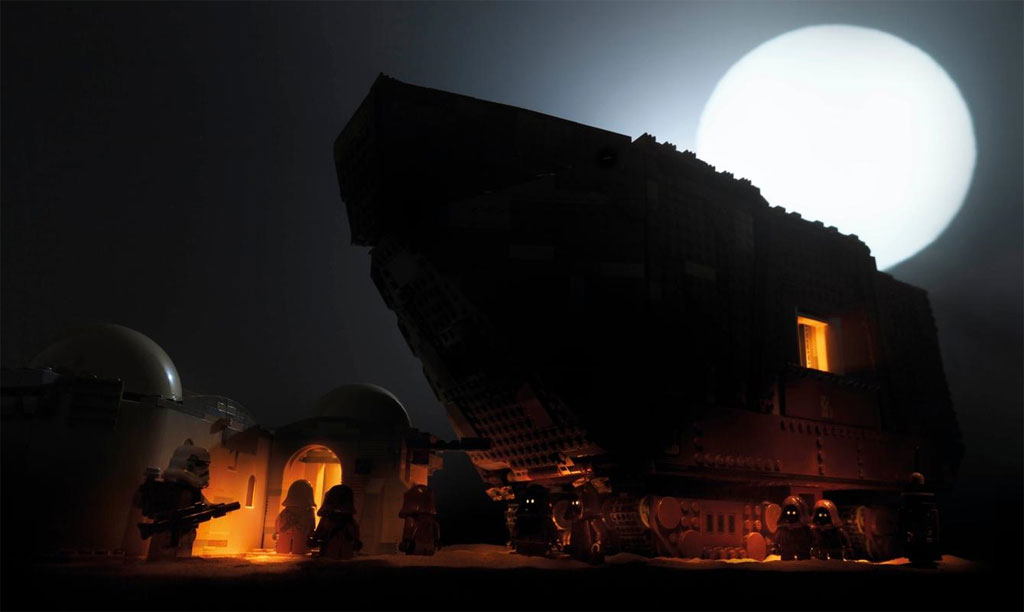 I've been lucky enough to see some of these images online in the past, but what make this volume even more relevant is that we get a look into the mindset of Avanaut as he explains what happened behind the scenes and what made the shot so amazing. He is extremely humble and for those of you who are part of our crazy community online, he is extremely humble. I know I have commented on his pictures many times and he's always taken time to acknowledge me. He is what I would aspire to with my own images at some point in time as his innovation is utterly astounding to say the least.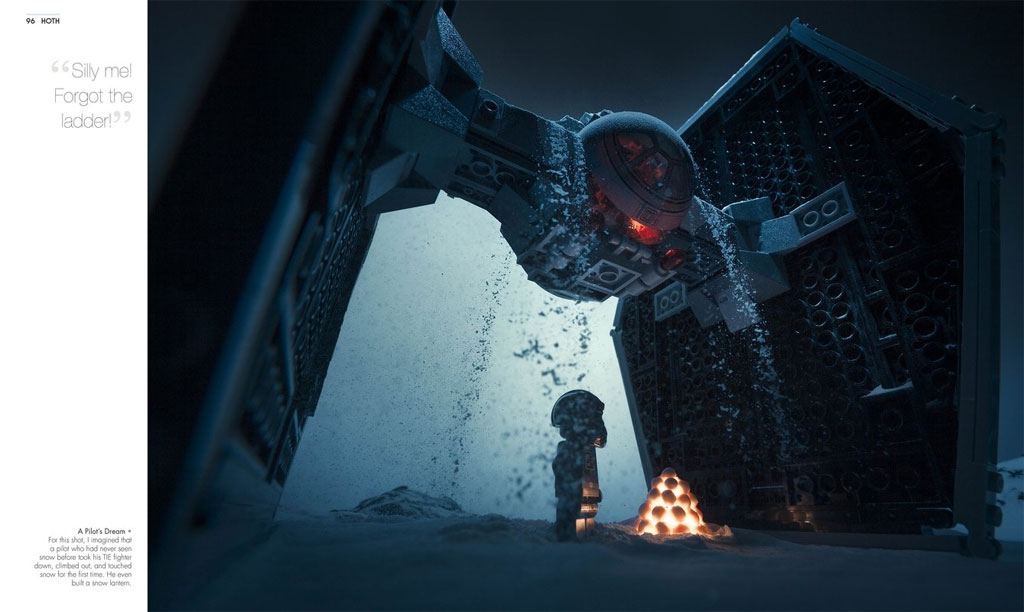 For those of you who are not following his work already, this is a chance to really check out some amazing toy artistry and flick to the back of the book where there is some behind the scenes stuff going on, along with interviews and loads of other great stuff just waiting for you to devour. I sincerely hope that this book motivates anyone with toys to take some pictures with them and share. It is a rewarding hobby bringing these plastic objects to varying degrees of life, unless you are Avanaut then you are making them larger than life!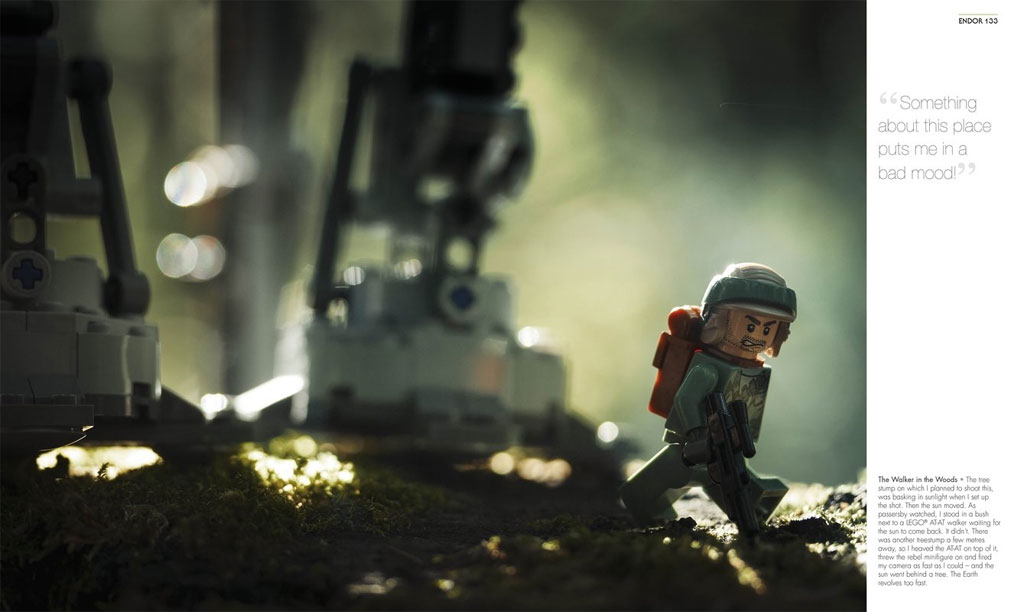 Reading through how he makes the shot happen, from dropping an X-Wing into sand to get the effect of landing on Tattooine, to the stare of an Ewok on Endor, it is all eye and brain candy, along with a lot of thought and laughter. Avanaut even answers the questions you might have asked yourself about Star Wars and it's entirely convincing: Does the Rebel Alliance fly in a blizzard? Do Imperials camp at the feet of AT-ATs? Do Jawas go to pubs? It's ALL covered!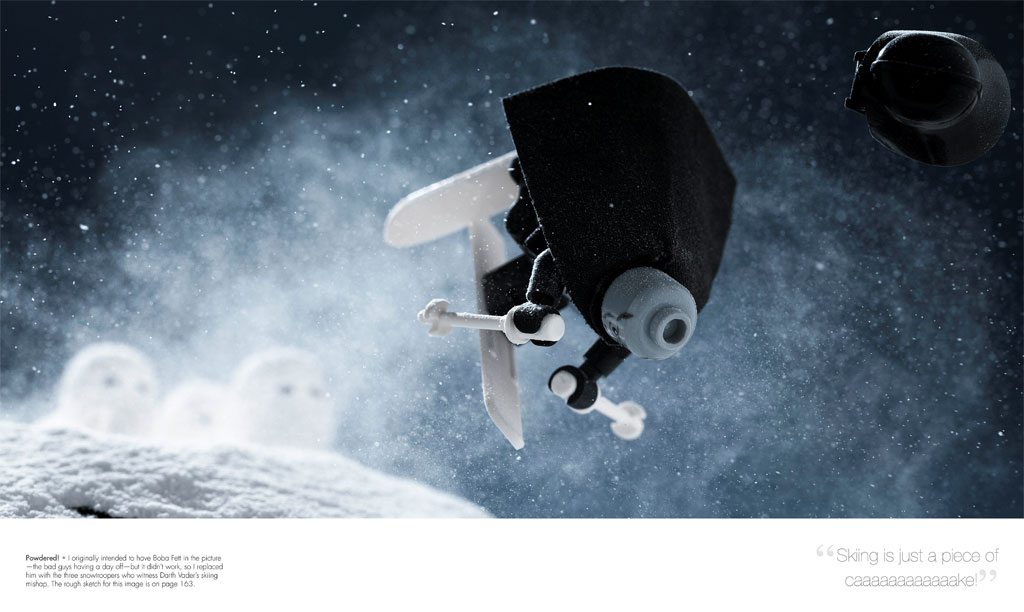 Final Thoughts?
I love this book, and I must admit I appreciate that DK has kind of deviated away from their formula to produce it. This is a coffee table book that you can leave out for the grown ups to look at, but at the same time it is perfect for anyone with an inner child inside them that loves toys, Lego and Star Wars. It is just beautiful, from the cover through to the stock the images they are printed on, this is a must must have for anyone who loves fine art. Yes, I would argue every day of the week that Avanaut has broken down the walls that separate us toy photographers from everyone else with a sensational book that both educates, entertains and is more than worth your hard earned money.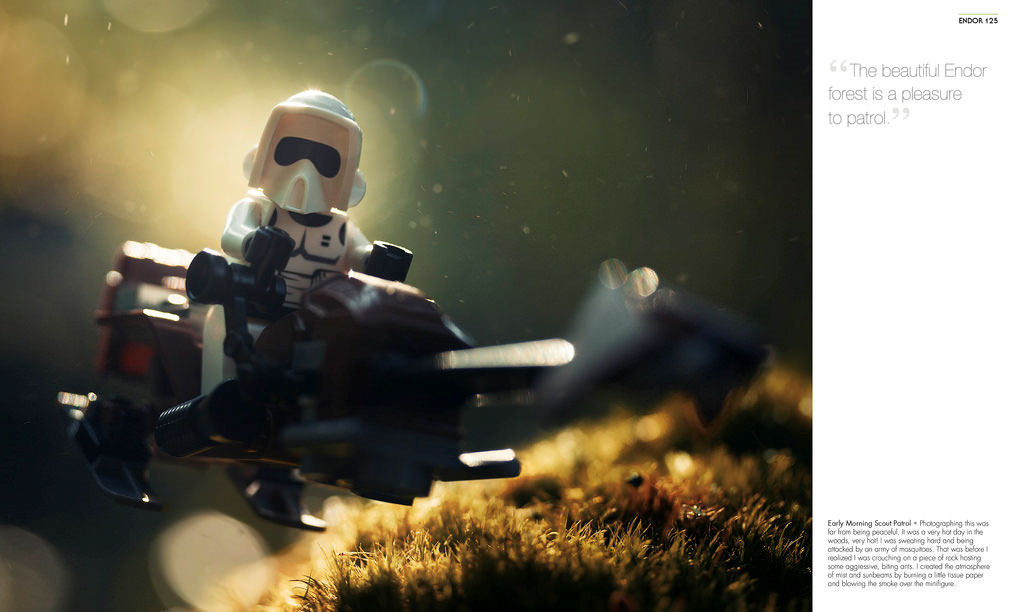 Go get this book. It is worth every cent!
Book Details
Title: Small Scenes from a Big Galaxy
Author: Vesa Lehtimaki
Publisher: DK Books
Pages: 176
Format: Hardcover