Books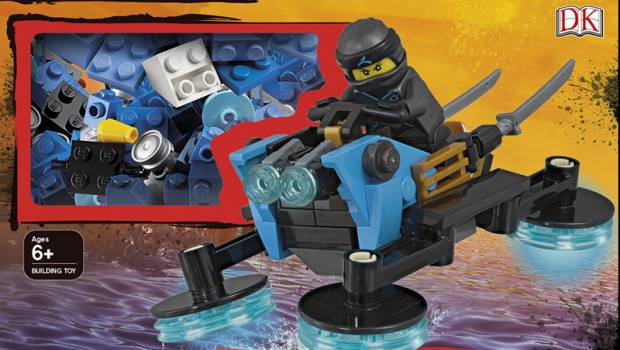 Published on August 25th, 2018 | by Tory Favro
LEGO Ninjago Build Your Own Adventure Greatest Ninja Battles Book Review
Summary: Ideas galore for your own epic Ninjago battles!
This entry in the build your own adventure series is in the Ninjago Universe and quite possibly has the largest title I've had to review, so I won't be calling this book by it's full name during this process.
Presented in a hardcover slipcase, the set contains both bricks for you to use, a Nya Minifigure and exclusive design for a hover bike along with poster and bookmarks. The cover art for it is a little on the dark side with the photos used throughout looking as though they were in shadow when shot. This could have been done better when in production and is the case the whole way through so is not just a fault with the sleeve.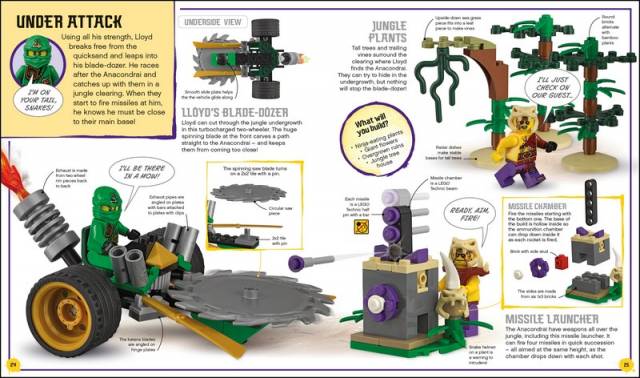 I really liked how DK put this together. The book follows the battles that the Ninja have faced over time and then gives you the reader ideas on how a certain pieces have been put together. There is commentary by the Ninja's that younger readers should love, and helpful hints by the authors. It is important to reiterate that other than the hover bike, this is NOT an instruction book as there are simply not enough bricks to achieve the builds that are pictured. The hover bike build is pretty cute but not overly challenging. It is however robust and will hold up to younger readers playtime.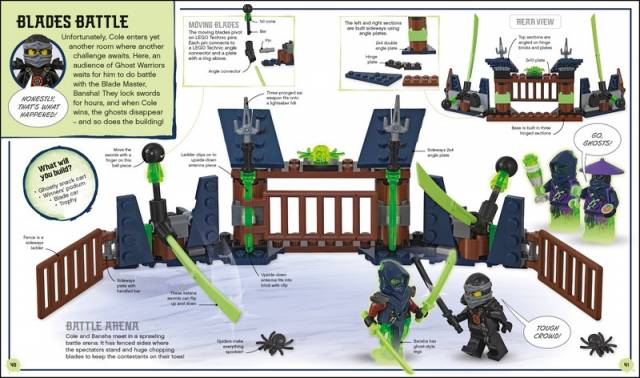 This book is a good addition to your collection but not up to the usual standard that I've come to expect. The only drawback to the entire product is the poor lighting on the photography as previously mentioned. I found this to be really offputting as normally presentation is such a major part of the high quality DK releases to the market. The book and ideas themselves are very well presented but the drab imagery doesn't inspire.  I will concede that most of the builds here were done with a darker colour palette but that is a choice made not a requirement; the Ninjago universe has loads of colour options that could have brightened up the look of the book.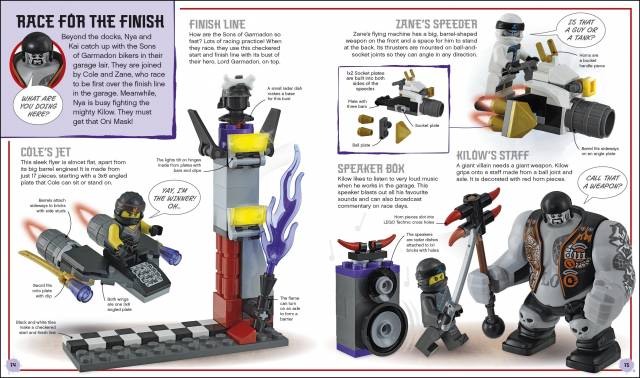 Final Thoughts?
I would contend that this is still worth the look at. I'm not sure that it is worth a full price ($39.99) purchase but look around at your major retailers and I'm sure you will be able to pick it up a bit cheaper. I actually feel bad knocking their products as I adore almost every book DK has put out. My favourite parts of this book were the Ghost Army and Sons of Garmadon sections. I think they really showed some awesome ideas for both machinery and buildings and as I integrate Ninjago elements through my modular City, this has been a good help.
As always I look forward to seeing what DK put together for us next.
Tory Favro
Book  Details
Title: LEGO Ninjago Build Your Own Adventure Greatest Ninja Battles
Publisher: DK Books
Pages: 79
Release Date: 20 July 2018