PS4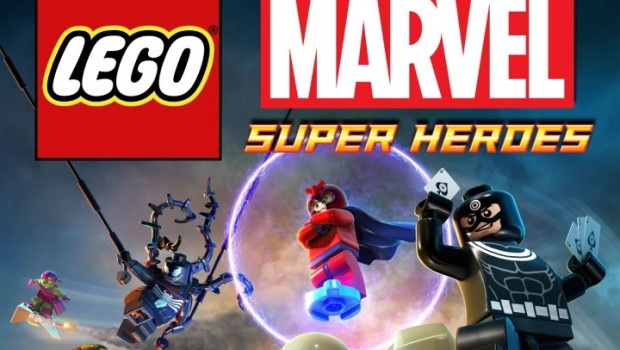 Published on December 9th, 2013 | by Admin
LEGO Marvel Super Heroes PS4 Review
Summary: LEGO Marvel Super Heroes features Brilliant level design, great replay value, gaming doesn't get any better than this on the PS4.
LEGO Marvel Super Heroes
Platform: PS4
Developer: TT Games
Genre: Action Adventure
Rating: PG
Reviewer: James Wright
Review Date: December 2013
Get ready to take on the world's most insidious super villains as players take control of Marvel's greatest superheroes in LEGO Marvel Super Heroes. Reminiscent of LEGO Batman 2: DC Super Heroes, TT Games have once again outdone themselves in their latest LEGO action adventure game which really showcases the diversity of the Marvel Universe with similarities to the current Avengers film as you smash your way through this colourful and engaging LEGO world. This is really evident when you take control of The Hulk who literally smashes LEGO everywhere.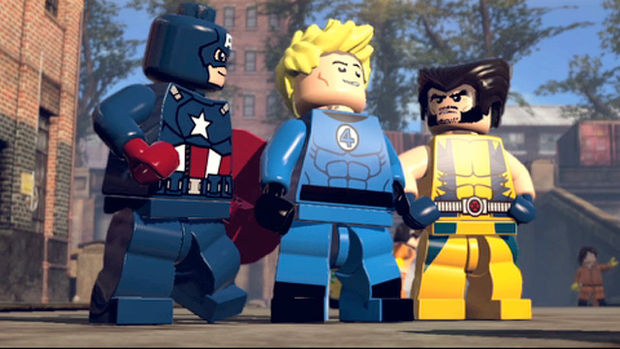 Unlike the movies where certain Marvel superheroes can't play with other heroes (e.g. Sony has the rights to Spider-Man and Disney own The Avengers), this game reunites all the heroes and villains of the Marvel Comicbook Universe together with well over 150 characters to play such as Human Torch, Agent Coulson and Wolverine. Needless to say, if you're a comic fan or a marvel fanboy or girl, this game is like an epic interactive comic that also has a fun story thrown into the mix as well.
In terms of story, LEGO Marvel Super Heroes revolves around the Silver Surfer crashing into Earth which shattered his cosmic surfboard all over the planet.  These pieces hold an infinite amount of power which has Dr Doom and the other villains attempting to find these pieces to create a Ray of Doom. As a result, SHIELD brings together the heroes of the Marvel Universe as they explore a variety of places from Earth and even Asgard to collect these pieces. Each area that the heroes explore also has a Marvel villain that they must also defeat. Stan Lee even makes a cameo in the game and needs saving from the superheroes which is really cool.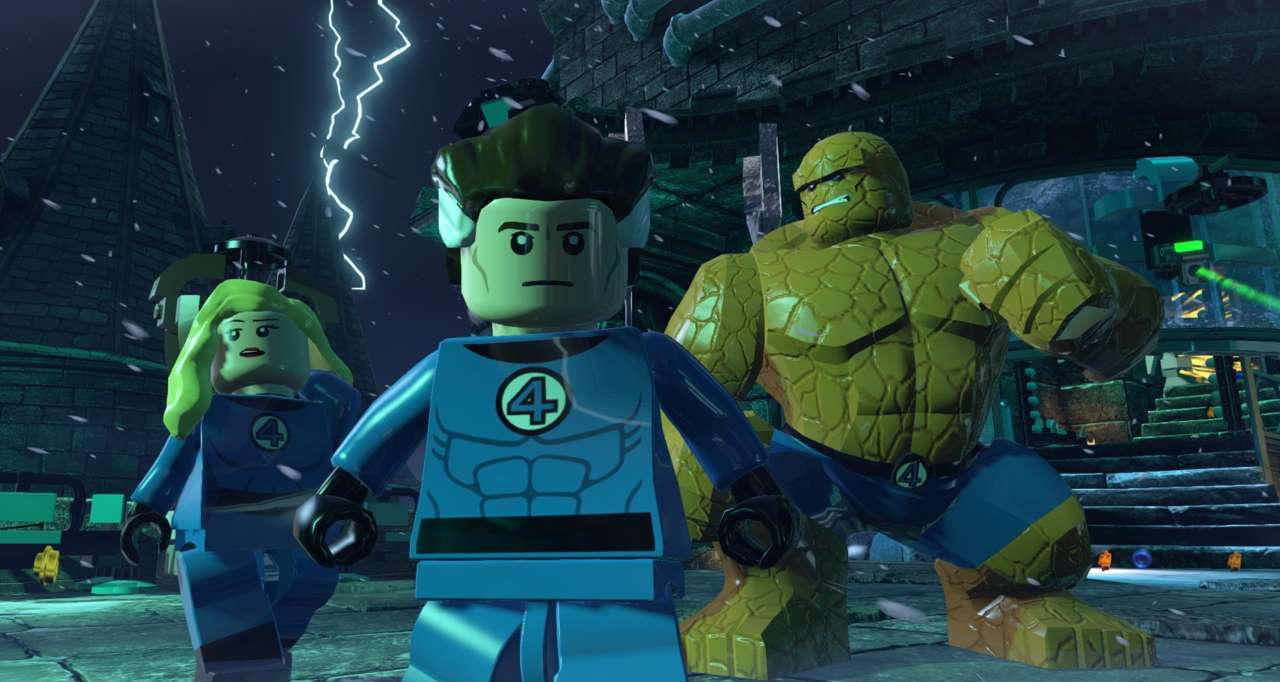 It should also be noted that the voice acting is quite awesome in this game, especially the big-name stars such as Iron Man and Spider-Man. Their one liners and dialogue really enhances the overall gameplay that really put a smile on my face. A couple of times, I was laughing in hysterics from their witty banter. The highlights for me was Adrian Pasdar as Iron Man and James Horan as the mystical Doctor Strange. Their voices sounded perfect!
Although combat is a little bit of button mashing, although quite an enjoyable one at that, players must also use LEGO blocks to build items to help them in their plight. Given, the puzzles are relatively easy, only a few had me stumped but not for too long. Each of the characters that you control also have their own unique powers such as the Hulk being able to move large LEGO blocks or Thor who can call upon lightning to super charge the blocks. It's actually really hard to find a favourite. By completing missions and objectives it also opens up the game to Free Play.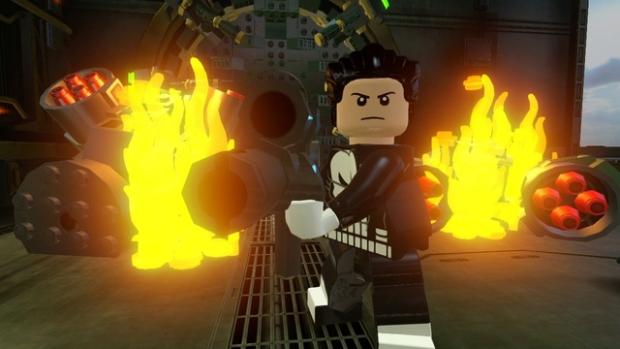 Free Play allows you to replay a level with any of the heroes that you have unlocked and really increases the longevity of the title. In both the story mode and Free Play, there are plenty of bonuses and secrets to be found, including cheats. The game also supports local co-op which is equally enjoyable as the single-player mode but probably more so because of how fun the game is, especially when it comes to stealing items from your friend.  Unfortunately there is no online mode again. The controls work really well in the game, especially those heroes that fly and I like how you swipe the touch pad on the DualShock controller and it brings up the map. It's a neat little touch.
Graphics/Audio
Graphically, LEGO Marvel Super Heroes looks amazing on the PlayStation 4. The attention to detail is stunning and even though it is a world built on LEGO, the water, plants, lighting, snow and animation comes together perfectly. Level design is also another "wow" moment in the title as everything looks like a comic book and the scope is unbelievable. There are a few graphical glitches here and there but it's nothing too major.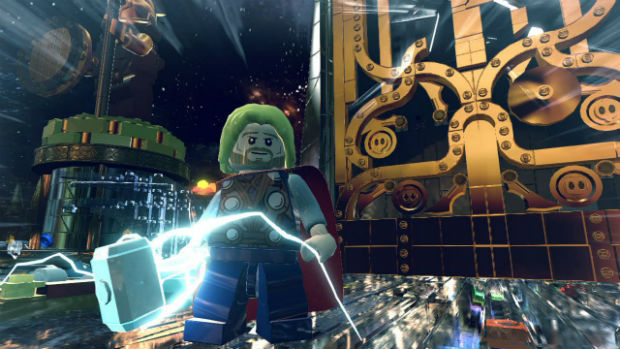 This is easily the best looking LEGO game to date. Then you have the superheroes themselves who not only mimic their comic book counterparts well but they almost look real in some strange surreal way. The only issue is that at times the camera angles do become a little annoying. Add in an excellent soundtrack, great sound effects and really fun voice acting and this is a title made in both LEGO and Marvel superheroes heaven.
Final Thoughts?
In conclusion, LEGO Marvel Super Heroes is easily the best LEGO game on any console that not only pays homage to the world of Marvel superheroes but boasts great gameplay that can be enjoyed by both adults and kids. Brilliant level design, great replay value, gaming doesn't get any better than this on the PS4. However hopefully next time, they can include online multiplayer.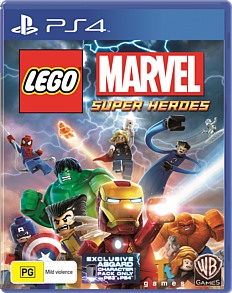 Key Features
• Smash, swing and fly in the first LEGO videogame featuring more than 100 of your favorite super heroes and super villains from the Marvel Universe, including Iron Man, Wolverine, Hulk, Spider-Man, Captain America, Black Widow, Loki and Deadpool.
• Perform new and powerful moves as "BIG-fig" characters like Hulk and Abomination. Leave a path of destruction as you smash through LEGO walls and throw cars using hyper strength.