PS4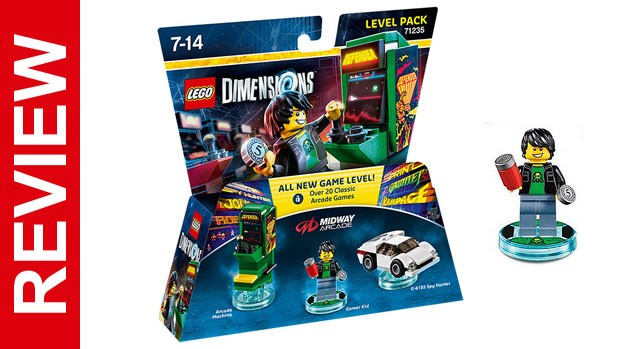 Published on April 6th, 2016 | by Tory Favro
LEGO Dimensions Midway Arcade Level Pack Review
Summary: The LEGO Dimensions Midway Arcade Level Pack is a must have add-on for this game that is packed with a huge wow factor!
Wow is all I can say about this one! We are covering a Level Pack for the game LEGO Dimensions titled Midway Arcade. What is LEGO Dimensions I hear you ask? Well I better quickly explain. It is a toys to life game that allows players to build their characters in real life out of LEGO bricks and then place them on a game portal that transports the characters into the game. There is a key storyline that can be finished with the three figures that come with the game, and then there are packs that can be purchased to put new figures into the action, or in fact to create whole new levels for an amazing gameplay experience. This is one of those level packs  and we certainly hope to cover others over time.
There was talk of some of the Midway Classic games being a part of Dimensions from the very get go. Midway went bust some time ago and Warner Bros. bought up most of the games, making them available to TT Games who are the creators of the excellent LEGO Dimensions. This particular pack also includes a Gamer Kid mini figure, Spy Hunter car and an arcade machine to die for, it is such a neat build. This machine comes replete with printed Defender tiles to complete the look.
For those who cannot wait to discover what classics wait for them inside the pack, here is a list of what's in store:
Toobin'
Xybots
Paper Boy
Timber
Vindicators
RoadBlasters
Marble Madness
Blasteroids
720°
Cyberball 2072
Klax
Spy Hunter
Robotron 2084
Defender 2
Joust
Defender
Super Sprint
Gauntlet
Gauntlet 2
BadLands
Joust 2
Championship Sprint
Rampage
Putting the Gamer Kid onto the game pad allows you to travel to the Midway Level. There you find a creepy arcade museum where the Kid gets to build first the Spy Hunter car and then the machine. The machine lets you work your way through the level accessing all these old and brilliant games of yester year which are utterly playable on your screen. They are really fun and remind me of the fun that I had back in the day actually playing these for real in the arcade.
Gamer Kid has his own powers that you need to use in order to open up parts of the museum. On a bright side Gamer Kid is all you need to get through and access all the fun that is to be had here. He has a power drink that gives him different abilities with hints readily available to tell you what one will help past the next section. If you are not into retro games, this will not be your cup of tea at all, but if you appreciate solid gameplay over graphics, this level pack is a real treat that is worth every cent you spend getting this add on.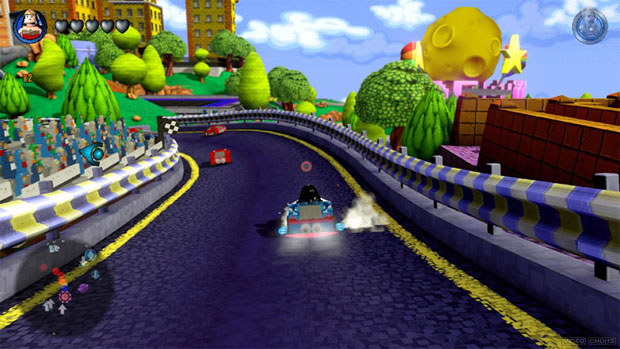 There is a lot of attention to detail here, quite like what you would expect from TT. The games aside, there are little titbits of information about the games that are really interesting and add to the experience. Another thing as a LEGO fan that I adored about this was the "sides" of the games screens. TT have made the screens surrounds LEGO themed and quite frankly they look incredible. I spent as much time checking them out as playing my way through my childhood video games. Too good TT, in fact, thank you, it is an amazing journey.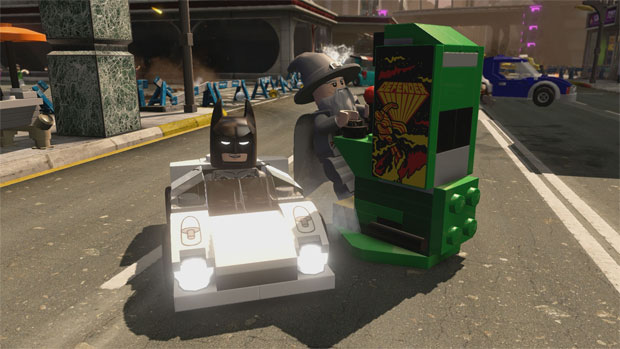 Final Thoughts?
This is a really well executed addition to LEGO Dimensions. On top of the level itself, like other packs, you can bring the Gamer Kid, Spy Hunter and arcade machine into the title proper; using their abilities to get you through the game. In terms of add-ons, this would truly be a standalone product, but in honesty I'm extremely glad they've put it into Dimensions, allowing me to enjoy several things I love all at once. I cannot fault the execution of the Midway Arcade Level Pack and am sure you will all enjoy it.
Game Details
Title: LEGO Dimensions Midway Arcade Level Pack
Set Number: 71235
Content: All new game level
Minifigure(s): LEGO Gamer Kid minifigure, LEGO G-6155 Spy Hunter & LEGO® Arcade Machine