PS4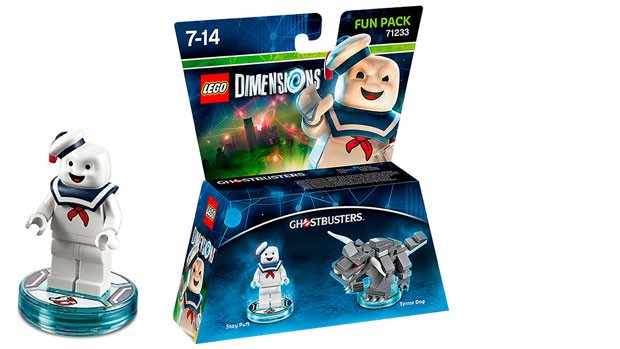 Published on April 3rd, 2016 | by Tory Favro
LEGO Dimensions Ghostbusters Fun Pack Review
Summary: Get out there and start bustin' with LEGO Dimensions Ghostbusters Fun Pack today!
This review covers the LEGO Dimensions Fun Pack Ghostbusters 71233. For those not in the know, LEGO Dimensions is an amazing toys to life game that has real LEGO figures that interact via a gamepad, bringing those characters to glorious life on your TV. Aside from the key game, the fun packs are a novel way to expand the game and introduce new elements and characters.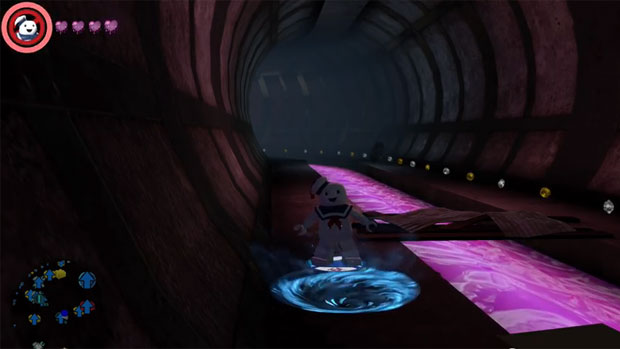 This particular pack allows players to access the Ghostbusters world and it is a pretty neat experience. Players can access quite a good amount of content here with some decent puzzles to solve. Stay Puft and the Terror Dog also are very effective in getting around the level, and the upgrades to Terror Dog make him a pretty awesome mode of transport. There are three builds for Terror Dog, and whilst I kept him true to form in the LEGO version on the gamepad, the upgrades really "supped" him up powerwise.
Stay Puft also has a number of abilities including getting larger which enables him to smash objects quickly and efficiently. Unlike most the other characters he does not speak, instead snarling and groaning through his marshmallow mouth. He's a really fun character, and a great piece for mini figure collectors.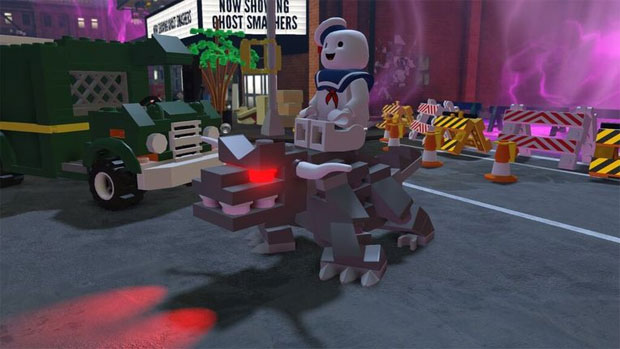 Something I really enjoyed was the soundtrack that played in the background. I was a massive fan of this movie when it came out, and it was really cool to hear the real music being played in the background.
There are a multitude of little missions to do in the level including helping Slimer, the ghost from the movie, convince the Ghostbusters that he has what it takes to join them. Another part involves going into the library and getting the ghosts to do your bidding by controlling them. The only issue was that you require specific characters to do this so if this was your first fun pack purchase, you would have no way of completing this task.
From a graphic perspective, this area looks great, although I must admit it has very little in the way of people on the street etc, unlike other levels in the game. The roads were empty for the most part which did disappoint, though you did see the occasional ghost wandering the streets, or if you were inside, you could see the odd person walk past through the windows. It did not at any stage give you the impression of a living world, or undead one for that matter.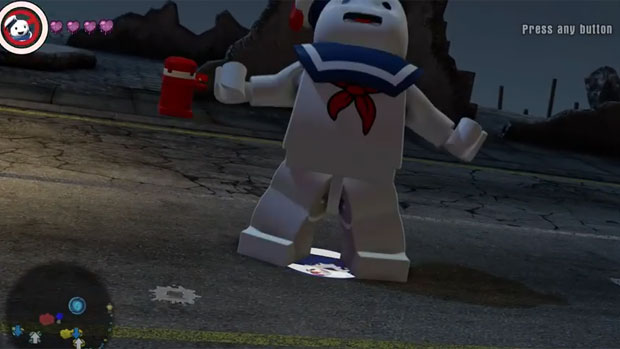 Of course you can play as Stay Puft or Terror Dog in any other part of the game, as you can with the other figures. It is an incredible feat by LEGO to have brought together so many licenses so seamlessly and with such attention to detail.
Final Thoughts?
This is yet another brilliant set in the masterpiece that is LEGO Dimensions, and I just know that gamers and collectors of LEGO alike are sure to love the figures that come with it. In fact I'd go so far as to say that they are so good that I can recommend them to people who don't even own the game but love their LEGO.
Get out there and start bustin' with LEGO Dimensions Ghostbusters Fun Pack today!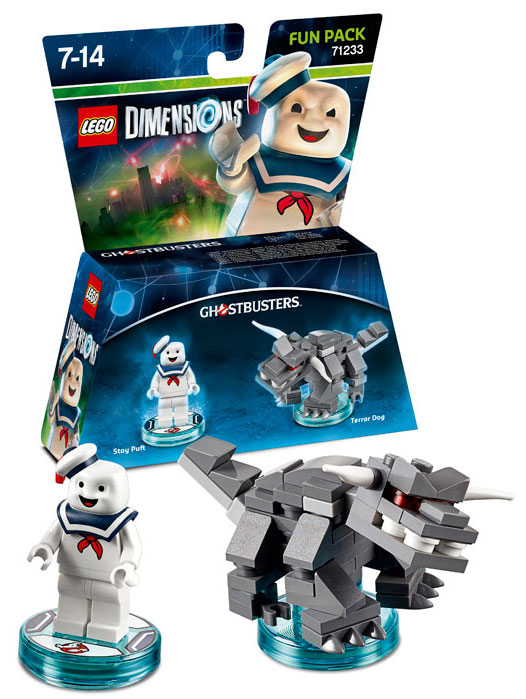 Game Details
Title: LEGO Dimensions Ghostbusters Fun Pack
Set Number: 71233
Featured Figures: Stay Puft, Terror Dog
Requires: LEGO Dimensions Starter Set