Films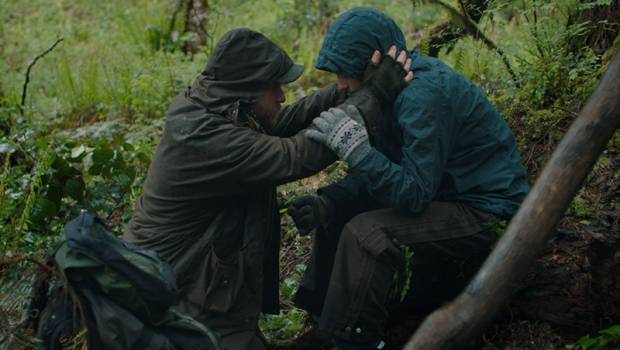 Published on August 24th, 2018 | by Damien Straker
Leave No Trace – Film Review
Reviewed by Damien Straker on the 24th August 2018
Sony presents a film by Debra Granik
Produced by Anne Harrison, Linda Reisman and Anne Rosellini
Written by Debra Granik and Anne Rosellini based on 'My Abandonment' by Peter Rock
Starring Ben Foster, Thomasin McKenzie, Jeff Kober and Dale Dickey
Music by Dickon Hinchliffe
Cinematography Michael McDonough
Edited by Jane Rizzo
Running Time: 108 minutes
Rating: G
Release Date: the 23rd August 2018
Leave No Trace is one of the most gentle and unique films to be released so far in 2018. It is directed by Debra Granik whose last major film was the acclaimed Jennifer Lawrence thriller Winter's Bone (2010). Watching this film, it is a shame that it has taken so long for her to deliver a second feature outside of a documentary. The film does far more right than wrong, starting with carefully unpacking its exposition through images instead of dialogue.
It is about a father and daughter named Will and Tom who live in an American national park. They are played by Ben Foster (The Messenger; 3:10 to Yuma) and Thomasin McKenzie (The Hobbit: The Battle of the Five Armies), respectively. They camp, they have their own food supply and they shy away from the vision of other people. They even have drills where they practice hiding beneath the vegetation. This leads us to ask from whom they are escaping. The only other people they engage with are the other hermits living in the park too.
One day they return from buying supplies from a store in town. Will also sells the medical supplies he collects. While briefly away from the base camp, Tom is spotted by a man, but fails to tell her father in time. Consequently, the police are called. They arrest Will for trespassing, who then calls out to his daughter so she can be detained with him too. They are both taken to a rehabilitation centre where they are asked questions, and then they are soon reaccommodated in a new house.
In a quietly funny scene, Will must sit at a computer and answer up to four hundred questions. The hilariously mechanical voice asks him true or false questions, such as 'I have nightmares or troubling dreams'. The monotone voice reflects the dehumanisation of the human experience amidst red tape and bureaucracy. People's entire livelihoods are reduced to simplistic questions. There is also an awkward moment where a woman asks Tom if there was any sexual contact while sharing a tent with her father, which further sheds them of their dignity.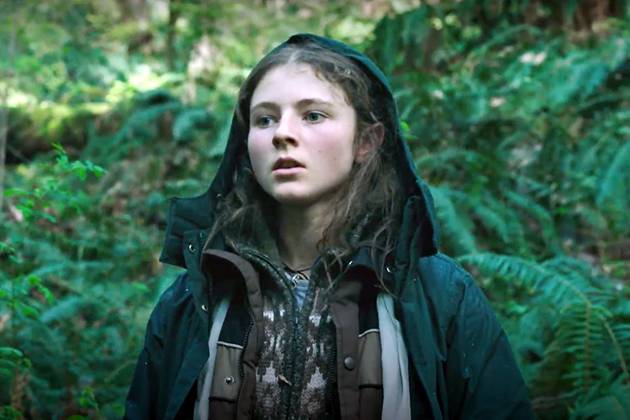 There are no quick or easy answers here. Trace takes the time to show its two characters living out their lives and their routines so that we understand their contentment with the outdoors. Will seems like a good and caring father too. We're told Tom is at an advanced reading level because he schooled her himself. They are rarely at odds with one another and he teaches her lessons. She's only allowed to have a necklace she finds on the ground if no one has claimed it when they return. Why they choose this life is delicately inferred through physical and psychological patterns.
The lush photography of the park is one justification for the characters' isolation from city life. The canopy and the vegetation are filmed by Granik and cinematographer Michael McDonough with natural colour and lighting and often from a wide-angle lens so that we absorb the richness of the environment and the tranquil atmosphere of the outdoors. It is also a metaphor for the characters' individuality and their sense of personal growth. Their humanity and agency stems from learning to survive by themselves. The film's audio is deliberately minimalistic until the city scenes. The heightened audio-vision of the noisy traffic amplifies the discomfort of the characters when absent from their real home and justifies their decision to live alone.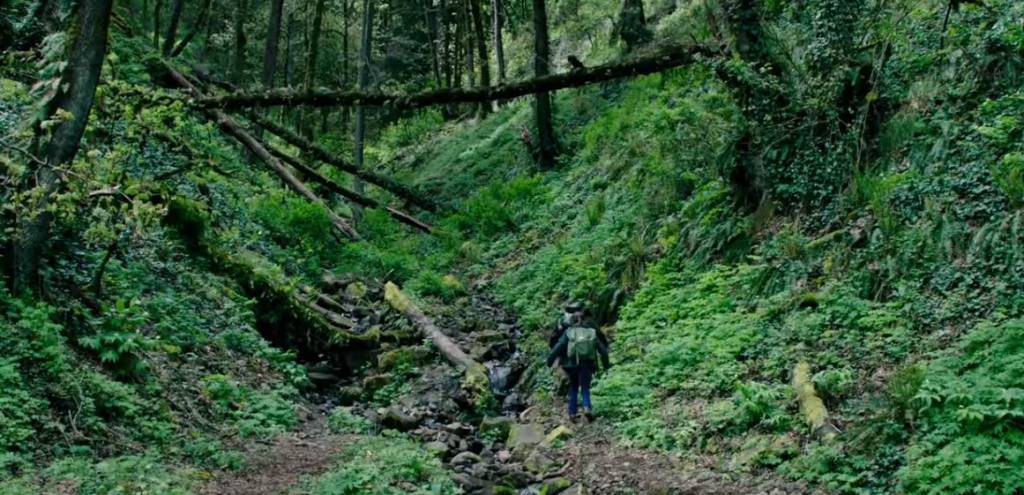 Similarly, the drab textures of the facility and the house are a stark contrast to the park's rich greenery. The colourless rooms reflect the loss of individualism in having a prepackaged life determined by bureaucrats. The shift in the colour spectrum encompasses one of the film's thematic statements: that people should not be told how to live in society but must decide for themselves. Instead, they are forced to conform by living in a modest house and Will is employed to lop trees, which further shows the destruction of the natural world. The emphasis on cinematic images over dialogue sustains a visually dynamic environmental conservation message, and also a comment about housing displacement in the US where people are forcefully removed from their homes.
Trace also attributes the characters' decision-making to live alone to longstanding, unresolved grief. Ben Foster is strong at playing wounded characters. His defeated body language shows the inner conflict of Will. He is a former soldier whose wife has passed away, and he is presumably suffering from PTSD. War and losing his wife have seen him cling to his daughter as one of those last traces of hope in his life. His fear of losing her is what prompts him to discard contemporary society and resist adapting to the modern world, including owning a cell phone. He distrusts society's abilities to nurture her, and is in denial about her growing up, which makes his decisions increasing troubling and irrational.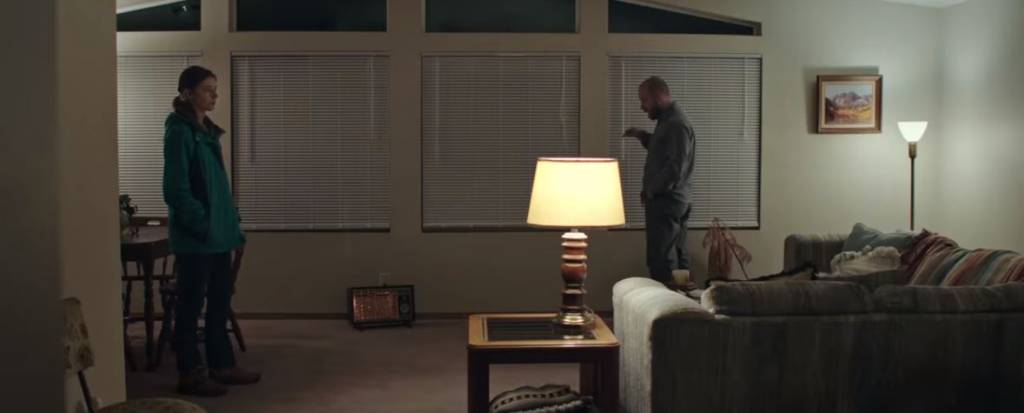 The subtlest example of this inner conflict is when Tom is late from talking to one of her neighbours, a harmless young man. Will demands to know where she was. The camera photographs them from a wide shot. They are positioned at opposite ends of the room to represent the growing emotional distance as their attitudes about their surroundings change. Thomasin McKenzie gives a quiet, naturalistic performance that expresses her independence not through major verbal fireworks but through her expressions alone.
Furthermore, the story implies a broader allegory or message about how richer the US would be if people could co-exist. In the final quarter, we see the gentility and the harmony in people living in a small community. As shown through a small action where Tom learns to handle a bee farm, its about earning people's trust. Perhaps this is reflective of people overcoming post-September 11 fears in favour of bonding again. The title 'Leave No Trace' itself implies removing one's self from a fractured past. There is a tough decision for one character that resolves this crisis of conformity and grief. The ending strikes the right emotional cord, concluding this original and affecting little film in the correct manner.
Summary: One of the most gentle and unique films to be released so far in 2018.