Books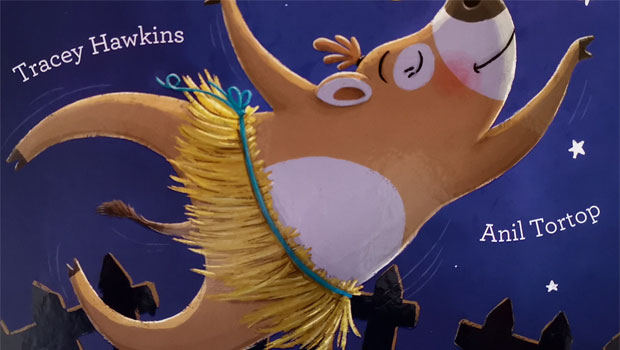 Published on July 21st, 2019 | by James Wright
Leaping Lola Book Review
Summary: Leaping Lola is like a fun dance that is accompanied by some totally enjoyable illustrations that helps make our little Jersey Cow jump!
Written by Tracey Hawkins and illustrated by Anil Tortop, Leaping Lola is a thoroughly engaging and enjoyable book about a fun-loving Jersey Cow named Lola who loves to dance. However not everyone appreciates Lola's prancing through the farm fields, although her closest friends simply find it delightful like Pearl the Pig. Supporting this wonderful story is the almost musical text that really draws you into the story and when matched with the beautiful and colourful illustration, Leaping Lola is a hoot to read!
Mad for the music, she kicked up her heels, Wowing the crowd with extravagant reels
There's also a message in this book and while she dances her way through the story, she is upset that she cannot attend the black and white cow dance, however Pearl comes to the rescue and gives Lola a disguise. As a result, Lola is allowed to dance with the other cows as she swishes her tail to the beat of the bass but when she misses her landing, slipping and sliding, our little cow finds herself in a dash of milky trouble.
Laughing with glee, Lola took to the floor, Bounding with vigour as never before
As Lola slides out the barn, she ends up knocking into the milk tower which washes her disguise away… well the cat… err… cow is out of the bag as she is shown to the barn door but thankfully for Lola, the leader of the black and white cows, a prize winning bull intervenes as he boldly declares that all cows should be allowed to dance. Needless to say, this message of respect and equality works well.
But up on a hill, with twist and a twirl, Lola was leaping with her best friend Pearl
Final Thoughts?
All in all, Leaping Lola is a fun book that our children totally enjoyed and it came together exceptionally well thanks to the clever and witty text by Tracey Hawkins and of course, the wonderful illustrations from Anil Tortop that together really makes you believe that a cow can dance.
It's a fantastic and fun read from start to finish!
Recommended!
Gallery
Book Details
Title: Leaping Lola
Format: Hardback
ISBN : 978-1-925594-59-1