Films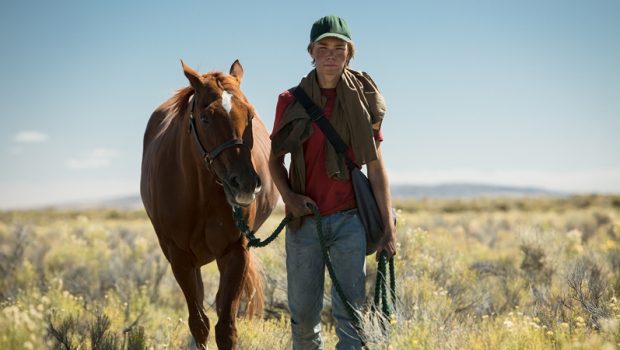 Published on December 8th, 2018 | by Damien Straker
Lean on Pete – Film Review
Reviewed by Damien Straker on the 10th of December 2018
Transmission presents a film by Andrew Haigh
Produced by Tristan Goligher
Screenplay by Andrew Haigh based on 'Lean on Pete' by Willy Vlautin
Starring Charlie Plummer, Chloë Sevigny, Travis Fimmel and Steve Buscemi
Music by James Edward Barker
Cinematography Magnus Joenck
Edited by Jonathan Alberts
Rating: M
Running Time: 121 minutes
Release Date: the 29th of November 2018
Lean on Pete is a slow descent into a painful world of poverty and brutal violence as seen from the eyes of a fifteen-year-old boy. The film is about Charley (All the Money in the World's Charlie Plummer) and his relationship with his father, Ray (Vikings' Travis Fimmel),
They have moved to the outskirts of Portland, Oregon together. Ray loves his son but is not a particularly nice man. He is a misogynist who gives Charley lessons such as 'get a girl who is a waitress'. Ray's wife has left them, and he is now having an affair with a new woman.
Charley attempts to live a good life by buying groceries for the household and working at a new job at a racetrack. His employer is Del (Steve Buscemi), a dodgy horse trainer with a short fuse.
Del and his friend Bonnie (Chloë Sevigny), an ex-jockey, use shady practices when racing the horses. Charley is weary that the horse he likes, nicknamed 'Lean on Pete', will be put down if it does not win its races. However, Bonnie stresses not to have any longstanding emotional attachment to the animals.
She views racing entirely as a capitalist enterprise free of sentiment. She has suffered crippling injuries and now needs a monetary source to survive. One tactic she and Del use is an untraceable drug that shocks 'Pete' into running faster.
After a man viciously attacks Ray, he is left hospitalised. Distraught and alone, Charley makes a life-changing decision to steal 'Pete' and cross the desert with him. He starts searching for his aunt so that he can live with her but cannot immediately reach her by phone.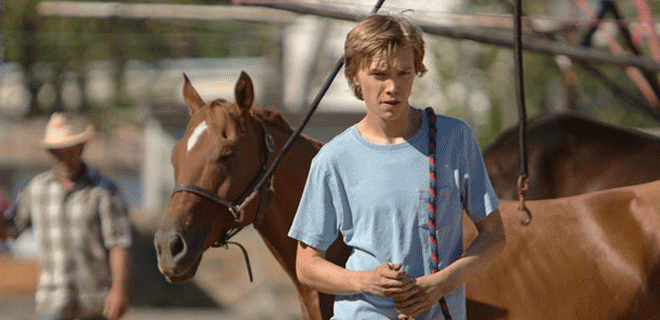 Lean on Pete is courtesy of British filmmaker Andrew Haigh who last made the excellent relationship drama 45 Years (2015) with Charlotte Rampling. It was a very slow film but Rampling's exquisite performance made it a fine character study.
What this film has in common with 45 Years is its glacial pacing. It is an achingly slow film that also takes an age to begin its physical journey.
The subtlety of the story is that it an odyssey where a genuinely caring young man must determine if love still exists in a male-dominated, money-hungry world while he undertakes his own twisted psychological transformation.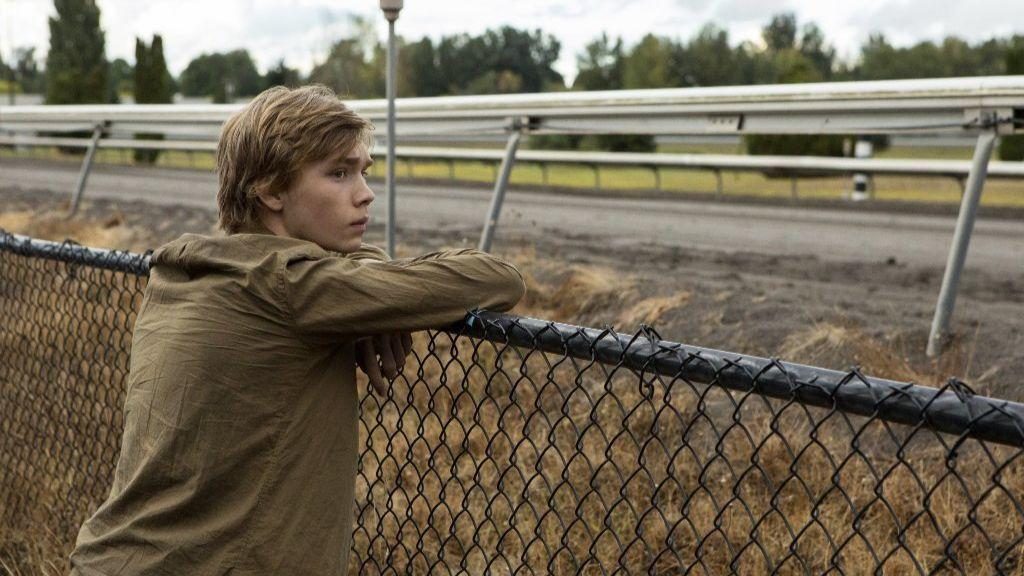 There are long, meandering scenes where Charley walks with 'Pete' alone through the the desert. It is admittedly difficult to watch but Haigh is also continuously challenging the notion that films must be cut faster. The languid pacing is the very reason that the story gathers crippling emotional power.
It is about the difficulty of escaping the brutality of the American wilderness. Charley embodies the personal conflict, such as in an unusual scene where he is briefly staying on someone's property. A group of men make life difficult for a young woman about her weight. Charley asks her why she puts up with their taunts in a bid to quell the misogyny.
His transition from a sweet kid to a thief and briefly, a violent person, marks one of the most disturbing character arcs this year. Some have argued that the film is about the fine line between man and animal, but it also explores whether love and care, as symbolised through the horse, can exist in a world corrupted by money and survival tactics.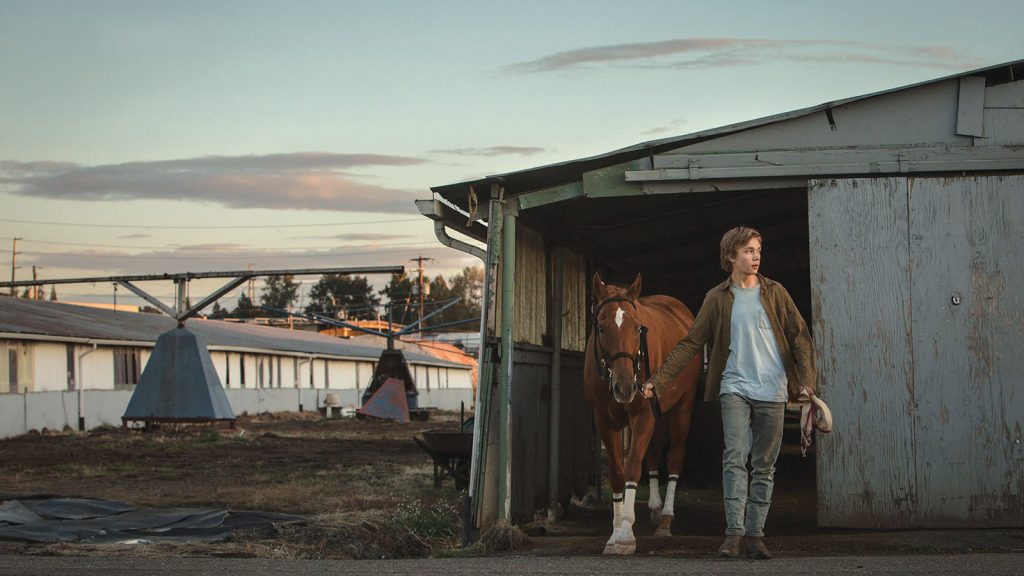 The film's striking cinematography complements Charley's isolation in the wilderness. A long shot of the night and the stars shows how stark, beautiful and alone it is. The shot selection also echoes Charley's emotional distance from the people who have disappointed him, mostly men, including his father and Del.
Charley is characterised as a natural, ordinary kid, and although Charlie Plummer does not initially have a huge emotional range, his performance in the second half improves. The change in his body language accentuates his desire to hide himself with his head down and his face buried under his cap.
Steve Buscemi makes a powerful impression as Del. He is a man who has very little sentiment or patience in his life. Despite being a crook, he also lectures Charley about having manners including a memorable scene where he chips him about his eating habits. He lacks any self-awareness about being corrupt. When Charley asks why he was not get paid as much, Del reminds him that he already paid for his lunch.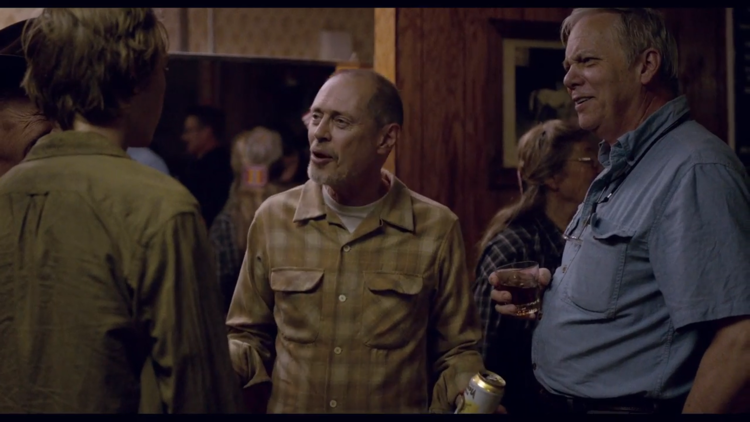 One of the most shocking performances includes a small but impressionable cameo by Steve Zhan (Out of Sight; Sahara). The man he plays initially seems like a caring person but then becomes a horrible, violent drunk at night who tries stealing Charley's money. This awful person stresses the difficulties of living in fractured US communities that are rife with unemployment and alcoholism.
All the characters are unified by the depressing lengths people undertake to survive through corruption, theft and violence. The difficult story beats and corresponding themes are arranged in an achingly slow but powerful display. It will test your patience, but this is also how the film earns its toughest moments too. By spacing them apart, they strike us unexpectedly and their impact is maximised.
It is a film that I would like to return to already knowing its strong emotional toll. Please note that there is a troubling scene of animal violence that is not for the fainthearted. It had people at an early screening audibly gasping. It summarises the sharp edges of a story about a young man's search for love against modernity and an increasingly violent landscape.
Summary: The difficult story beats and corresponding themes are arranged in an achingly slow but powerful display. It will test your patience, but this is also how the film earns its toughest moments too.