Events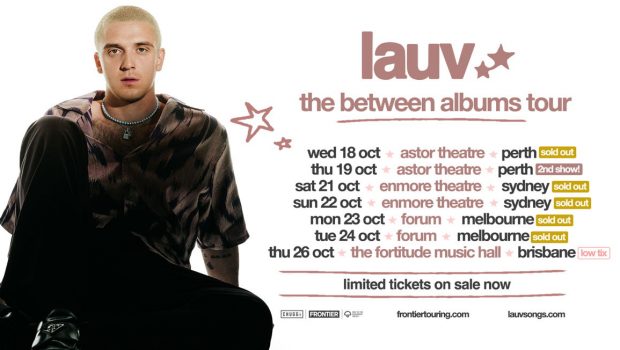 Published on July 14th, 2023 | by Adrian Gunning
Lauv adds second & final Perth show to Australian tour to meet huge demand
With five sold-out Australian dates including a night in Perth and two shows in Sydney and Melbourne each, Lauv announces he will play a second night at Perth's Astor Theatre to meet overwhelming demand.
On his The Between Albums Australian Tour this October, the multi-platinum certified singer, songwriter, producer, and pop visionary will play seven shows, including back-to-back dates at the Astor Theatre on Wednesday 18 October (sold out) and Thursday 19 October (just added), plus stops in Sydney, Melbourne and Brisbane.
Tickets for Lauv's new Perth show along with all other remaining tickets are on sale now via frontiertouring.com/lauv 
In what will be his first Australian shows since 2019, Lauv promises to capture audiences with his heavy hitting pop songs, stunning visuals and tender on-stage moments. "Lauv captivates his fans – cherishes them, loves them, connects with them… an immersive and sensory experience" said Isolated Nation, while Yahoo! called his live show a "delightful mix of catchy electronic beats and soulful vocals."
Consistently converting the magic around him into generational anthems to the tune of 11 billion streams, the US pop sensation and storyteller extraordinaire launched onto the scene in 2015 with viral track 'The Other'. Followed by his breakout smash 'I Like Me Better', which quickly amassed over 2 billion streams globally, peaking at No.8 on the ARIA Chart and earning septuple-Platinum ARIA certification and sextuple-Platinum in the US.
His subsequent debut album ~how i'm feeling~ saw the world fall in love with his quick-witted quirkiness and pop gems, featuring triple-Platinum ARIA certified collaborations with Troye Sivan on 'i'm so tired…', Anne-Marie on the double-Platinum ARIA certified smash '****, i'm lonely' and K-pop superstars BTS on 'Who' amongst others.
All 4 Nothing is the latest studio album from Lauv, and sees the artist expand his signature sound like never before, releasing control to shift his focus to storytelling. As Billboard writes, Lauv is "…one of pop's premier songwriters". 
Lauv will land in Australia off the back of an extensive run of Asian dates, and following his anticipated The Governors Ball set in New York last month alongside the likes of Lizzo, Kendrick Lamar, Odesza and more.
WEDNESDAY 18 OCTOBER
​Astor Theatre | Perth WA (18+)
​SOLD OUT
THURSDAY 19 OCTOBER
​Astor Theatre | Perth WA (18+)
​NEW SHOW, JUST ANNOUNCED!
​ticketek.com.au
SATURDAY 21 OCTOBER
​Enmore Theatre | Sydney NSW (Lic. All Ages)
​SOLD OUT
SUNDAY 22 OCTOBER
​Enmore Theatre | Sydney NSW (Lic. All Ages)
​SOLD OUT
MONDAY 23 OCTOBER
​Forum | Melbourne VIC (18+)
​SOLD OUT
TUESDAY 24 OCTOBER
​Forum | Melbourne VIC (18+)
​SOLD OUT
THURSDAY 26 OCTOBER
​The Fortitude Music Hall | Brisbane QLD (18+)
​TICKETS SELLING FAST
​ticketmaster.com.au