News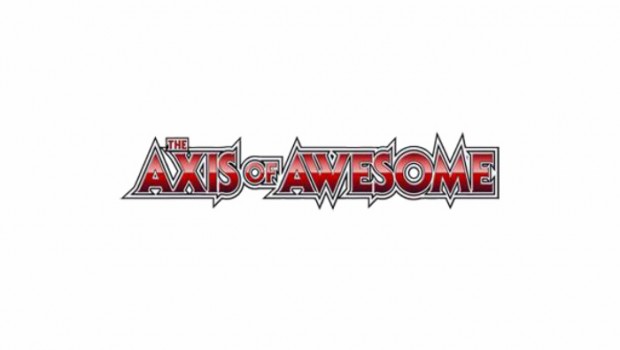 Published on August 27th, 2014 | by admin
Launch New Comedy Series AXIS ALL AREAS
FOR IMMEDIATE RELEASE: August 26th 2014 – YouTube sensations The Axis of Awesome have released a brand new interactive comedy series called Axis All Areas that can only be described as Spinal Tap meets an Easter Egg Hunt. The series gives fans the opportunity to peak behind the curtain of the world's 'most awesomest comedy band' as they attempt to shoot their latest music videos. The Axis All Areas series will show exclusively on the band's official YouTube channel in the coming months and the first episode, 'Why Aren't Lasers Doing Cool Shit?' is now live at www.youtube.com/axisofawesome.
Each episode of the series revolves around a brand new music video with a number of scripted comedy sketches set behind-the -scenes. Plus there's a series of secret videos that fans have to track down themselves by finding hidden links inside the music video and the sketches. Each clip is a standalone piece of comedy content but put together they tell one giant story. It's up to the viewer to find the pieces, put them all together and discover that story. Axis All Areas marks a joint collaboration between YouTube and Screen Australia and is the band's second online series after success with ABC's iView Fresh Blood. The show further underlines the band's commitment to creating original and engaging comedy content for their online fans. The Axis of Awesome soared to Internet stardom with their song 'Four Chords', which has received over 60 million hits online.
The group is made up of Jordan Raskopoulos, Benny Davis and Lee Naimo and has been touring the world with their unique brand of musical comedy since 2006, boasting nearly 200,000 YouTube subscribers. Currently The Axis of Awesome are performing to sold out shows at their 6th Edinburgh Festival Fringe and will follow this up with their second tours of the UK and Germany, playing over 50 shows in August and September. Critically acclaimed, The Axis of Awesome have picked up numerous awards including the recent Time Out Award for Best Australian Act at the Sydney Comedy Festival and the Moosehead Award at the Melbourne International Comedy Festival.
Series Trailer – http://youtu.be/kW9FFR2nQIU?list=UUb4jjgJb5rtQqQN5GcypFow
 YouTube – www.youtube.com/axisofawesome
 Website – www.axisofawesome.net
 Facebook – www.facebook.com/axisofawesome
 Twitter – @axisofawesome