News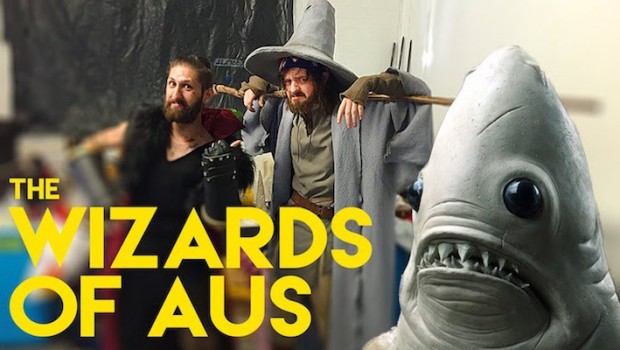 Published on February 17th, 2016 | by Admin
LateNite Films' 'The Wizards of Aus' Available on YouTube – Feb 19 – Samuel Johnson as the Voice of 'Terry the Shark' – Starring Guy Pearce, Bruce Spence and Mark Mitchell
After a hugely successful premiere on SBS 2 earlier this year 'The Wizards of Aus' will be available on YouTube http://youtube.com/timtimfed from Friday February 19 2016.
With Samuel Johnson as the voice of 'Terry the Shark' along with Guy Pearce, Bruce Spence and Mark Mitchell, the live-action comedy about cultural dissonance was directed, written and stars Michael Shanks (known globally for his You Tube channel – Timtimfed).
As the lead role of Jack the Wizard, Michael Shanks is also credited as music composer and co-visual effects specialist.
Fed up with the Magical Realm's obsession with large-scale fantasy warfare, Jack the Wizard decides to migrate to the sanest place he can think of: Melbourne's Western suburbs.
After accidentally causing a magical catastrophe, his existence (and that of his fellow magical immigrants) is revealed to the Australian public. Fearing a backlash against himself and his kind, Jack swears off using magic in a bid to better assimilate into human life.
But of course, fitting in was never going to be easy when people tend to get a bit 'explode-y' whenever you sneeze…
Last year 'The Wizards of Aus' was one of seven recipients of Screen Australia's Multiplatform Drama program's grants and was originally slated for an online release prior to SBS 2's commitment to broadcast the 3 x 30 minute series.
'The Wizards of Aus' was co-written by Nicholas Issell, Chris Hocking was the series producer, editor and co-visual effects specialist and produced by Nicholas Colla and Sumah Hurley. It also stars Mark Samuel Bonanno and Menik Gooneratne.