Events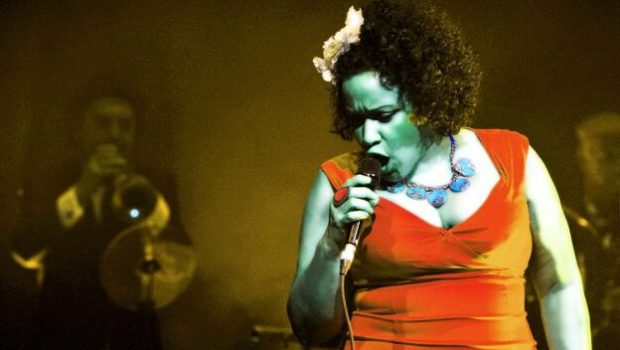 Published on November 17th, 2016 | by admin
At Last – The Etta James Story to tour UK for first time
At Last – The Etta James Story had its world premiere in 2013 and since then has played to packed houses and thunderous applause throughout Australia and New Zealand.
It was announced today that 'At Last – The Etta James Story' will embark on their first UK tour from March/April. The show will travel all around the UK giving audiences an opportunity to find out why this show has become one of the countries most loved shows.   The tour will start in Liverpool at the Epstein Theatre before heading to Cardiff, Leamington Spa, Birmingham, Bristol, Tunbridge Wells, Eastleigh,  London, Norwich, Manchester, Corby and Bury St. Edmunds.
Moira Bennett, Producer for Room 8 Pty. Ltd says.  "We would like to thank the people of Australia for embracing our show from day one. Now it's time to take it to the world".
Starring the sensational Vika Bull At Last tells the story of soul legend Etta James turbulent life and features some of her most beloved songs including Tell Mama, Something's Got A Hold On Me, Sugar On The Floor, the heart rending I'd Rather Go Blind, her iconic signature song At Last and many more. Vika puts her heart and soul into this unforgettable show and is joined on stage by some of Australia's finest and funkiest musicians

Vika can't wait to get to the UK to tell the story and sing the songs of the late great Etta James.  To Vika, Etta is "a true legend and one we must never forget, she sang so true".
'At Last – The Etta James Story' is returning to Melbourne on the 23rd November with a second show announced for Saturday 3rd December. Tickets on sale now.

Venue:                 The Athenaeum Theatre, 188 Collins Street, Melbourne

Date:                     Wednesday 23rd November
Saturday 3rd December
Show:                   At Last – The Etta James Story
All Tickets:          www.ticketek.com.au or venue box office  03 9650 1500
Prices:                  Premium Tickets $79.00 + BF.
A Reserve Tickets $59.00 + BF
B Reserve Tickets $49.00 + BF