Events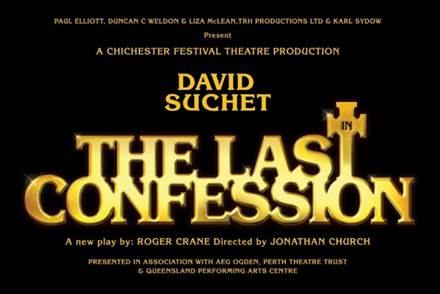 Published on February 2nd, 2014 | by admin
'THE LAST CONFESSION' STARRING DAVID SUCHET TOURING AUSTRALIA IN 2014 ADELAIDE AND MELBOURNE SEASONS JUST ANNOUNCED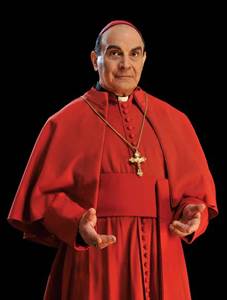 Internationally acclaimed British actor David Suchet will reprise his role on stage in the conspiracy thriller, 'THE LAST CONFESSION', in Australia in 2014. The international production will play in Toronto and Los Angeles before arriving in Australia in August. Seasons in Perth and Brisbane were announced late last year and now dates have been confirmed for seasons at Adelaide's Her Majesty's Theatre from August 27 and Melbourne's Comedy Theatre from September 3. Tickets on sale from Friday February 7.
Making his Australian stage debut, David Suchet is an Olivier and Emmy Award winner, BAFTA and Tony Award nominee. He is best known for playing Agatha Christie's Hercule Poirot having starred in all 74 television movies over 25 years. This is an iconic role that has taken him into the lounge room of millions around the world. Further to his role in Agatha Christie's renowned series, Suchet has starred in numerous films and television series internationally whilst also maintaining an impressive theatre career. In 'THE LAST CONFESSION' he will play the role of Cardinal Giovanni Benelli.
Sure to ignite controversial debate, 'THE LAST CONFESSION' is set within the corridors of power in the Vatican and explores the circumstances surrounding the sudden death of Pope John Paul I in 1978. He died only 33 days after being elected and before he could set his liberal reforms into place. Suspicions are aroused when it is revealed that the new Pope had warned three of his most influential but hostile Cardinals that they would be replaced on the evening before his death. The Vatican refuses to conduct an official investigation into the death but the politically savvy Cardinal Giovanni Benelli who had engineered the election of Pope John Paul, is determined to find the truth.
Originally premiering at the Chichester Festival Theatre in 2007 before a hugely successful transfer to The Theatre Royal Haymarket in London's West End, 'THE LAST CONFESSION' is written by first time playwright Roger Crane and has been acclaimed by both the audience and critics alike.
'A thoughtful whodunit…it's divine!' Sunday Telegraph UK
'David Suchet is marvellous' Daily Express, UK
'An intelligent and provocative new work' Evening Standard UK
This new tour has been mounted by international producing partners consisting of Triumph Entertainment Ltd (Paul Elliott and Duncan C.Weldon), The Theatre Royal Haymarket and Karl Sydow from the UK and Tinderbox Productions (Liza McLean) from Australia. The cast will be assembled from the UK, Canada, USA and Australia under the direction of Jonathan Church (Artistic Director of the famous Chichester Festival Theatre).
Jonathon Church, recently in Australia holding auditions said, "What I find particularly exciting about this production is its international dimension. We are bringing together an American writer, a British creative team, an International producing team and an Australian, Canadian, American and British cast of 20 actors to deliver this exceptional new play."
The creative team includes Designer William Dudley (7 times Olivier Award winner), legendry Lighting Designer Peter Mumford (3 times Olivier award winner), Broadway and West End costume designer Fotini Dimou and music by the former Director of Music at the National Theatre, Dominic Muldowney.
Rehearsals commence in London with the tour starting in Toronto at the Royal Alexandra Theatre and Los Angeles at the Ahmanson Theatre before transferring to Australia with additional tour dates to be announced.
PERTH
HIS MAJESTY'S THEATRE
August 5th – 16th 2014
TICKETS ON SALE NOW
General tickets: www.ticketek.com.au or 1300 795 012
Group Bookings: email groupbookings@ticketek.com.au or 1300 364 001 
BRISBANE
LYRIC THEATRE – QPAC
August 20th -24th 2014
TICKETS ON SALE NOW
General tickets: www.qpac.com.au or 136 246
Group Bookings: email groups@qpac.com.au or call 07 3840 746 
ADELAIDE
HER MAJESTY'S THEATRE
August 27th – 31st 2014
TICKETS ON SALE FRIDAY 7TH FEBRUARY 2014
General tickets: www.bass.net.au or 131 246
Group Bookings: 08 8205 2220 
MELBOURNE
COMEDY THEATRE
September 3rd – 28th 2014
TICKETS ON SALE FRIDAY 7TH FEBRUARY 2014
General tickets: www.ticketmaster.com.au or 136 100
Group Bookings: email groups@ticketmaster.com.au or 1300 889 278  
Premium VIP Tickets, Corporate Hospitality and Travel Packages
Showbiz www.showbiz.com.au  or 1300 474 697