Events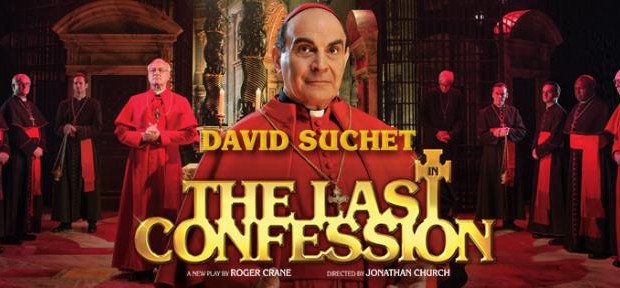 Published on May 13th, 2014 | by admin
THE LAST CONFESSION OPENS IN TORONTO TO RAVE REVIEWS – SYDNEY SEASON NOW CONFIRMED!
After its triumphant premiere in Toronto last month, critically acclaimed conspiracy thriller 'THE LAST CONFESSION' is on its way to Australia. Starring internationally revered British actor David Suchet, the play will continue on to Los Angeles next month before coming to Australia for a strictly limited season commencing in August.
'THE LAST CONFESSION' has received five star reviews from audiences and critics alike, and we are thrilled to announce that Sydney audiences will get the chance to experience what Toronto TV network CHCH TV hailed as 'a faith shaking religious whodunnit' and 'holy thriller' at the Theatre Royal from September 24. The Australian national tour begins in Perth and travels to Brisbane, Adelaide, Melbourne and Sydney.
Tickets for the Sydney season are on sale from Friday May 16.
'David Suchet truly comes into his own in live performance, vibrating with the intensity of his emotion, but still managing to deliver lengthy, complex speeches with perfect bite and clarity …' The Toronto Star 
'A dazzling piece of theatre!' Broadway World 
"If there is one actor and one performance you should see this year, this is it!" AM740, Toronto
Making his Australian stage debut, David Suchet is an Olivier and Emmy Award winner, BAFTA and Tony Award nominee. He is best known for playing Agatha Christie's Hercule Poirot having starred in all 74 television movies over 25 years. This is an iconic role that has taken him into the lounge room of millions around the world.  Further to his role in Agatha Christie's renowned series, Suchet has starred in numerous films and television series internationally whilst also maintaining an impressive theatre career. David Suchet plays the role of Cardinal Giovanni Benelli in 'THE LAST CONFESSION'.
This unique international tour brings together a team of actors and producers from all corners of the globe. 'THE LAST CONFESSION' also stars the UK's Richard O'Callaghan (Cardinal Albino Luciani), Bernard Lloyd (Cardinal Ottavani) and Sheila Ferris (Sister Vincenza), Canada's Nigel Bennett (Cardinal Villot) and Phillip Craig (The Confessor), and Australian actors John O'May (Cardinal Felici) and George Spartels (Cardinal Lorsheider).
Sure to ignite controversial debate, 'THE LAST CONFESSION' is set within the corridors of power in the Vatican and explores the circumstances surrounding the sudden death of Pope John Paul I in 1978. He died only 33 days after being elected and before he could set his liberal reforms into place. Suspicions are aroused when it is revealed that the new Pope had warned three of his most influential but hostile Cardinals that they would be replaced on the evening before his death. The Vatican refuses to conduct an official investigation into the death but the politically savvy Cardinal Giovanni Benelli who had engineered the election of Pope John Paul I, is determined to find the truth.
Originally premiering at the Chichester Festival Theatre in 2007 before a hugely successful transfer to The Theatre Royal Haymarket in London's West End, 'THE LAST CONFESSION' is written by first time playwright Roger Crane.
This new tour has been mounted by international producing partners consisting of Triumph Entertainment Ltd (Paul Elliott and Duncan C.Weldon), The Theatre Royal Haymarket and Karl Sydow from the UK and Tinderbox Productions (Liza McLean) from Australia. The cast has been assembled from the UK, Canada, USA and Australia under the direction of Jonathan Church (Artistic Director of the famous Chichester Festival Theatre).
Jonathon Church, said, "What I find particularly exciting about this production is its international dimension. We are bringing together an American writer, a British creative team, an International producing team and an Australian, Canadian, American and British cast of 20 actors to deliver this exceptional new play."
The creative team includes Designer William Dudley (7 times Olivier Award winner), legendry Lighting Designer Peter Mumford (3 times Olivier award winner), Broadway and West End costume designer Fotini Dimou and music by the former Director of Music at the National Theatre, Dominic Muldowney.
"You might not think a play about power politics in the Catholic Church could provide you with a thrilling time in the theatre, but you'd be wrong. The Last Confession packs in more suspense than the average murder mystery, but provides a lot of material to generate intellectual debate afterwards. And, most amazingly, it's based on historical fact."   The Toronto Star
The tour is currently playing to audiences in Toronto at the Royal Alexandra Theatre and will continue to Los Angeles at the Ahmanson Theatre before transferring to Australia in August.