PS4
Published on December 16th, 2014 | by Admin
Lara Croft and the Temple of Osiris PS4 Review
Summary: Lara Croft and the Temple of Osiris is the perfect platformer puzzler designed for multiplayer goodness
Lara Croft and the Temple of Osiris
Format – Playstation 4
Game Genre – Platform
Rating – PG
Game Developer – Crystal Dynamics
Game Publisher – Square Enix
Review – Peter Bourke
Lara Croft and the Guardian of Light was definitely the sleeper and critically acclaimed hit of 2010 that was an isometric action platformer which heavily focused on cooperative play and allowed players to either control the famous tomb raider herself or a 2,000 year-old Mayan warrior called Totec. Unlike traditional action platformers, Lara Croft and the Guardian of the Light heavily relied on cooperative play which was definitely where this game shined.
So here we are again, almost 5 years later and Crystal Dynamics have just launched the next installment to this franchise with Lara Croft and the Temple of Osiris that has our heroine teaming up with rival treasure hunter Carter Bell and two Ancient Egpytian Gods, Horus and Isis that together must defeat the evil god Set and help resurrect Osiris. It's a classic treasure hunter story that works well with the Lara Croft theme of good versus evil with a healthy loot of treasure thrown in for good measures.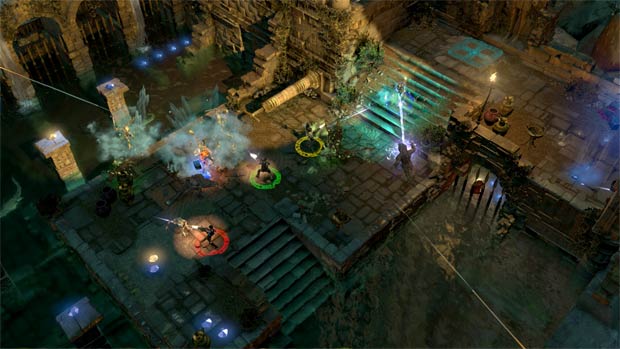 In terms of gameplay, Lara Croft and the Temple of Osiris is very similar to its predecessor with action, combat and puzzles, however the gaming dynamics really changes in this current game due to the increased number of players from 2 to 4 which for me anyway, has strong parallels to the original Gauntlet game. But unlike Gauntlet, Lara Croft and the Temple of Osiris has a great story and the gameplay is far superior.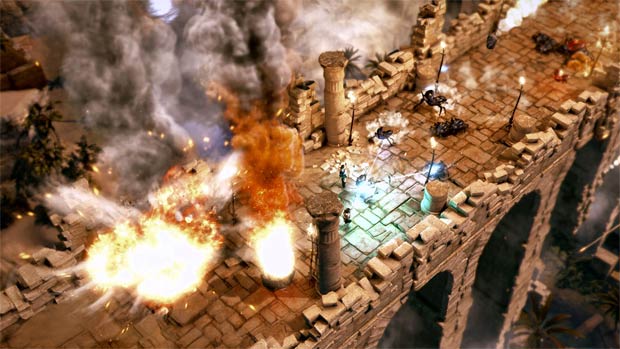 It's also interesting that the gameplay changes with the number of players so whether you're playing with 2, 3 or 4, enemies and puzzles must be defeated or solved differently. The multiplayer option works for both local and online play and generally you can always find at least another 2 or 3 players willing to play. At times it can be a free for all, whereas other times you must work in unison and I love it when everything is using their weapons and skills to take out an almost never ending hoard of enemies like scarab beetles.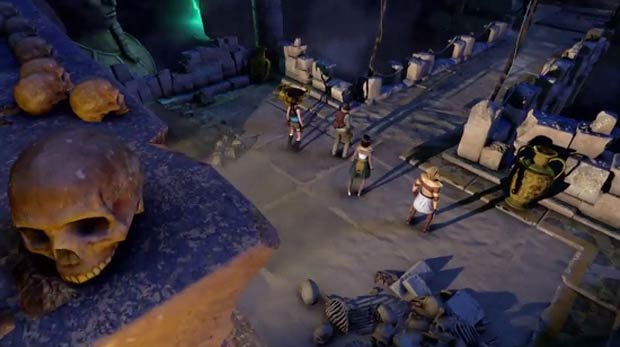 With that said, each of the four characters in the game are slightly different as they have their own abilities and skills that really work well when used in conjunction with the others. This is also true for the items used in the game such as Lara and Carter with their grappling hooks or Isis and Horus with their magical powers that not only slow down time but allows them to create shields.
As mentioned, team work is a prerequisite but just be warned, if you find a gamer or two who are in it for themselves, double crosses should be expected and is sometimes very amusing to see this unfold. With your powers and as you progress, your characters even get to control not just time but the elements which makes for some cool graphics and gameplay. Combat is fun with most bosses requiring players to find their weakness such as using bombs to defeat the Egyptian God of Crocodiles. A special mention should also be made to Lara's duel wielding pistols!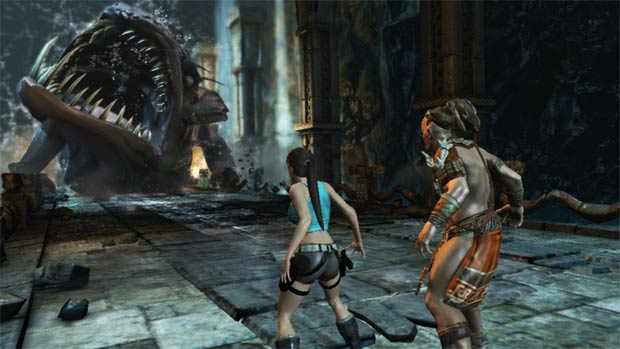 Another difference is the looting system of Lara Croft and the Temple of Osiris which adds a multiplayer loot mechanic that allows for sharing a certain type of item. This may include power-ups but each character also has the ability to collect their own for their specific character such as healing for example. The gems that you collect are no longer used for points but rather they unlock different chests that contain weapons, amulets and a wealth of other bonuses.
To increase the longevity of the title, the developers have added a wealth of additional content apart from the main storyline such as challenges and for fans, additional DLC will be released in the future. Group based challenges like community challenges seem impossible but considering the number of enemies that are killed in the game, these can be achievable. All in all, it's a well designed and fun game to play.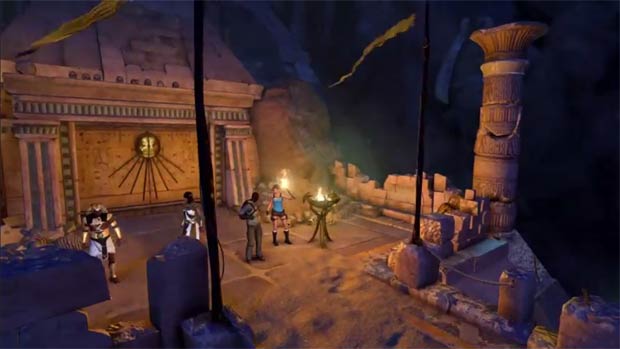 Graphics/Audio
Graphically, Lara Croft and the Temple of Osiris really looks like a Tomb Raider game, especially the level design that is quite grand and mythical. Add in a healthy dose of Egyptian motifs, especially the Underworld and exploring this world is like going on an adventure with Indiana Jones himself. Another highlight is the use of lighting in the game which does influence how you play such as when you're navigating those deadly chasms. Audio is equally as impressive as is the great soundtrack of Lara Croft and the Temple of Osiris that gives the title a 1940's adventure serial.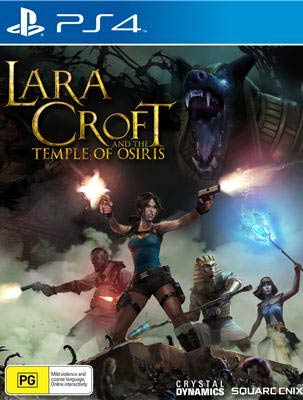 Final Thoughts?
Lara Croft and the Temple of Osiris is a really fun game that must be played with other people in order to maximise the full experience of the multiplayer component. The graphics also lend itself well to the Tomb Raider series and more importantly, the gameplay works almost flawless on the PlayStation 4 that is definitely worth a look if you enjoyed the previous game, love Lara Croft or want to try a different action platformer that focuses on team work.
Recommended!