Comics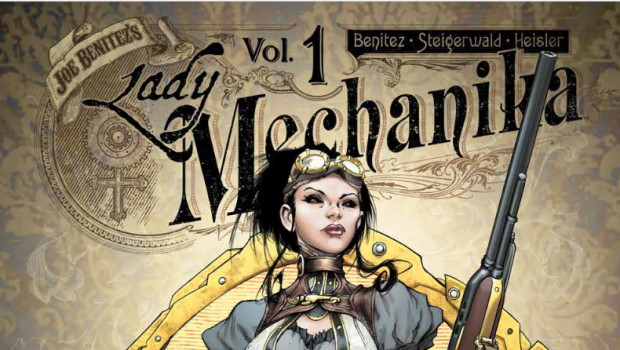 Published on August 14th, 2021 | by Chris O'Connor
Lady Mechanika, Vol. 1 HC Review
Summary: Lady Mechanika searches for answers to how she came to have mechanical limbs. Her quest will take her to others with similar alterations and hopefully closer to what happened in her shrouded past.
Lady Mechanika, a young woman with mechanical limbs and no memory of how she got them. Her quest to learn how she came by her mechanical limbs will bring her before others with similar alterations but can she ever truly uncover who or what has been behind these bizarre unions?
Writing
The first few pages do a great job of setting up the context of the story… whilst painting the picture of the current task, we learn a little about Lady Mechanika's talents and before long we learn not just that she is very good at what she does but she is also compassionate and willing to listen rather than just use brute force. Before long we learn she is not the only living thing that has been melded with mechanical "enhancements". We are soon introduced to some key villains of the piece and the story grows from there. The dialogue has a very British sound to it… certain words and phrases (even as simple as Bollocks) do a lovely job of setting a subtle aesthetic to pair with the visual style.
Artwork
This is steam punk done well… really well! Gears and cogs and lenses galore, but they look as though they serve a purpose and aren't just tacked on to fit the genre. At points I am quite torn because the world is so fantastically fleshed out that it looks like somewhere that would be amazing to visit… then the next panel will show just how tough this world can be. Colours are used to great effect to set the mood throughout as well. Night scenes have a familiar blue tone over them to make them feel suitably dim and cold which then contrasts with brilliantly bright colours and warm tones of interiors and daytime scenes.
Final Thoughts
This is an excellent entry to the world of Lady Mechanika. A decent chunk of backstory is laid out and sufficient mystery remains to keep the reader keen to follow her adventures. The steam punk aesthetic is deftly executed by Peter and Joe which will draw in plenty of fans of the genre and the story will keep them thrilled.
An easy to recommend book on many levels, the art, the story or simply for the Steam Punk thrills!
Comic Details
Publisher: Image Comics
Writer: Joe Benitez
Artist: Joe Benitez, Peter Steigerwald
Cover Artist: Peter Steigerwald, Joe Benitez
Genre: Sci-Fi, Action/Adventure, Crime
Format: 164pgs, FC, HC
Release Date: 1st September, 2021