Comics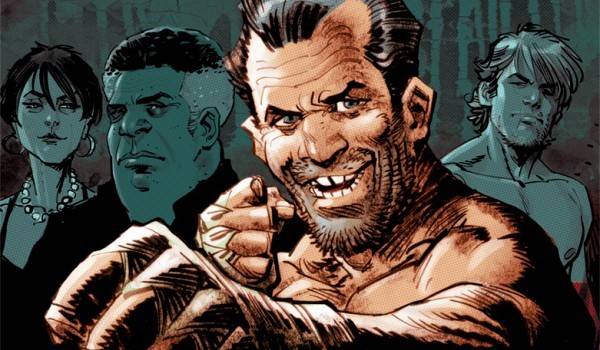 Published on May 2nd, 2018 | by Dana Folkard
LADY LUCK SMILES ON READERS WITH SLOTS, VOL. 1
Writer/artist Dan Panosian (
Daredevil: Back in Black
, 
Conan/Red Sonja
) will release a trade paperback collection of the first six issues of his gritty crime series SLOTS this June from Image/Skybound.
You can say this about the life of Stanley Dance: he did it his way. Unfortunately, his way never took getting old into account. Now, the former boxer is on his last legs, looking for redemption…but he'll settle for going down swinging.
Roll the dice with superstar artist DAN PANOSIAN as he creates a bold and breathtaking vision of Las Vegas, where everything old can become new, and superstition influences how the chips fall.
SLOTS, VOL. 1 (ISBN: 978-1-5343-0655-4, Diamond code: APR180557) hits comic book shops Wednesday, June 13th and bookstores Tuesday, June 19th. The final order cutoff deadline for comics retailers is Monday, May 7th and it can be preordered via Amazon, Barnes & Noble, Books-A-Million, Indiebound, and Indigo.
Select praise for SLOTS:
"SLOTS is a story about Las Vegas. It's a story about men displaced from their time, their schemes and the people they hurt along the way. But SLOTS is not an old book. Rather, it is something altogether new in how it upends these various tropes to tell a different story—a better story." —The Oregonian
"Panosian skillfully brings sweet science to a story of salted wounds. Tough choices have never been so easy on the eyes." —Jason Latour (SOUTHERN BASTARDS, BLACK CLOUD)
"SLOTS is a knockout, and I cannot wait for round 2." —Rogues Portal
"Panosian declares his own dusty trailhead, luring you outside the city proper, obliging you to remember that Stanley has hinted that it's not all just smoke and mirrors." —Doom Rocket
"A virtuoso performance. Charming, seedy, and beautifully drawn, SLOTS is Dan Panosian at his best. Don't miss out." —Kurt Busiek (Astro City, THE AUTUMNLANDS)
"Smartly crafted, and beautifully illustrated, the series promises to bring the best and worst out of Vegas' innards." —Monkeys Fighting Robots
"Hardboiled, stylish, and sexy. It has its own sound and a cool swing. It punched me right in the face and I welcomed it!" —Enrico Marini (Gipsy, Le Scorpion)