Comics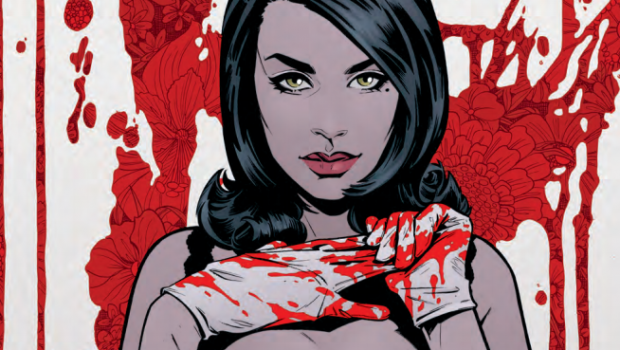 Published on August 29th, 2017 | by Dana Folkard
LADY KILLER 2 #5 REVIEW
Summary: Josie and Irving go head-to-head! This is the fight we've been waiting for.
After the breakdown of her partnership with Irving, Josie finds herself forced to face this demon from her past head-on. With the help of an unlikely ally, she desperately tries to defend her home from this rage-filled maniac who threatens to eliminate her and her family. Josie's life will change forever, making this a Christmas she won't soon forget.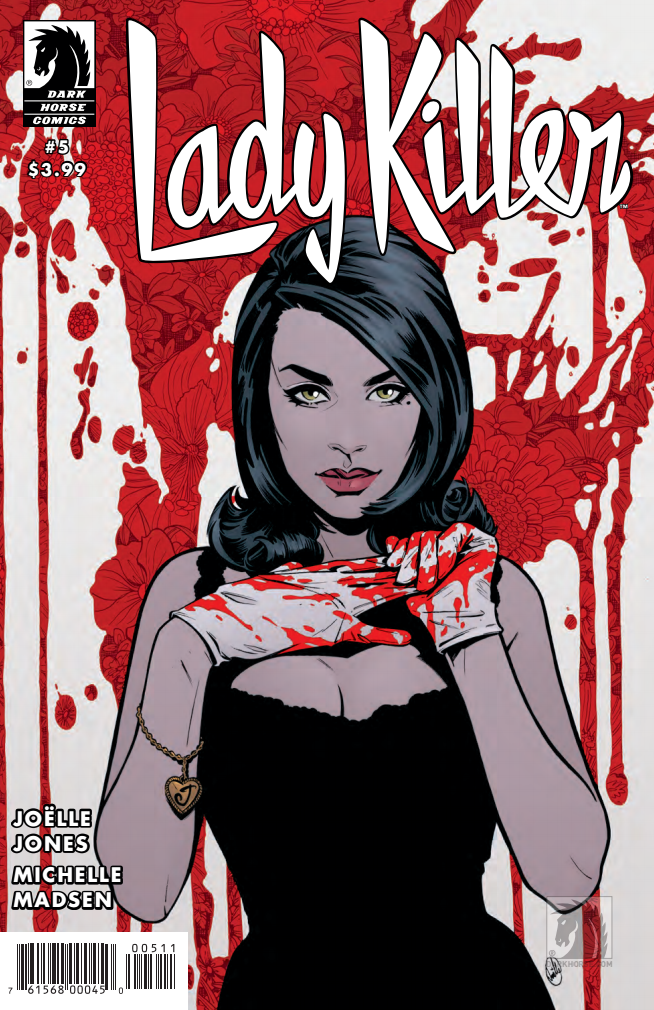 This issue begins with a flashback to Josie's past, where we see her as a young child being taught a life lesson from her mother about how to survive in this "mean old world". We then jump forward to the present, where Josie's home is under siege by her ex-partner, Irving, who is mad with rage over the abrupt end of their partnership. Hellbent of revenge, Irving launches a brazen attack against Josie, charging into her home guns blazing. This sudden ambush has Josie reeling, as she didn't anticipate that he would attack so soon after their fallout. With Gene and the children out of the house, Josie and her mother-in-law are forced to put their differences aside and work together to try and put this monster to rest one last time. After an intense standoff, culminating in a frenzied and desperate struggle between the two, Josie is left with her personal and professional life dramatically changed.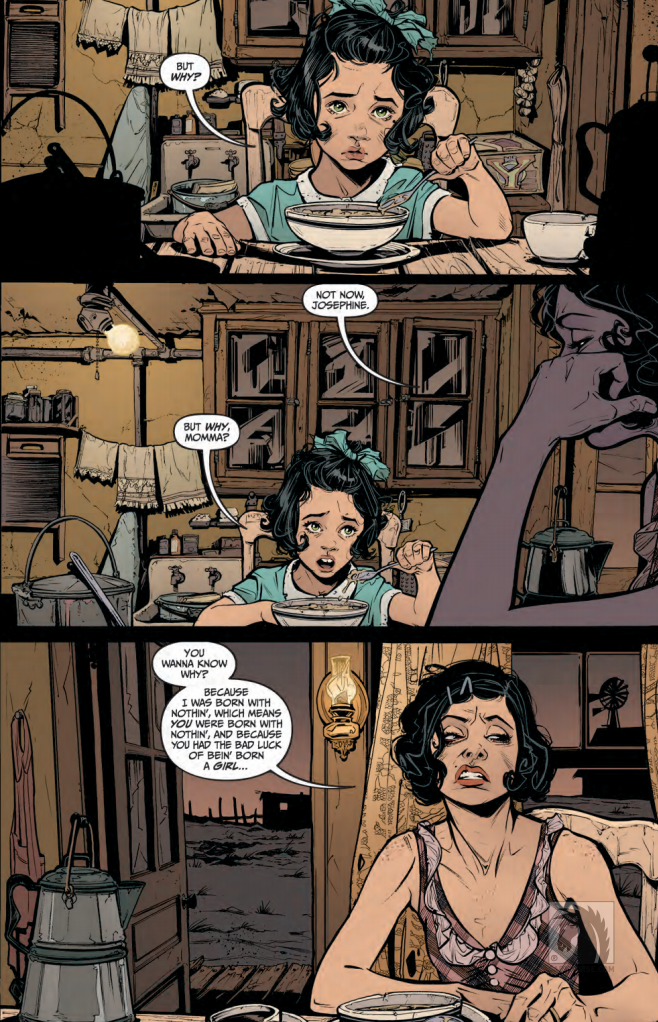 It's great to have Josie back doing what she does best: carving someone up…the only difference is that this time it's personal. Josie's worlds have collided, as her career has come crashing into her personal life, quite literally. This isn't the first time we have seen Josie fighting against the odds, but there is something so much more gritty about this fight. Irving surprises her by making a quick and unexpected move, attacking her in her home so soon after their partnership has ended. I also really loved seeing Josie and her mother-in-law work together in this issue, putting aside their differences so as to defeat Irving and save themselves. The growth of their relationship has been an interesting one, and seeing this dramatic shift in their dynamic is strangely enough one of the positives to comes out of this story, and I'm curious to see where this will go in future story arcs. This issue is not only a gritty action-filled installment, but is also a dramatic shift and upheaval in Josie's life. It feels like a fresh start, albeit one that she isn't terribly happy about, but nonetheless symbolic of new beginnings. Just what that new beginning is, we'll have to wait and see.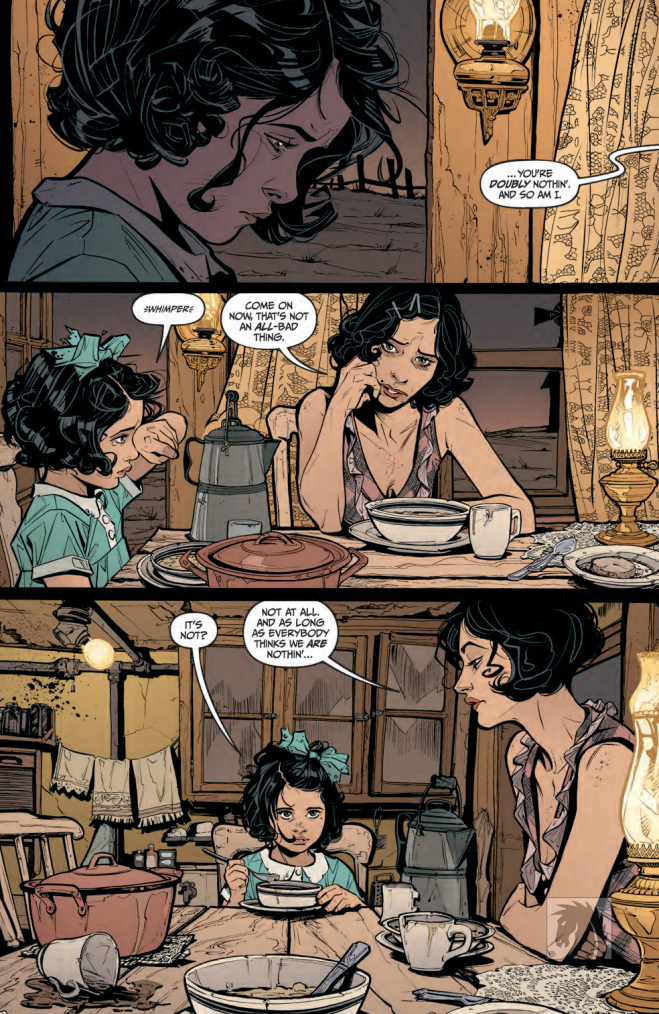 Joëlle Jones' art is gritty, striking and downright intense. I just love how Jones captures the full brutality of Irving and Josie's fight, never shying away from showing us the graphic details of these close combat fight sequences. There is a lovely sense of movement that flows throughout these scenes, which captures the fluidity of their fighting effortlessly. It all comes together perfectly to create a very intense and gripping sequence of events. The colouring, by Michelle Madsen, reflects the tonal changes in this story perfectly, capturing the intensity of this issue. I particularly like the colouring that we see during the fighting scenes, where the palette is striking and eye-catching.There is a really cool effect of paint-like spatters that we see during some of the scenes, especially during the fighting, which reminds me of blood spraying as they grapple with each other. It all comes together to create a gripping visual experience that is both exciting and compelling.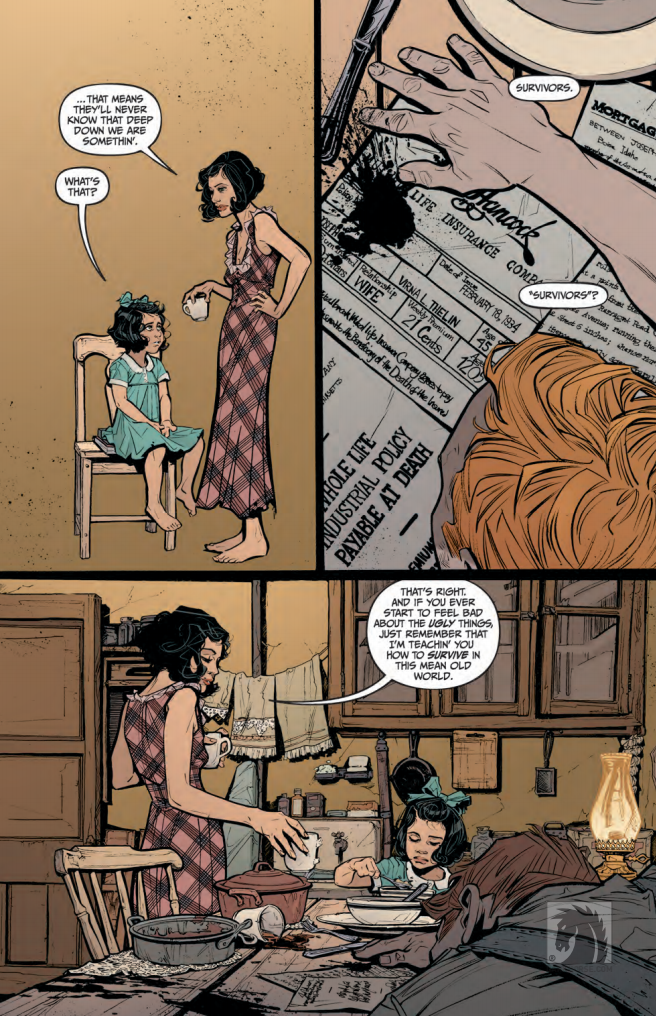 Overall, I found this to be an enjoyable and engaging issue of Lady Killers. There is nothing like seeing Josie in action, as she fights for survival against a ruthless and unrelenting killing machine. The story has progressed in an interesting and compelling way, and I'm curious to see where this will take Josie and what her next venture will be. I highly recommend you grab a copy ASAP and be prepared to enjoy some bloody good action!
I'm giving this issue 4.5 out of 5 stars!
---
COMIC DETAILS
CREATIVE TEAM: Joëlle Jones, Michelle Madsen
PUBLISHER: Dark Horse Comics
PUBLICATION DATE: August 30, 2017
REVIEWER: Dana Folkard