Comics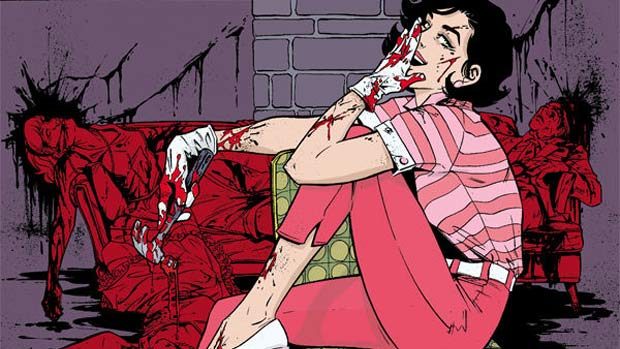 Published on July 14th, 2016 | by Jose J. Becerra Jr
Lady Killer 2 #1 Review
Summary: Overall, "Lady Killer 2 #1" is off to a great start. From the opening scene, to the first act of violence... it's a memorable premiere issue.
Josie Schuller returns this August in "Lady Killer 2 #1," from Dark Horse Comics. This new series is brought to us by writer/artist Joëlle Jones and colorist Michelle Madsen. Fans of the first miniseries will notice that the story picks up where the previous story left off, but for new readers, the story is easy to follow, and is enjoyable. Some elements will make more sense if the first miniseries is read before reading "Lady Killer 2 #1."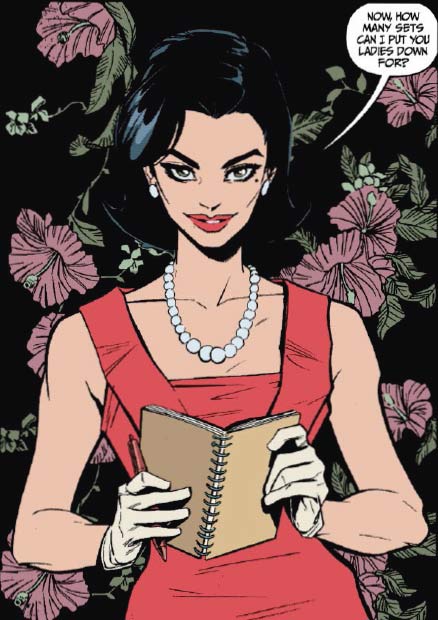 Josie continues to live a double life as a housewife and mother in the suburbs of the 1960's, and an assassin who is now working for herself. The difference being is that she has to clean up her own mess now, after her kills. She realizes that going into business for herself means she has to work hard, and mistakes will be made, but that's how lessons are learned. The story begins similar to the original miniseries, only this time Josie is acting as a representative to sell sets of plastic ware. Once the party ends and the guests leave, the action begins. The violence in the seven pages that follow need to be seen to fully understand what kind of assassin Josie is, and it's illustrated well. It's disgusting and wrong…but so good at the same time!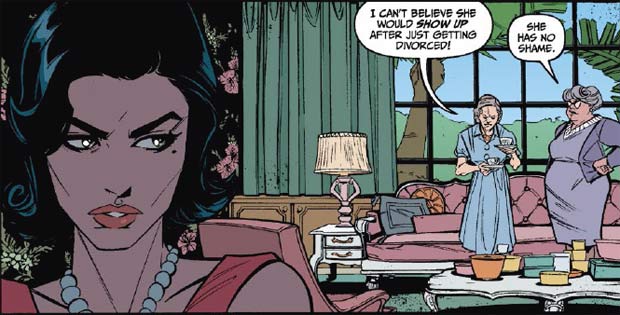 As the story continues, the readers see that the Schuller Family has moved from Seattle to Cocoa Beach, Florida. Here we see Josie's husband, Gene, and their two daughters. Gene's mother is there also, and she still doesn't like Josie, especially since she saw Josie murder someone at the end of the first miniseries. Mother Schuller seems more frightened by the sight of Josie than any other feelings she may have had in the past.
Shortly after Josie and mother Schuller have a conversation, Gene's boss, George, arrives for dinner with his wife, Ruth. This is where readers see the other side of Josie, because George degrades her and goes beyond flirty with her. Joëlle Jones does a wonderful job of scripting Josie during these moments, because assassin Josie would've taken George out of his misery if he treated her this way while she was "working." In the final act, the story ends with a cliffhanger that will have readers come back to read the next installment.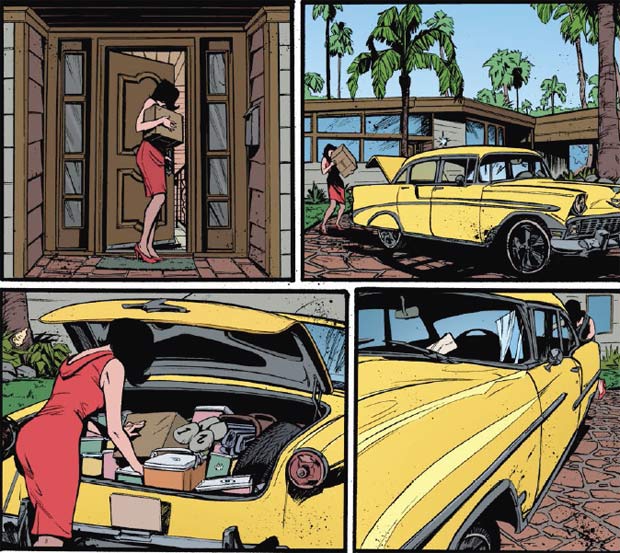 Final Thoughts?
Overall, "Lady Killer 2 #1" is off to a great start. From the opening scene, to the first act of violence…from the Schuller Family moments, to the final act, everything that made the original miniseries memorable is found in this premiere issue. Joëlle Jones knows how to make Josie beautiful and loveable, but scary and powerful simultaneously, through words and illustrations. Michelle Madsen nails it with the coloring as well, the atmosphere really changes from the blood-red violent scenes to the bright, cheery family moments. Fans of this series are in for a treat, and new readers will be able to follow along fine, but it's recommended to read the first miniseries before jumping on to this one. I'm rating this comic 4.5 out of 5 stars, highly recommended!
Comic Details

Title: Lady Killer 2 #1
Publisher: Dark Horse Comics
Creative Team: Joëlle Jones, Michelle Madsen
Publication release: August 03, 2016
Reviewer: Jose J. Becerra Jr.