Comics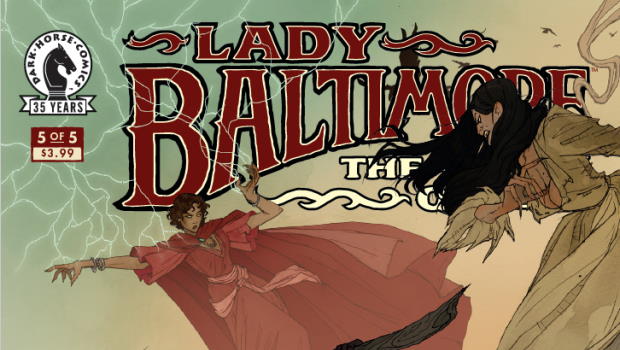 Published on October 28th, 2021 | by Chris O'Connor
Lady Baltimore: The Witch Queens #5 Review
Summary: The Hexencorps have sprung their trap... but the outcome might not be quite what they expected.
The Hexencorps trap has been sprung and Sofia Baltimore and her party seem to be out of luck… but not everything is as it seems and the tables may yet be turned.
Writing
For anyone who has been following this story… this is the ending you've been waiting for. Filled with action (save for a lovely emotional piece at the end), there is very little letting up of the pace here. Given this is the conclusion to this story arc I don't want to risk giving anything away… so I will say that Sofia remains totally bad ass, Joe Golem is still a super cool character and you may want to take a deep breath before you start this comic because it really does move along at a thumping pace.
Artwork
There's some fairly full on gore here, so if you are a bit squeamish you may want to skip this one. Plenty of vibrant colour helps the images pop (and those gorey parts stick out a bit more). There's a lot going on in this issue but thanks to some great clean line work and those fantastic colours, your eyes are never lost or even overwhelmed. The panels are easy to follow and convey all the thrilling action without getting messy.
Final Thoughts
If you haven't caught any of the previous issues in this run it might be a bit confusing as to what is going on… but, it's still enjoyable. There's probably enough action going on to keep you distracted from any story elements that are a bit confusing anyway so it's not a huge issue jumping in at the end. Having said all that… what an end it is! If you have been following this arc… I'm pretty sure you will be happy with the conclusion… especially the last couple of pages… they just seem right and certainly pave the way for some exciting times ahead.
Comic Details
Publisher: Dark Horse
Writer: Mike Mignola, Christopher Golden
Artist: Bridgit Connell
Colourist: Michelle Madsen
Cover Artist: Abigail Larsen
Genre: Horror, Crime, Action/Adventure
Format: 32pgs, FC, Miniseries
Release Date: 27th October, 2021