Films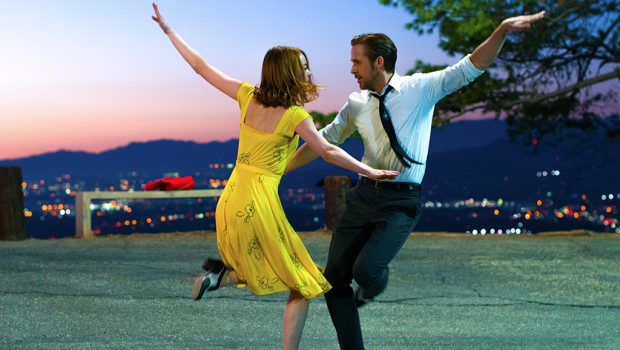 Published on January 6th, 2017 | by Damien Straker
La La Land – Film Review
Reviewed by Damien Straker on the 6th of January 2017
eOne presents a film by Damien Chazelle
Produced by Fred Berger, Gary Gilbert, Jordan Horowitz and Marc Platt
Written by Damien Chazelle
Starring Emma Stone, Ryan Gosling and John Legend
Music by Justin Hurwitz
Edited by Tom Cross
Running Time: 128 minutes
Rating: M
Release Date: the 26th of December 2016
It took two viewings to fully appreciate La La Land. The first time I saw the film it seemed solid but its greatness didn't shine through with the same aura some have experienced. On a second attempt, it was like watching the film with fresh eyes. Its thematic content, complemented by its minute visual details, seemed richer, more alive and immediate. Its goal was clearer too, elevating it beyond a cute and melancholic musical, and into a sophisticated, purposeful new work. The film's tremendous success as a musical shouldn't surprise us considering thirty-one-year-old director Damien Chazelle's devotion to jazz. His previous movie Whiplash (2014) followed a drummer who was bullied by his music teacher and was based on his own experiences in high school.
The film was about music, failure and fear, and while it was imperfect and conflicting, there was no doubting Chazelle's craft. His potential as a filmmaker is fulfilled and exceeded with La La Land, which features Ryan Gosling and Emma Stone in the perfectly cast lead roles. Chazelle has written a simple story comprising similar themes to Whiplash, but calling the film simplistic or breezy undermines the complex engineering required to lace this film with upbeat music, a confident and exciting shooting style and meticulous framing. The film's impressive audio-vision is not employed to substitute depth. Instead, the filmic style becomes intrinsic to Chazelle's thematic aim: the celebration and unity of classical and contemporary formalism as an enrichment of the individual.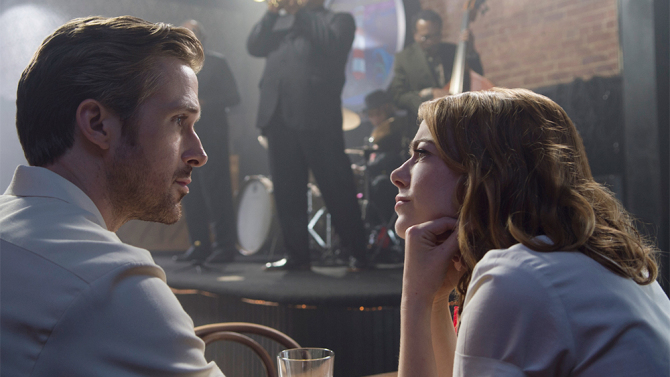 The film's narrative dissects individualism and stardom in Hollywood, leading to inevitable comparisons to the films Singin' in the Rain (1952) and The Artist (2011). Set in contemporary LA, Mia (Stone) is a barista working near the Warner Bros lot. She dreams of becoming a movie star but feels alone at parties and away from her friends. Her film auditions are unsuccessful with people interrupting her work or briskly dismissing her. The film cheekily embraces coincidences by having her repeatedly bump into Sebastian (Gosling), a pianist struggling for consistent work. He considers himself a "serious musician" but is fired by a restaurant owner (J.K. Simmons) after playing the wrong music list. While Sebastian and Mia initially dislike each other, their friendship blossoms when he encourages her to pursue her interests as a playwright, which was one of her childhood passions alongside watching classic cinema with her aunt. Sebastian also wants to salvage his favourite jazz club, which has become an obnoxious restaurant, and vows to return it to its former glory. Although initially capable of following their own passions, life interrupts Mia and Sebastian from supporting each other's dreams, which strains their relationship.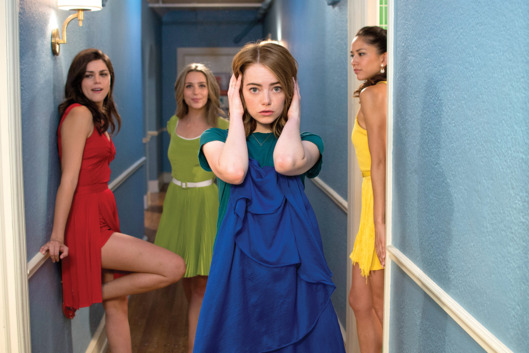 It may sound basic and straightforward but skill and imagination forge an incredible partnership under Chazelle's direction, whose mission is to combat stasis in modern cinema. It's already well documented how the film's musical numbers are shot to mimic the classic age of Hollywood. The film's clever, electric opening scene combines its contemporary setting, a highway stacked with cars, with camera movements warped in from musicals of the past. With energy and fluency, the camera draws away from the actors as they bounce off vehicle rooftops and then flows alongside them in long single takes. The dancing, choreographed by Mandy Moore, is photographed with such clear spatiality and depth that it refutes modern cinema's overuse of close-ups and fast cutting. Effectively, Chazelle uses traditional filmic techniques to create an old fashioned but modern playground for people to champion their self-expression through singing, music and dance.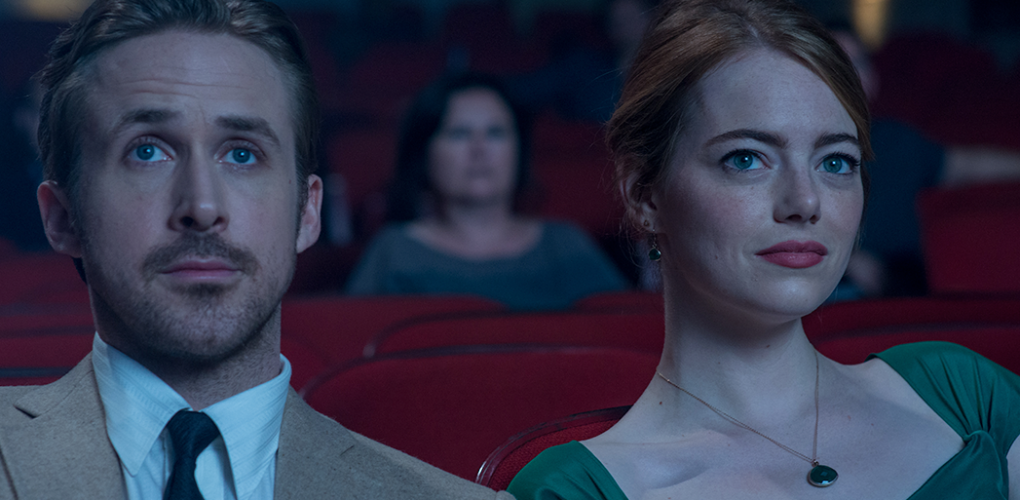 The complex dance sequences and quiet dialogue scenes that follow persist with the movement and elegant camerawork. A beautifully shot sequence visualises female friendship and solidarity through the hallways of an apartment and then out into the street as though the girls are confidentially strutting their way through Beyoncé's music video for Crazy in Love. The sequence shifts locations to an overflowing pool party, perhaps a throwback to the pool scene in Capra's It's a Wonderful Life (1946). With a strikingly high number of bodies in motion and gazes set away from Mia, Hollywood's overcrowded hunt for relevancy and popularity is juxtaposed with Mia's dislocation. Her desire is to be valued as more than a single cog in a dance sequence. "Is someone in the crowd the only thing you really see?" she sings. Here the music transcends its cheerful buoyancy to become an expression of her desire to be recognised as an individual of her own time, one that escapes the sequence's modern-traditionalist pop framing.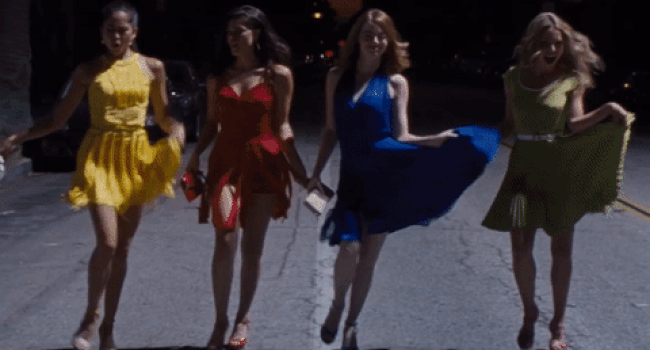 Mia's journey towards self-worth gains momentum in Sebastian's company. Their scenes together are set against the Hollywood backlots and filmed with wide shots so that the camera crabs horizontally as they talk. The camera movement and their discussions about Mia meeting her potential become expressive of outsiders in Hollywood kept on the fringes of stardom; they are the type of people who are hushed and brushed away while a scene is being filmed. The setting is also haunted by past glories. Posters of history's most famous movie stars (such as Ingrid Bergman) linger in the depth of the frame, setting an impossible standard for would-be actors such as Mia who doubt their abilities. This uncertainty is also reflected in the film's narrow spaces, such as a lonely boardwalk at night and a road lined with trees that Mia sprints down to a deliberately melodramatic score—an expression of the excitement of facing destiny and the unpredictable outcomes that defy life's banality.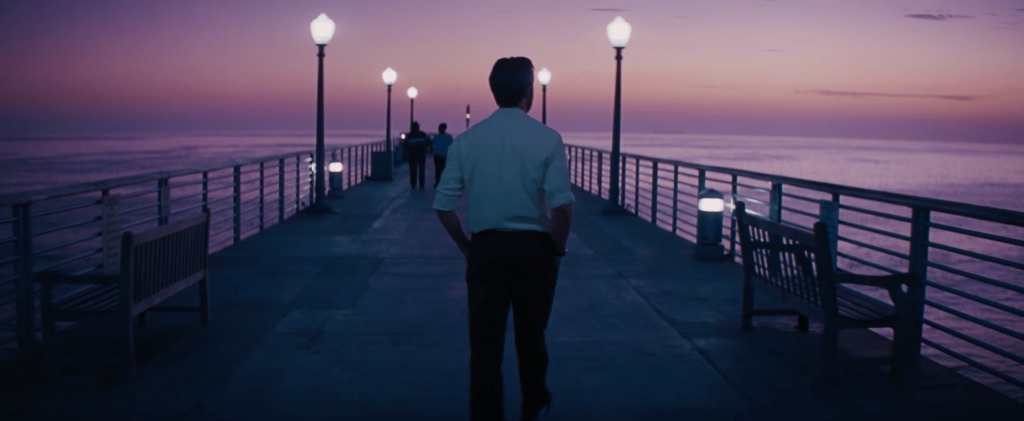 This is the third and best film Emma Stone and Ryan Gosling have made together. Their chemistry is so effortlessly charming and enjoyable, enriched too by Chazelle's witty, well-paced script that permits them to exchange colourful barbs at each other. A unique, somewhat baffling cosmic sequence suggests their characters would embrace living in a space free from linear time. The closure of time and the fade of eras are critical to the film's anxiety and quiet sadness—particularly in Emma Stone's emotional and comic performance—and signals Chazelle's ability to balance both humour and melancholy. We too begin to imagine the loss of the vintage, including cinema. In a sad, funny moment, Mia and Sebastian awkwardly laugh as the film Rebel Without A Cause (1955) burns up during a screening, and a mobile phone interrupts a classic dance sequence. Likewise, when Sebastian's music partner (singer John Legend) interrogates him about being too traditional, Chazelle is asking himself similar questions about contemporary forms and leaving classicism in the shadows.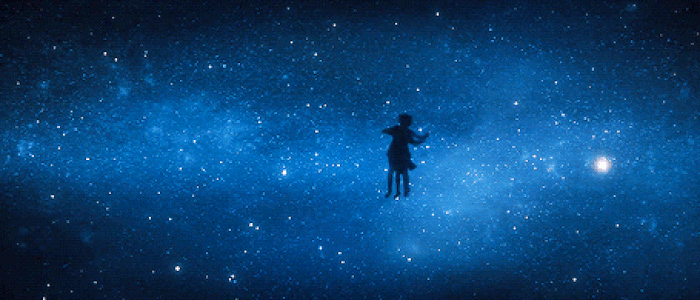 After an exuberant first half, La La Land's personal conflict is slower and deeper as Mia and Sebastian fail to support each other's work. Deliberately hiding the content of Mia's one-woman show and cutting the characters into separate timelines (nostalgia and contemporary) expresses how modern commitments can eclipse traditional mediums, including theatre. The couple become engulfed in their separate art forms and strategies for success, ultimately putting them at odds. Using this as its dramatic situation, La La Land is cinema's jolliest cautionary tale. However, a complex and incredibly moving finale doesn't judge or diminish old or new forms, but projects how richer the world will be if we combine music, cinematic genres like the musical, dance and pop art (silhouettes and animations), rather than isolating these mediums into their own separate passages of time. The film itself is a showcase or a call to arms for people to embrace all forms of art. "So bring on the rebels, the ripples from pebbles, the painters, and poets, and plays", Mia bellows. This is not a sugary coda but a cry for unity and appreciation in the art world. La La Land is itself a hugely successful and joyous hybrid of the arts, or to quote the film's rousing opening song Another Day of Sun: "a Technicolor world made out of music and machine".
Summary: La La Land is itself a hugely successful and joyous hybrid of the arts, or to quote the film's rousing opening song Another Day of Sun: "a Technicolor world made out of music and machine".