Games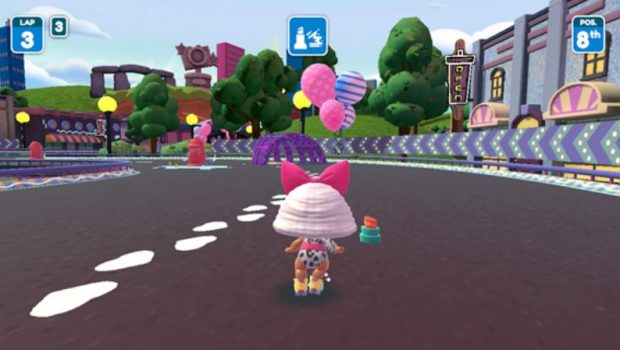 Published on September 22nd, 2023 | by Adrian Gunning
L.O.L. SURPRISE!™ ROLLER DREAMS RACING
L.O.L. SURPRISE!™ ROLLER DREAMS RACING HEADS TOWARD THE FINISH LINE ON NINTENDO SWITCH THIS SPRING; PRE-ORDERS AVAILABLE NOW
Global sensation L.O.L. Surprise!™ is getting ready to roll as the new roller-skating racing game L.O.L. Surprise! Roller Dreams Racing coasts to Nintendo Switch on the 10th of November. L.O.L. Surprise!™ Roller Dreams Racing invites players to experience heart-pounding fun with an array of their favourite L.O.L. Surprise! Tot characters to glide around themed tracks and earn glittery rewards and surprises. Skaters can preorder the frenetic game now
From licensors MGA Entertainment and publisher Nighthawk Interactive, L.O.L. Surprise! Roller Dreams Racing has players hitting the roller rink to experience outrageously fun races with up to four friends. Skaters will reap plentiful rewards from participating in thrilling game modes, customising skates with vibrant stickers, and utilizing confetti bombs and glitter to gain the edge over opponents and more.
L.O.L. Surprise! Roller Dreams Racing will have players lacing up their skates for three exhilarating game modes:
Multiplayer – Up to four friends can compete in speedy races to determine the ultimate L.O.L. Surprise! roller skating champion.
Single Race – Players can test their abilities in solo races against A.I.-controlled opponents.
L.O.L. Surprise! Grand Prix – Skaters can participate in a championship race on captivating tracks to vie for the Grand Prix title.
Earn L.O.L. Surprise! balls to unwrap by competing in any kind of race and customize your skates.
There also are several stunning circuits to compete based on the most popular L.O.L. Surprise! themes, including:
Dessert Land – These mega-sweet tracks feature a feast of colors as skaters are transported to Mini Sweets City where delicious desserts of all kinds await.
World Tour – Players can skate around the vibrant Route 707 and tour landmarks from all over the world on these unforgettable tracks.
Space Trek – These mesmersing tracks take players on a cosmic journey through outer space under faraway stars and galaxies.
Dazzling Gear and Prizes
Racers can gear up for plenty of dazzling features such as:
Personalized Gear – Players can choose from a spectacular lineup of skates and customise them with glittery stickers and FX to showcase their unique style.
Eye-Catching Items – To slow down opponents and secure victory, roller skaters can throw strategic items including confetti bombs, cupcakes, glitter and bubble gum.
Enticing Prizes – After each race, players will earn Glitter Points which can be used in their claw machine for themed L.O.L. Surprise! Balls to unwrap various collectible prizes.
L.O.L. Surprise! Roller Dreams Racing releases on the 10th of November for Nintendo Switch and is available to preorder now! For more information visit: https://www.lolsurprise.com/