Comics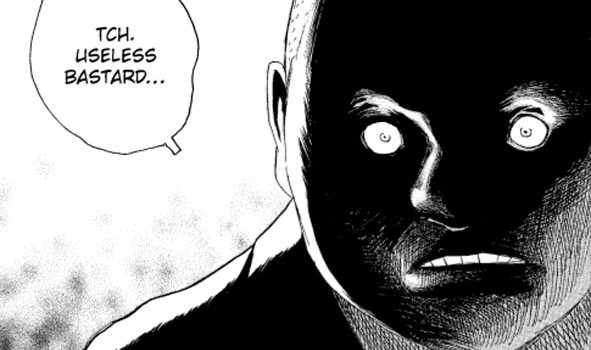 Published on June 9th, 2016 | by Dana Folkard
The Kurosagi Corpse Delivery Service Vol. 4 Review
Summary: There was never a dull moment reading this manga.
It would be an understatement to say that I've been excited about reading this manga for quite some time now. The sealed copies sitting on the bookshelves with their strange and alluring covers always seemed so mysterious to me. I found myself intrigued by what was in those pages to warrant them being sealed up and hidden from prying eyes. Well now I know!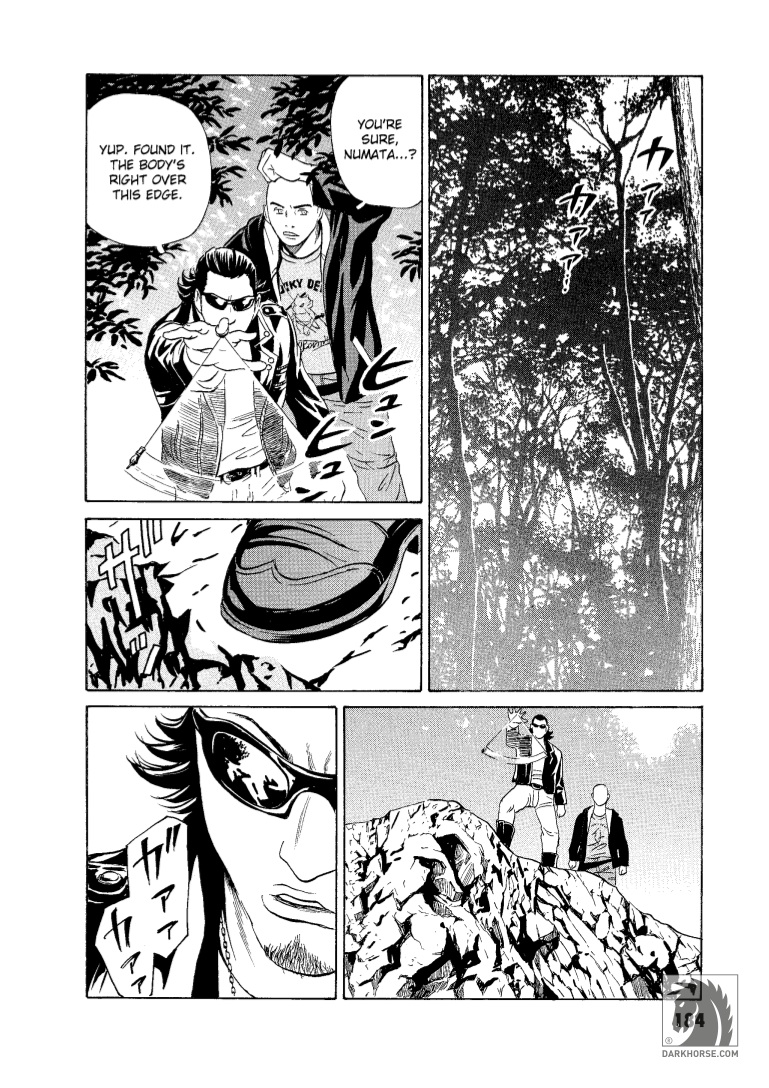 The Kurosagi Corpse Delivery Service (KCDS) is the creepy horror manga series from Eiji Otsuka and Housui Yamazaki. The series focuses on a five students who have created a company that specialise in working with the dead, mainly helping to fulfil their final wishes. Every member of the KCDS possesses some sort of special gift or trained skill that helps the team to find, communicate and offer closure to the deceased, all of which often results in some kind of revenge or noir-style murder mystery. There is Kuro Karatsu who has the ability to communicate with the dead so he can hear their final wishes. The ever-entertaining Makoto Numata who uses his ability as a dowser to located and find the corpses. Yuji Yata, who wears a felt puppet on his hand that is apparently possessed by a smartass alien. Ao Sasaki, a very skilled hacker, who is the brains behind the company and finally Keiko Makino, a very gifted and intelligent young embalmer. These five characters that make up the core base of the KCDS are excellent and so entertaining. There is a really good balance between all of them and the banter/dialogue is light-hearted and entertaining, which is really important when dealing with such heavy and bleak subject matter.
This volume is divided into three sections that contain a number of tragic and grotesque stories. The nature of some of these stories is very dark and twisted and at times possess an almost Twilight Zone quality about them. Whilst I would call this series a horror manga, it does incorporate multiple genres, including humour, the supernatural, crime, noir and drama. There is a healthy balance between all of these however and it really does make for some interesting and intriguing stories. Eiji Otsuka has really done an excellent job at immersing us in a world of fear, intrigue, mystery and death. I honestly felt disturbed by some of the grotesque and horrifying scenes that I was witnessing but at the same time I found the stories so exciting that I had to keep on reading.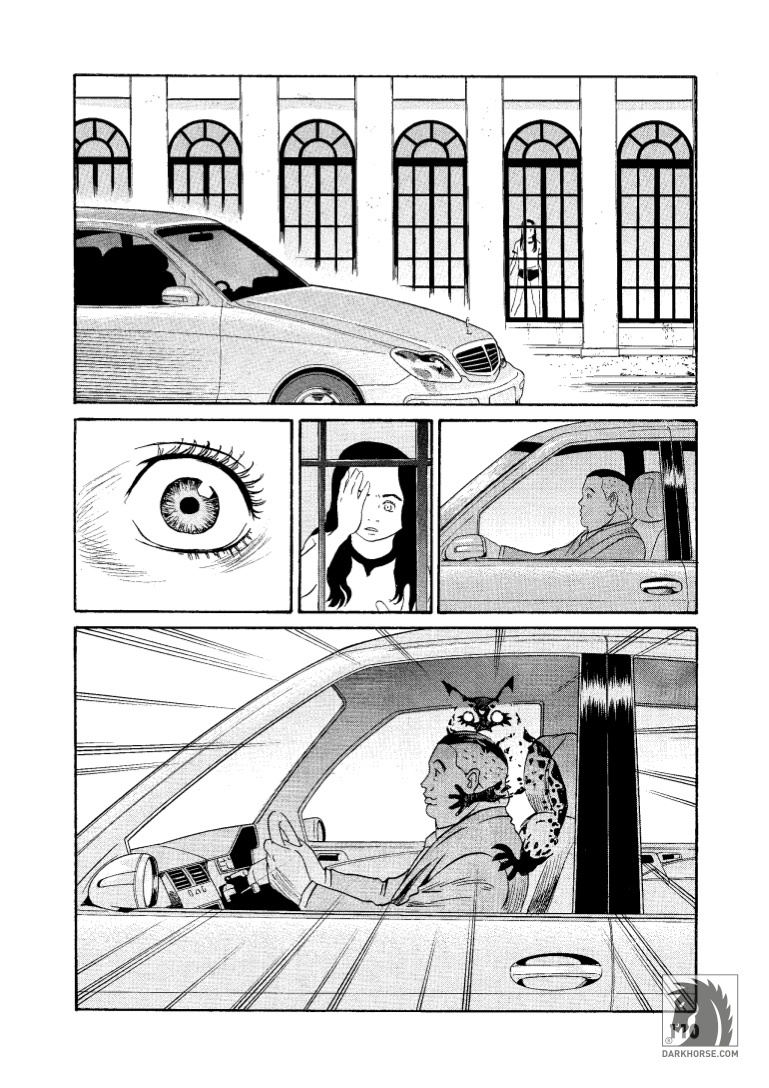 I found that there was never a dull moment reading this manga. There were multiple story arcs, plot twists and bizarre concepts to keep the pace fast and interesting. We see a modern tech horror story, a cop who uses the reanimated body of his dead son to get revenge, a possessed doll that is haunted with the ghost of a young girl, corrupt businessmen committing murder, taxidermy children and even an origin story of one of the characters, just to name a few in the cabinet of curiosities that KCDS has to offer in this volume. There are also some themes and concepts regarding life and ethics and the consequences that result from these choices. There were themes of guilt, regret, longing, loneliness, revenge and of course grief, all of which made me pause and think about the moral of the story to what I had just read. That is quite powerful for a story to achieve that and I found that it left a last imprint.
Housui Yamazaki's art is so effective for this kind of storytelling. He creates scenes that have a real-life quality about them. He does a good job at unnerving you and unhinging the tone of a scene, just by the detailed close-up grimace of a corpses face. Each panel that he draws is imperative to the story and often has small clues hidden within them, which he does a good job at drawing your eye towards. I rather enjoy the realism that goes into his art and I find that this helps to make some of the scenes that you are witnessing even more disturbing. The grotesque details of some of the most nightmarish scenes will really send a shiver down your spine. They honestly do evoke feelings of fear, dread and anguish. There were a few scenes where I actually said "Yuck!" out loud and had to take a moment to pause before I continued reading.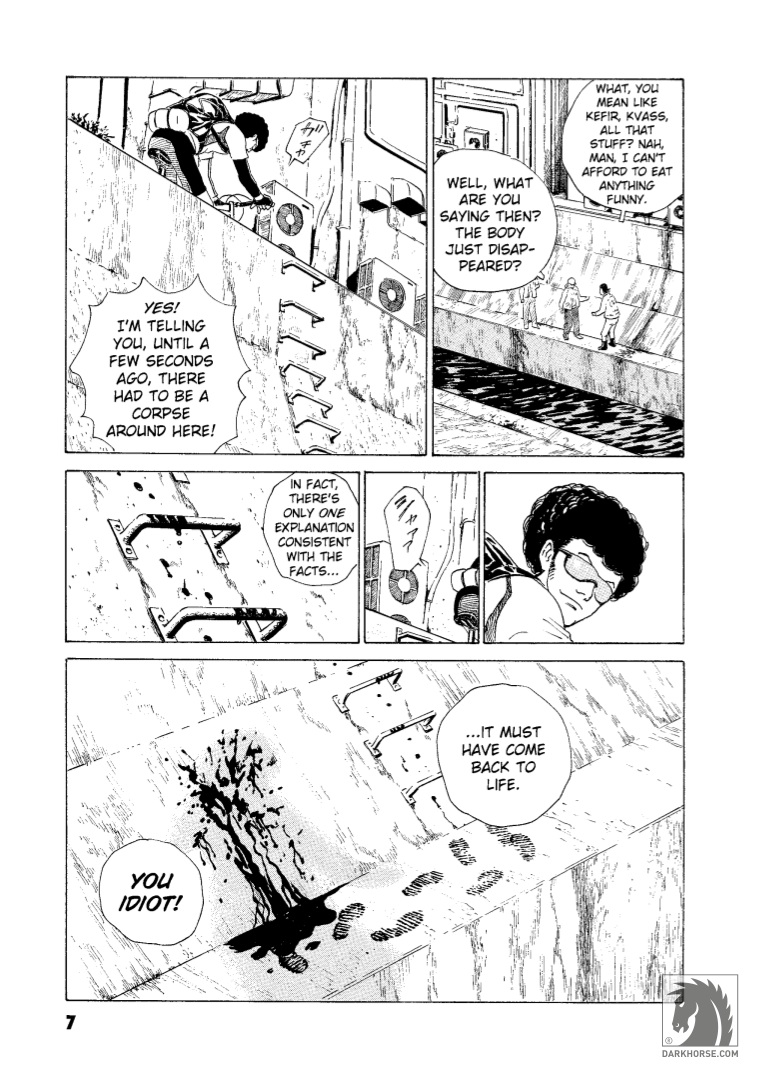 I also liked that addition of the extensive list of editor's notes at the end of each chapter. There are pages of information concerning Japanese culture, politics and laws. There was an explanation detailing the different varieties of Japanese hostess clubs, information about Japan's legal system concerning minors and gun control laws, references to actual crimes and incidences that inspired some of the stories that we read about, like the "Sasebo Slashing". I enjoyed having access to this index of information, as I was able to flick through it at the end of each chapter and gain a greater understanding as to what some of the references meant.
Overall I really enjoyed reading this volume of The Kurosagi Corpse Delivery Service and partaking in the strange and bizarre adventures that this misfit group encounters. I found it engaging, fun and even thrilling at times and the fast-paced storytelling, jammed packed with horror, drama and comedy kept the stories interesting and fresh. I will definitely be going back and reading more and I highly recommend that you do yourself a favour and pick up a copy.
I give this manga 5 out of 5 stars!
Manga Details
Title: The Kurosagi Corpse Delivery Service Vol.4
Publisher: Dark Horse Comics
Creative Team: Eiji Otsuka, Housui Yamazaki
Reviewer: Dana Folkard