Blu-ray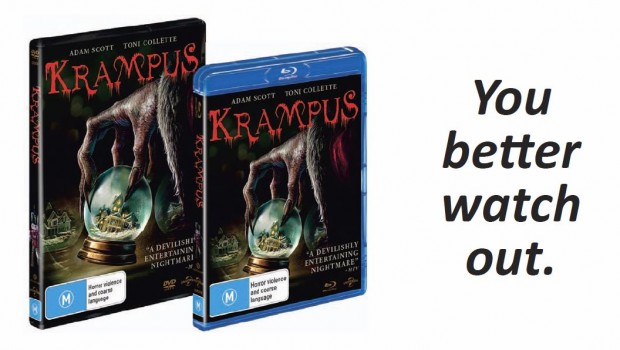 Published on March 21st, 2016 | by admin
Krampus ­ May 5, 2016
Universal Sony Pictures Home Entertainment is releasing Krampus – available to own on Blu ray™, DVD & Digital from May 5, 2016.
Featuring an all-star cast including Toni Collette (The Sixth Sense, Little Miss Sunshine), Adam Scott (Parks & Recreation, Step Brothers) and David Koechner (Anchorman, Get Smart) comes Krampus. This terrifying, darkly comedic tale follows an ancient demonic avenger that lays siege into an unsuspecting suburban family during Christmas. Written and directed by the iconic Michael Dougherty (X-Men 2, Superman Returns).
When his dysfunctional family clashes over the holidays, young Max Engel (Emjay Anthony, The Jungle Book, Chef) is disillusioned and decides to turn his back on Christmas. Little does he know that his lack of festive spirit has unleashed the wrath of Krampus: a demonic force of ancient evil intent on punishing non-believers.
As a freak blizzard suddenly engulfs the neighbourhood, all hell begins to breaks loose as beloved Christmas holiday characters take on a monstrous life of their own, reaping havoc to the fractured family's home, forcing them to fight for each other if they hope to survive.
Featuring special effects from Oscar-award winning studio WETA (Lord of The Rings, Avatar), Krampus is a gleefully gory horror thriller that's bound to deliver many deep, dark laughs and hair-raising scares. Krampus will plunge viewers into a nightmarish world ruled by a legendary monster bent on total destruction, punishing those who have lost faith.