Comics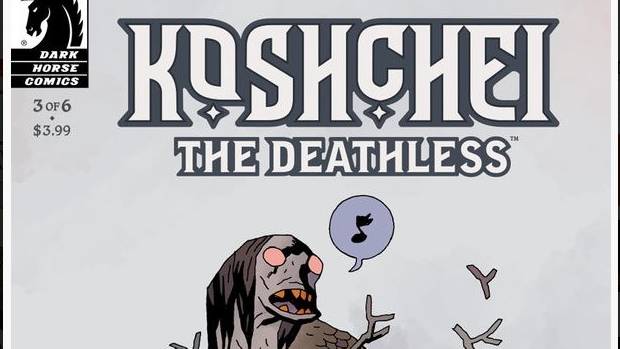 Published on March 15th, 2018 | by Chris O'Connor
Koshchei The Deathless #3 Comic Review
Summary: Set on a tragic path in service of the Baba Yaga, Koshchei continues his sorrowful tale while chatting with Hellboy in Hell.
The moment that was inevitably approaching is finally here. Koshchei must follow through on his task set by the Baba Yaga but to do so means confronting his past and hurting someone whom he owes so much to. But where to from that difficult choice… what can the future hold for a deathless creature such as he?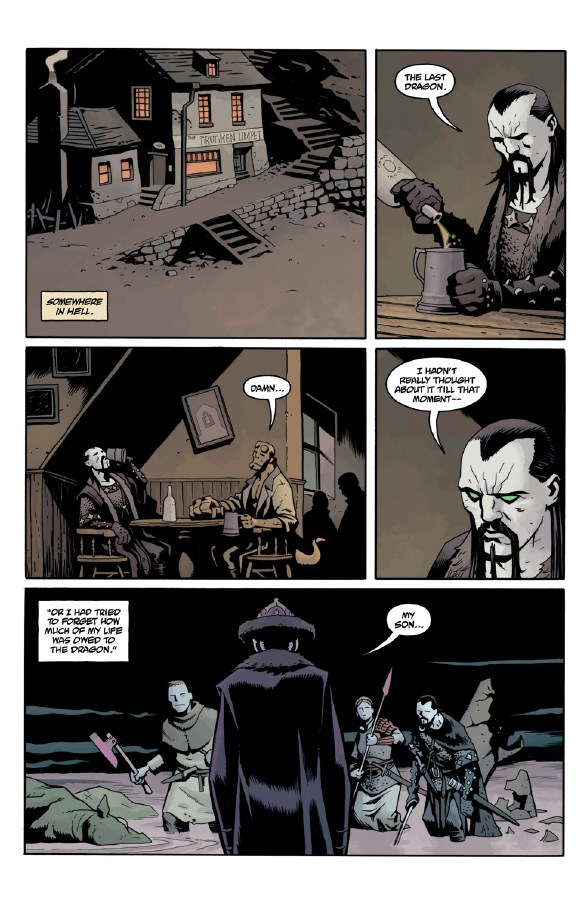 Writing
The build up to this part of the story has worked brilliantly. The first part set up Koshchei's "rebirth" as a living dead warrior and the person/creature who brought him to the other side. The second portion of the story followed him as he gave rise to his legend, but also brought him back, ever closer to his origin. In this chapter Koshchei is faced with confronting his "father"… the man who saved him from death but also, to some extent, damned him. He knows what the Baba Yaga wants him to do and given the consequences if he doesn't follow through, he doesn't have a lot of choice, but through Mike's storytelling we can see it's not an easy task to complete and though he may be the living dead, Koshchei still has a heart.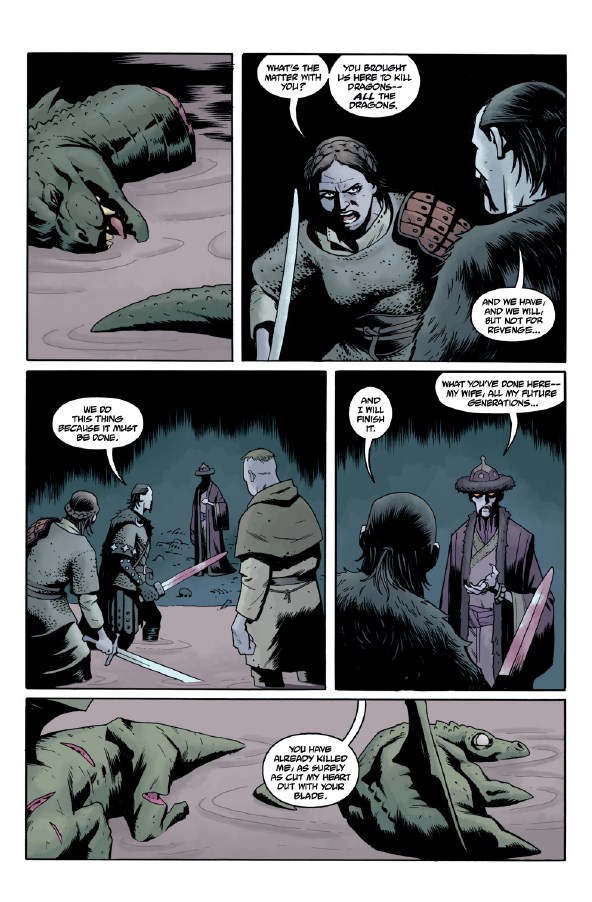 Artwork
There are some very touching scenes in this story, moments of internal conflict and sorrow. Mike Mignola manages to capture the essential details of the characters, just the right lines and angles to bring those emotions to the reader and with Dave Stewart's subtle tones and shading it's hard not to get caught up in the heart wrenching decisions Koshchei makes.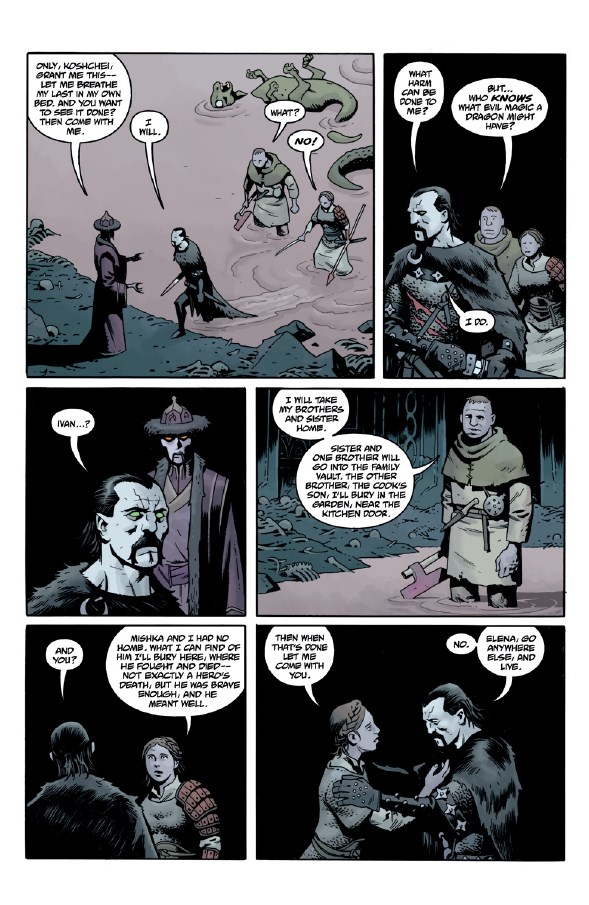 Final Thoughts
The story itself, that is the story that Koshchei is recounting, it full enough to carry the comic on it's own… but I have to say those moments we get taken to the present with Hellboy and his interjections are priceless… his reaction to Koshchei's choices near the end are highly likely to put a grin on your face if not elicit a chuckle. Those moments of humour are probably important in a story that otherwise is considerably dark. That light and dark is mixed just right to let the story retain its seriousness but at the same time prevents it becoming depressive. I'm not sure if after this run I'd like to see Hellboy and Koshchei team up or if I'd just like a series of Hellboy the therapist of Hell.
Possibly the strongest chapter in this story so far… and that's saying quite a bit. Definitely grab a copy.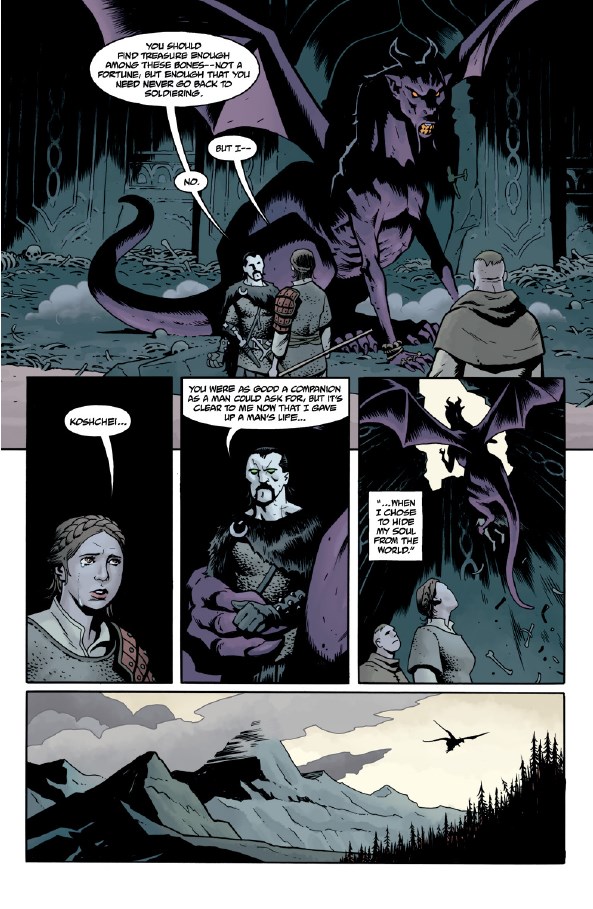 Publisher: Dark Horse
Writer: Mike Mignola
Artist: Ben Stenbeck
Colourist: Dave Stewart
Cover Artist: Mike Mignola
Genre: Fantasy, Horror
Format: 32pgs FC, Miniseries
Release Date: 7th March, 2018