Games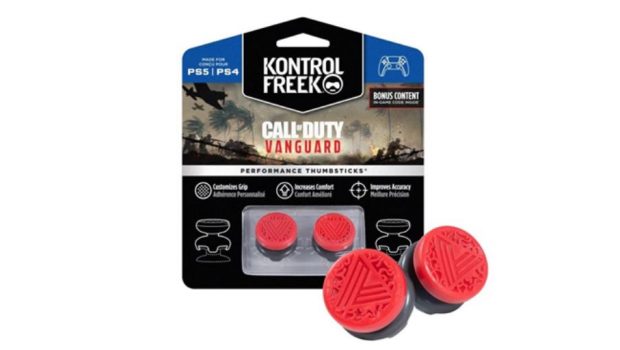 Published on October 27th, 2021 | by Adrian Gunning
KontrolFreek Unveils the Call of Duty Vanguard Performance Thumbsticks
KontrolFreek®, the creator of Performance Gaming Gear™, today unveiled the special-edition Call of Duty® Vanguard Performance Thumbsticks®.
Inspired by the newest chapter in the Call of Duty series, the unfailing red-on-black color scheme brings the iconic logo to life with two laser-etched Vanguard inspired high-rise Thumbsticks. Utilizing the science of ergonomics, the special edition performance gear helps improve gameplay by increasing range of motion, comfort, exceptional grip, and control while delivering maximum precision.
Adding 10.2mm of height to original stock controller sticks for increased arc distance and precision, the Call of Duty Vanguard Performance Thumbsticks reduce the amount of force required for movements, decreasing hand fatigue, and improving accuracy. The result is maximized agility, which allows gamers to optimize their in-game sensitivity to quickly defend the front, turn the tides, and change history forever in Vanguard's re-imagination of World War II.
The special-edition Call of Duty Vanguard Performance Thumbsticks are available for $19.99 at KontrolFreek.com. As a bonus, gamers can show support for the Special Forces with a special-edition KontrolFreek Aviator Weapon Charm. Each pack includes one unique code redeemable after 11/5/21 at www.callofduty.com/redeem.
Key Product Features:
Designed to meet ergonomic and performance gaming needs specific to Call of Duty Vanguard
The world's most advanced thumb grips with next-gen 4-Prong design for next-gen consoles
Adds 10.2mm of height for improved arc distance and movement accuracy
Available for PlayStation 5 | PlayStation 4 | Xbox X/S | Xbox One