Games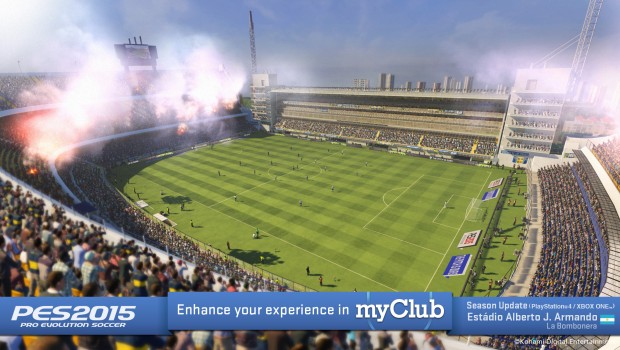 Published on March 6th, 2015 | by admin
KONAMI Reveals PES 2015: Data Pack 4 Content Updates
Free updates include winter transfers, new player faces and additional stadiums for award-winning PES 2015
Konami Digital Entertainment B.V. today announced the content updates coming in the free Data Pack 4 download for PES 2015 (IGN's Best Sports Game of 2014 and Best Sports Game at gamescom). This update includes the latest rosters across all modes in the game, improvements in a number of player likenesses, adds new stadia and kits, and implements the latest boots and balls from a number of key suppliers. Data Pack 4 will be released globally on March 12, 2015.
The latest free update for PES 2015 adds more realism and real-time league changes, implementing player transfers made within the January window. Player ratings have also been updated. Additionally, a number of improved likenesses to key players will be implemented. In line with PES 2015's reputation for stunning physical and aesthetic reproduction of the sport's greatest stars, the new data pack adds over 60 new faces from some of this season's top players, as well as some new stars that have recently exploded onto the scene. These include Paco Alcácer, Harry Kane, Paulo Dybala, Javier Pastore and Nathaniel Clyne. Since launching PES 2015, KONAMI has added over 200 new players to the game and continues to work with the fan community to select additional players for future inclusion.
Other additions include three additional stadia, as well as updates to kits and equipment. One of the new stadiums is Estadio Alberto J. Armando, also known as "La Bombonera." All of the stadia have been faithfully modeled after their real life counterparts and will be available for the PlayStation®4 and Xbox One™ systems. Additional updates deliver 11 new boot styles, including adidas' Predator Instinct and adizero f50 designs, alongside Nike's Tiempo and Puma's evoSPEED 1.3 pairs. The new adidas argentum ball will also be available, as is the official match ball of this year's UEFA Champions League Final.
"The Pitch is Ours" is the ethos for PES 2015 and the aim in this year's installment has been to recreate the drama and tension associated with a vital match. PES 2015 marks a concerted return to core PES values of total control, utterly responsive controls, and unrestricted gameplay, where the user has complete control over how they play. Every pass, shot or run is finely balanced to give maximum player satisfaction within PES 2015's on-field action. Also, PES 2015 added a new mode, myClub, where users can assemble and manage a world-class team of their own creation to compete with CPU-controlled teams offline or other real users online. Players can advance their myClub teams through either Game Points earned by completing challenges or via myClub coins which can be purchased using real world money PES 2015 has been hailed by critics and fans as the best football game of its generation. 
PES 2015 is available now worldwide on PlayStation®4, Xbox One™, PlayStation®3, Xbox 360™ and Windows PC. More information is available at pes.konami.com.