Events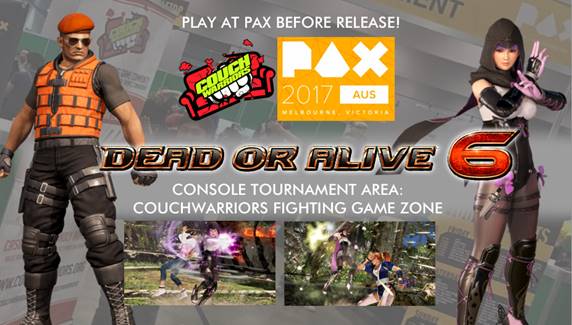 Published on October 22nd, 2018 | by Admin
KOEI TECMO'S DOA6 IS SMASHING INTO PAXAUS 2018!
Sydney, 22nd October 2018 – Turn Left Distribution is pleased to confirm that Koei Tecmo's upcoming release, DEAD OR ALIVE 6 will be playable at PAXAus in Melbourne, October 26th – 28th, 2018. In association with CouchWarriors, the Console Tournament Area will give attendees the opportunity to play the latest demo straight out of Tokyo Game Show ahead of its release on February 15th, 2019.
CouchWarriors will also be hosting a panel on the Saturday night. The panel will showcase the Console Tournament finals and will include a Dead or Alive 6 exhibition match. For more information and schedule of tournaments, visit https://www.couchwarriors.org/cwpax2018/
DEAD OR ALIVE 6 is the latest instalment in the DOA series and the first entry to be built from the ground up for current gen platforms. Pushing for the highest quality possible, players can feel every punch and drop of sweat as the new engine offers an all-new realistic fighting experience. With 2 new characters & several new stages, and a plethora of returning fan-favourite characters & stages, this will be the most immersive experience to hit both the fighting/tournament stage and home consoles.