News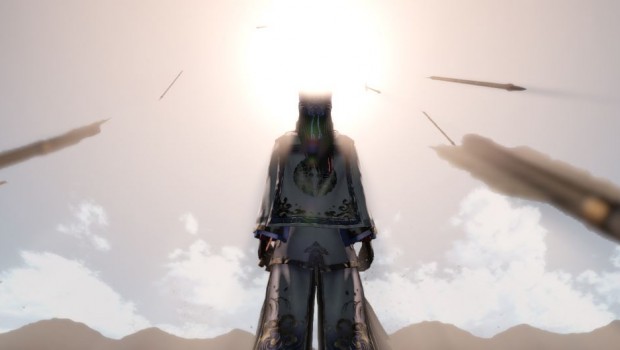 Published on July 10th, 2014 | by admin
KOEI TECMO EUROPE UNLEASHES ONSLAUGHT OF NEW SAMURAI WARRIORS 4 IMAGES FEATURING NEW BATTLE MODES, EXPANDED CHARACTER ROSTERS, AND NEVER BEFORE SEEN STAGES
KOEI TECMO Europe today released new images for the tactical action game SAMURAI WARRIORS 4 scheduled for release on 23rd October 2014 for PlayStation®3 and PlayStation®4 and PS®Vita handheld system. The art and screenshots feature 12 characters from the expanded rosters including three new warriors, six striking stages from the Warring States era, frames from the Legend of the Oda and Legend of the Takeda event scenes and the character and battle modes for both PlayStation 3 and PlayStation 4. The company also launched the official SAMURAI WARRIORS 4 website: www.samuraiwarriors4.eu.
In addition to the franchise's first-ever appearance on new generation systems with its launch on PlayStation 4, SAMURAI WARRIORS 4 is celebrating 10 years of the tactical action WARRIORS brand that has sold over 34 million units worldwide. A new chapter of the saga unfolds with more than 50 playable warriors to choose from, devastating new attacks and exciting new modes creating an entirely new SAMURAI WARRIORS experience in stunning HD resolutions.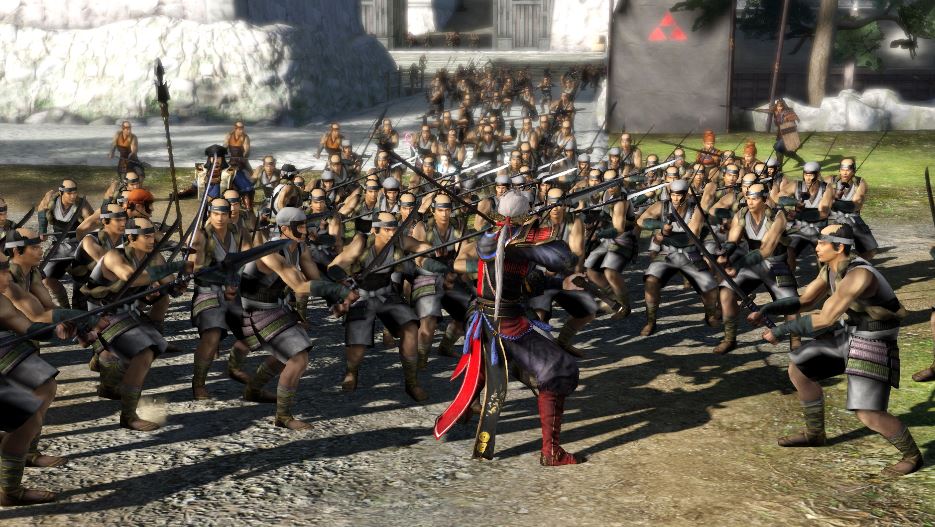 Features
55 New and Updated Characters— Nobuyuki Sanada and Yoshitsugu Otani join the fray, along with Takatora Todo, Naotora Ii and Munenori Yagyu (previously only available in Japanese releases of SAMURAI WARRIORS). There are major overhauls of appearance and rearrangements in battle moves for fan-favorite characters such as Yukimura Sanada and Nobunaga Oda adding to the diverse range of more than 50 playable characters. 
Disseminate the Enemy Ranks— Battles are more thrilling than ever with new maneuvers. Hyper Attacks allow for rapid moment on the battlefield combined with high powered attacks, a powerful Rage Attack which can be reached when the Spirit Gauge is full and deadly finishing moves with Mighty Strikes and the ability to mount and dismount horses seamlessly. Existing moves have all been powered up from their previous iterations. 
New Battle Modes— Enhancements and newly implemented gameplay systems create a deeper and more satisfying combat experience, including the all-new ability to switch between two characters in real-time. Adjustments to morale, Officer development and the return of the popular portable item system found in SAMURAI WARRIORS 3 are just some of the features players will find to gain the advantage in combat. 
Unfold the rich tapestry of the Warring States era— The Story Mode portrays the tales surrounding the battles by faction, deepening the relationships between characters and is separated into two parts, regional stories, which tell the tales of the officers of various regions around the land such as Kyūshū and Shikoku, and the story of unification, which details events up to the end of the Warring States era.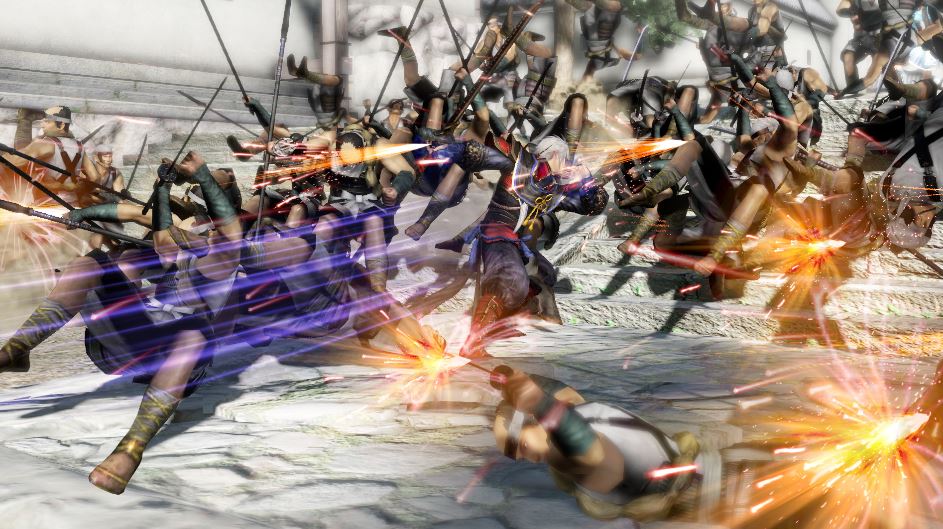 Leave a mark on history— In the new "Chronicle Mode", while completing various quests, meeting new officers and collecting items, players discover the world of SAMURAI WARRIORS through their own design with more ways to customise than ever before including a vastly upgraded Create Character system.
Living World— PlayStation 4 players will experience an even more engaging saga with highly detailed landscapes and breathtaking skies that reflect true to life lighting and shadow effects and battlegrounds packed with significantly more enemies on screen. 
Cooperative Play and Cross Save functionality— All modes can be played cooperatively via Network Play across the PlayStation 3, PlayStation 4 and PS Vita system, additionally save data can be shared across all three systems.