Games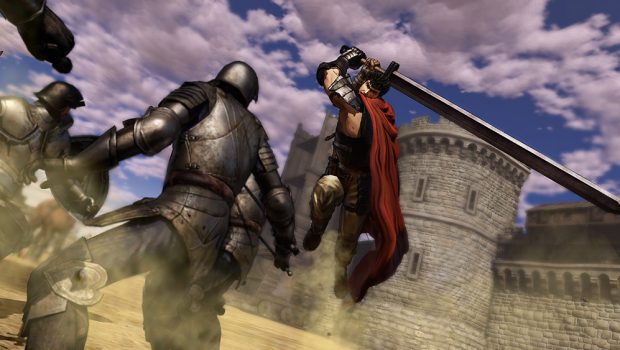 Published on October 29th, 2016 | by admin
KOEI TECMO DETAILS COMBAT STYLES AND REVEALS PRE-ORDER BONUSES FOR BERSERK AND THE BAND OF THE HAWK
Wield a Variety of Empowering Weapons and Cut Down Demonic Apostles in Action-Packed Battle Sequences That Bring 'Berserk' to Life
Sydney, 28th October 2016 – KOEI TECMO today revealed pre-order bonus content and further detailed the powerful slash and smash action of the most brutal Warriors style title to date, Berserk and the Band of the Hawk, slated to launch on the 24th February 2017 for the PlayStation®4 computer entertainment system. A series of brand new screenshots and promotional videos released alongside today's announcement showcase the pre-order bonus costumes and exemplify the intense battles that players can look forward to in the upcoming action title.
A lone mercenary and the series' main protagonist, Guts wields an impressive array of powerful weapons to choose from, and each alters the pace of gameplay. For example, utilising his massive Dragonslayer Great Sword allows for devastating attacks, and players will subsequently feel the weight of the weapon throughout battle. Similarly, players can enjoy customised playstyles tailored to the other playable characters, like Griffith's rapid sword attacks and Schierke's magical powers.
Utilising a vast array of different weapon styles, players will slash and smash their way through gripping battles in Berserk and the Band of the Hawk. Attacks become more ferocious as a fight rages on, allowing players to smash monsters against walls or slash them in two with a single strike! However, during the course of his adventures Guts encounters creatures known as Apostles – giant demonic monsters that possess deadly attacks. Unlike other enemies, typical battle strategies will not work on these beasts, and players must make swift tactical decisions in order to take them down. These exciting sequences aim to perfectly capture the tense, action-packed style of Berserk.
A set of bonus downloadable content is available to those who pre-order Berserk and the Band of the Hawk in the form of six stylish costumes. These include the White Swordsman and Golden Swordsman costumes for Guts, allowing him to switch out his famous Black Swordsman costume for a fresh look, the Golden Hawk and Black Hawk costumes for Griffith, replacing his bright white outfit for darker shades, and the Pirate and Blue Stripe costumes for Schierke, switching her dark robes for a more cheerful design.