Events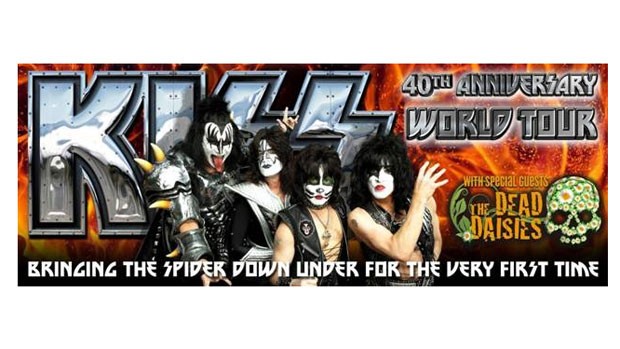 Published on September 18th, 2015 | by Admin
KISS AUSTRALIAN TOUR KICKS OFF SOON!
AUSTRALIAN TOUR STARTS OCTOBER 3
KISS fans are on high alert – its less than two weeks til the band touches down to commence the Australasian leg of their 40th Anniversary tour, kicking off with a two-song performance on the Grand Final edition of the AFL Footy Show from Melbourne's Rod Laver Arena on October 1.
The spectacular 'Spider' stage production incorporating 38 computer controlled winches, 220 automated lights, 900 pieces of pyrotechnics and weighing in at 43,000 kgs is on its way for the concert dates, ready to thrill the KISS army across the country.
As always, it's been a busy time in the wonderful world of KISS since the tour was announced earlier this year.
This week the band received another incredible accolade when it was announced that KISS has earned more Gold Album record awards than any American band in the history of The Recording Industry Association of America's (RIAA's) Gold & Platinum Awards certifications.  In the last 41 years, KISS has earned 30 Gold albums (26 KISS albums + 4 solo albums that were all released simultaneously) — a feat never before achieved by any American band.  KISS has 14 Platinum albums, with three albums being multi-Platinum.
The band attended a glittering night for the American Society of Composers, Authors and Publishers (ASCAP) awards in Los Angeles to receive the organisation's highest honour, the ASCAP Founders Award, previously awarded to Paul McCartney, Joni Mitchell and Neil Young amongst others.  It was presented by Foo fighters frontman Dave Grohl.  In a touching speech, Grohl said that if it wasn't for KISS he may never have pursued his dream of rock stardom.
'Forty years later, my love of Kiss is still strong," he said before recalling how his bedroom was a shrine to the rockers when he was growing up. 'Every morning, I would wake up in my tiny bedroom and take a good look at my superheroes before walking to school. They got me through those years and ultimately inspired me to follow this unreasonable dream of becoming a professional rock & roll musician."
Grohl clearly remembered his first KISS album1976's Destroyer.  'With nuclear anticipation, I let the needle drop on that legendary intro to Detroit Rock City, perhaps the greatest introduction to any rock & roll album ever recorded,' he recalled. 'It filled my speakers and my imagination. Thirty-four minutes later and 27 seconds later, KISS had filled my soul. I was now a member of the infamous KISS Army."
Watch Dave's wonderful speech here https://www.youtube.com/watch?v=xOS7IH0I0bg
During the European summer, KISS completed a hugely successful European tour, again winning rave reviews with critics noting the band is in career best form.
July saw the release of a KISS collaboration with cartoon hero Scooby Doo in the latest direct-to-video series of Scooby-Doo films called "Scooby-Doo! and KISS: Rock and Roll Mystery". In the full-length animated feature, Scooby, Shaggy and their friends travel to see a KISS Halloween show and solve the mystery of the Crimson Witch.  Watch the very cute trailer here: https://www.youtube.com/watch?v=A35YBHx0ots
This year's annual KISS Kruise was recently announced and again sold out quickly. The five day KISS Kruise V leaves Miami on October 30. Fans from around the world gather on board to see KISS perform a full concert and an unplugged unmasked show amongst lots of fan interactive KISS activities.
Off stage, next week Paul Stanley and Gene Simmons open the ninth franchise of their Rock and Brews restaurant chain in Orange County CA.  The three-year old brand combines casual American food with craft beer.   Meanwhile the LA KISS Football team the rockers co-founded last year, bringing professional football back to Los Angeles, completed its second season in the Arena Football League.
Stanley, Simmons and longtime members guitarist Tommy Thayer and drummer Eric Singer have re-assembled for rehearsals ahead of the Australasian tour, which starts at the Perth Arena on Saturday October 3.
You only need to attend a KISS concert to see how their legacy continues to grow, generation after generation.  With the spectacular 'Spider' production, the upcoming tour will be an extravaganza like no other!
Special guests are The Dead Daisies – currently touring the US with Whitesnake – who release their new album "Revolución" in Australia on September 18.  The album was inspired by concerts in Cuba this year and recorded in Sydney with new singer John Corabi (Motley Crue, RATT).   The current line-up features Richard Fortus (Guns N' Roses, The Psychedelic Furs), Marco Mendoza (Thin Lizzy, Whitesnake), John Corabi, Dizzy Reed (Guns N' Roses, Hookers & Blow), David Lowy (MINK, Red Phoenix) and Brian Tichy (Ozzy Osbourne, Billy Idol).
AUSTRALIAN TOUR DATES
Saturday October 3     PERTH Arena
Tuesday October 6     ADELAIDE Entertainment Centre
Thursday October 8    MELBOURNE Rod Laver Arena
Friday October 9         MELBOURNE Rod Laver Arena
Saturday October 10  SYDNEY AllPhones Arena
Monday October 12   NEWCASTLE Entertainment Centre
Tuesday October 13   BRISBANE Entertainment Centre 
NEW ALLOCATION OF EXCELLENT TICKETS JUST RELEASED FOR ALL SHOWS!
ON SALE NOW   from www.ticketek.com.au & 132 849
For all KISS information go to: www.KISSONLINE.com