Hardware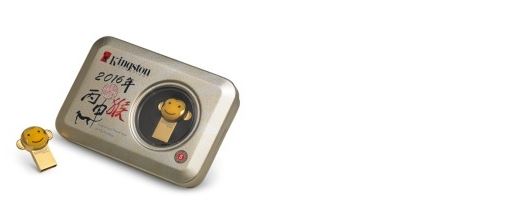 Published on January 20th, 2016 | by admin
Kingston Year of the Monkey USB Drive Joins DataTraveler Chinese Zodiac Series
SYDNEY, Australia – January 20, 2016 – To celebrate the Lunar New Year, Kingston, the independent world leader in memory products, today announced The Year of the Monkey USB drive, the latest addition to its DataTraveler Chinese Zodiac USB drive lineup. In the Chinese Zodiac, the Monkey is the 9th animal sign out of the 12 Chinese Horoscopes allocated to people born in 1956, 1968, 1980, 1992, 2004, and 2016.
The monkey symbolises intelligence, artistic expression, curiosity and creativity signifying good luck and elegance. Built with a sleek, smooth gold-plated metal casing and a durable rubber design with yellow accents for the adorable monkey face, this limited edition also provides extreme USB 3.1 speeds making it the perfect special gift for the New Year.
"Our DataTraveler Chinese Zodiac USB drive lineup continues to be one of the most popular products amongst collectors," said Nathan Su, Flash Memory Sales Director, APAC Region, Kingston. "This year, the smiley monkey face represents 'Happiness', 'Elegance', and 'Intelligence'. The harmonious limited edition USB drive aims to bring good luck and a sense of wholeness to complete 2016."
To celebrate the Year of the Monkey, this delightful USB drive comes packaged in an attractive, uniquely designed golden metallic box complete with Chinese characters. Available in 32GB capacity, the USB drive supports multiple operating systems including Windows10, 8.1 , 8 , 7(SP1) , Vista( SP2) , Mac OS Xv,10.7.x+, Linux v 2.6x+, Chrome OS. The Year of the Monkey USB drive is backed by a 5-year warranty, free technical support, and legendary Kingston reliability.
Kingston the Year of the Monkey Limited Edition Features & Specifications:
• Dimensions: 32mm x 26mm x 10mm
• Compliant: USB 3.1
• Capacity: 32GB
• OS Compatibility: Windows10, 8.1 , 8 , 7(SP1) , Vista( SP2) , Mac OS Xv,10.7.x+, Linux v 2.6x+, Chrome OS
• Part Number: DTCNY16/32GB
• Warranty / Support: 5-year warranty with free technical support
Pricing and Availability
Product: Kingston DataTraveler Year of the Monkey USB 32GB
Availability: Coming Soon to Australia, Available Now in New Zealand
RRP: $29.99 AUD / $34.99 NZD
Australian Distributor: CPL Australia
New Zealand Distributor: PB Tech New Zealand
Kingston can be found on:
Facebook: http://www.facebook.com/KingstonBlogFansClub.en
YouTube: http://www.youtube.com/user/KingstonAPAC