Hardware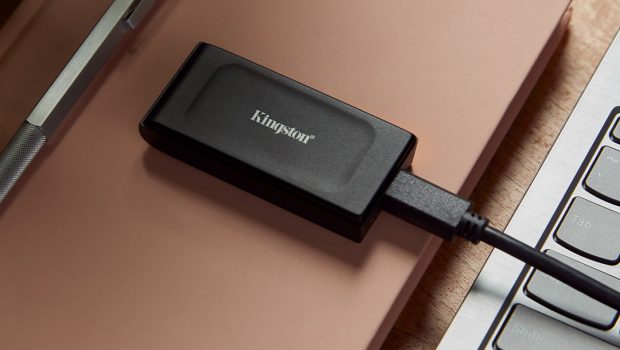 Published on October 13th, 2023 | by Admin
Kingston XS1000 Review
Summary: The Kingston XS1000 provides excellent portable data value!
If you're looking for an affordably priced portable backup solution, then look no further as Kingston have just launched their XS1000 external SSD that is available in two sizes, 1TB ($109) and 2TB ($188). The XS1000 also uses an SMI 2320 controller with 3D NAND technology to ensure its impressive portable performance. Supporting this is the USB 3.2Gen 2×1 interface that is capable of a read speed of up to 1050MB/s and a write speed of 1000MB/s which is rather impressive for portable speeds.
Kingston XS1000 Specifications
Interface: USB 3.2 Gen 2
Speed: 1,050MB/s read, 1,000MB/s write
Capacities: 1TB, 2TB
Dimensions: 69.54 x 32.58 x 13.5mm
Weight: 28.7g
Casing material: metal + plastic
Operating temperature: 0°C~40°C
Storage temperature: -20°C~85°C
Warranty/support: limited 5-year warranty with free technical support
Compatible OS: Windows® 11, 10, macOS (v.10.15.x +), Linux (v. 4.4.x +), Chrome OS™
Gallery
In terms of size, the Kingston XS1000 measures at 69mm x 32mm x 13mm that makes it quite small and lightweight at only 28.7 grams. As the device is smaller than other portable SSD devices, it actually fits in the palm of your hand and I cannot fault the overall design that is quite unassuming with just the Kingston logo on the top of the device.
Further, the XS1000 feels quite sturdy and while I would not recommend dropping the device, it would be fine to be "floating" around your bag without any issues. It's actually the perfect portable size.
In order to maximise these speeds, your device will need to support the USB 3.2 Gen 2×1 (10Gbps) interface and of course a high quality USB-C cable is required for the connection. However the XS1000 is backward compatible, so you can use it on older USB devices if needed. For our testing, we trialled the product on a PC desktop with a USB 3.2 Gen 2×1 input, including a Lenovo Yoga notebook that automatically detected the external SSD.
In terms of benchmarking (which is subjective due to hardware and software), CrystalDiskMark Benchmark scored slightly better than the advertised speeds from Kingston with a read of 1120MB/s and a write of 1021MB/s. ATTO Benchmark for Windows was slightly lower but this tool is more akin to real world usage with 920MB/s for read and 842MB/s for write.
From my personal experience, the drive is super-fast for small files, however it does get a little slower as most devices do with larger files (50GB+) but given the portable nature and for most, it would be a moot point. The only the thing missing is encryption and backup software, however these two features can be sought elsewhere if needed.
Final Thoughts?
The Kingston XS1000 is an excellent priced external SSD that is great for those users looking to backup their data or those on the move. The Kingston XS1000 is also plug and play which means that it will automatically connect to your PC or Mac and best of all, it has a very small formfactor that really makes quite portable.
All in all, another excellent portable backup solution from Kingston with a generous 5-year warranty.