Hardware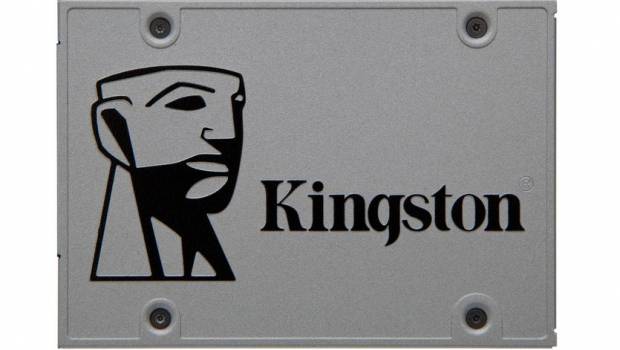 Published on May 21st, 2018 | by Tony Smith
Kingston UV500 SSD Review (480 GB)
Summary: The Kingston UV500 SSD provides users with a good value SSD
Welcome to Kingston's latest SSD (Solid-state drive) with their new UV500 series that comes with some useful features in order for end-users to maximise their systems and more importantly deliver some above average SSD speeds at a very affordable price.
Sure it wont break any land speed records but it comes with a 5-year warranty and offers users a stable platform which makes this a great work horse for your PC. The Kingston UV500 SSD also has a starting capacity of 120GB with a maximum size of 960GB and we had the opportunity to investigate the 480GB model.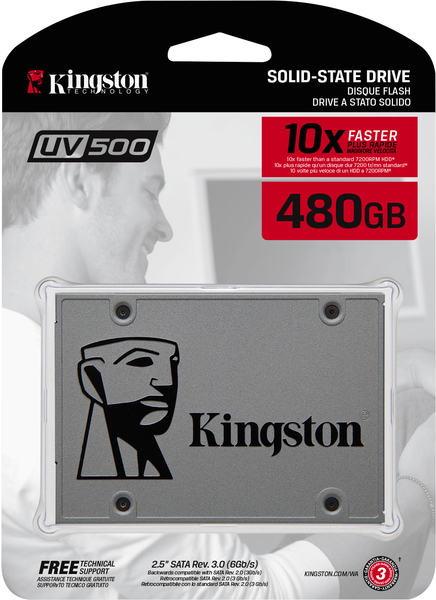 Unlike traditional hard drives, SSD's can be up to ten times faster and courtesy of the technology used, are quieter, more energy efficient and considerably cooler that as a result, increases the longevity and improves overall data integrity. From a tech perspective, the Kingston UV500 SSD is built around the Marvell Dean controller with 3D NAND Flash which makes accessing data from the drive quite fast.
Furthermore, Kingston have included multiple form factors (2.5"/M.2/mSATA) to suit different systems and it uses AES 256-bit Hardware Encryption Self-Encrypting Drive (SED) and TCG Opal 2.0 to ensure that your data is well protected. Let's have a look at the full details below;
Technical Specifications
Form factor: 2.5″/M.2 2280/mSATA
Interface: SATA Rev. 3.0 (6Gb/s) – with backwards compatibility to SATA Rev. 2.0 (3Gb/s)
Capacities (2):2.5″: 120GB, 240GB, 480GB, 960GB, 1920B*M.2 2280: 120GB, 240GB, 480GB, 960GB*
mSATA: 120GB, 240GB, 480GB
Controller: Marvell 88SS1074
NAND: 3D TLC
Data Transfer (ATTO)120GB — up to 520/320MB/s240GB — up to 520/500MB/s480GB — up to 520/500MB/s960GB — up to 520/500MB/s
Maximum Random 4k Read/Write (IOMETER)120GB — up to 79,000/18,000 IOPS240GB — up to 79,000/25,000 IOPS480GB — up to 79,000/35,000 IOPS960GB — up to 79,000/45,000 IOPS
Power Consumption: 0.195W Idle / 0.5W Avg / 1.17W (MAX) Read / 2.32 W (MAX) Write
Storage temperature: –40°C~85°C
Operating temperature: 0°C~70°C
Dimensions:100.1mm x 69.85mm x 7mm (2.5″)80mm x 22mm x 3.5mm (M.2)50.8mm x 29.85mm x 4.85mm (mSATA)
Weight:120GB – 480GB — 41g (2.5″)960GB — 57g (2.5″)120GB — 6.6g (M.2)240GB — 6.7g (M.2)480GB — 7.7g (M.2)
120GB — 6.2g (mSATA)
240GB – 480GB — 6.7g (mSATA)
Vibration operating: 2.17G Peak (7–800Hz)
Vibration non-operating: 20G Peak (10–2000Hz)
Life expectancy: 1 million hours MTBF
Warranty/support3: Limited 5-year warranty with free technical support
Total Bytes Written (TBW)4:120GB — 60TB240GB — 100TB480GB — 200TB960GB — 480TB
Installation of the Kingston UV500 SSD is a very easy process and you basically connect it to a spare SATA connector and then power. If you do need support in transferring your data from an existing hard drive, additional information can be found at https://www.kingston.com/us/ssd/consumer/suv500.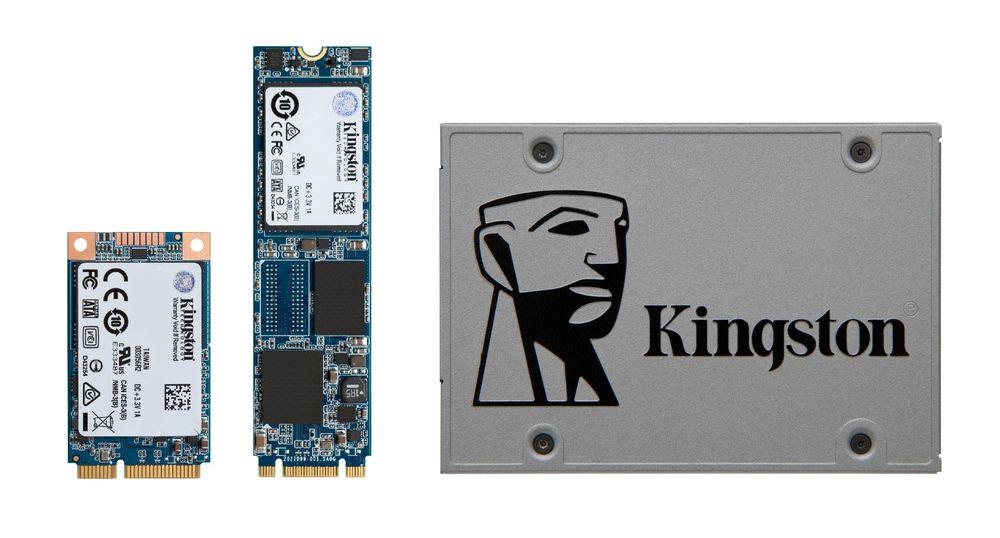 We tested the drive with a number of programs with our first benchmarking tool being CrystalDiskMark which is a very popular program to test hard drives. As you can see from the results, they do mirror the recommend speeds from Kingston. Given the scores, this drive sits near the middle range, slightly lower but still provides good stable speeds.
Read (MB/s)
Write (MB/s)
Seq Q32T1
4K Q8T8
4KiB Q32T1
4KiB Q1T1
521.3
362.4
299.2
31.38
499.8
450.3
301.1
105.9
Next up was AS SSD Benchmark, another popular tool that scored similar results to CrystalDiskBenchmark;
Read (MB/s)
Write (MB/s)
Seq
4K
4K-64Thrd
Acc.time
493.21
35.34
298.43
350
478.43
89.52
120.93
265
As you can see, the speeds almost mirror those from Kingston and compared to other drives, it sits nicely in the mid-range level. Our final test was ATTO Disk Benchmark and on its default setting, it scored 501MB/s (write) and 528MB/s (read). This once again cements the drive as a mid-range unit but at a far more affordable priced unit compared to its competitors.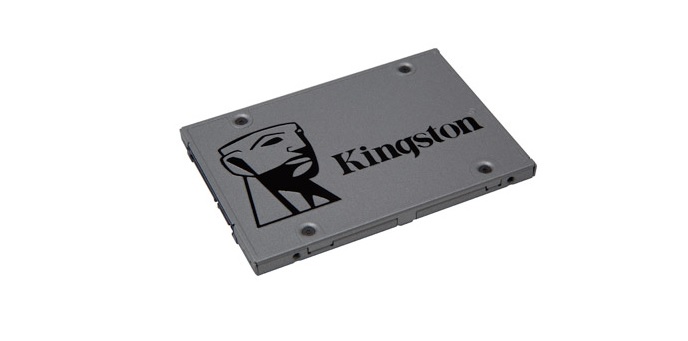 Final Thoughts?
The Kingston UV500 SSD, 480GB model gives the user access to medium speed drive, including a decent amount of storage options which makes it ideal as your primary hard drive. If you're a gamer, designer or someone that wants the benefits of an SSD, it should be on your radar, particularly if you're on a budget and for additional piece of mind, it comes with a limited 5-year warranty which will probably outlast your current system. Of course, it's all about speed and affordability ($250AUD May 2018) which the Kingston UV500 SSD does well in this department.
Recommended!