Hardware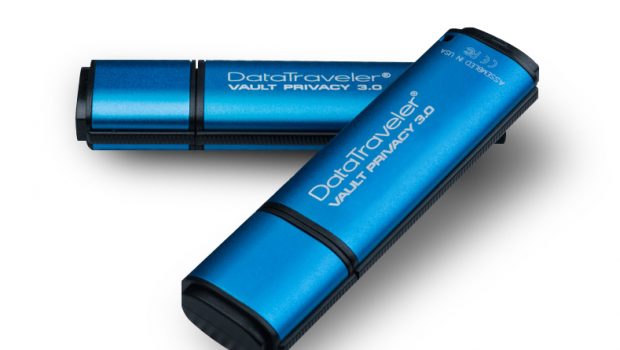 Published on August 24th, 2017 | by Admin
Kingston Kicks Off Security Drive Free Trial Campaign
Taipei, Taiwan – August 21, 2017 − Kingston, the independent world leader in memory products, today announced a free 21-Day trial program for its bestselling encrypted drive — DataTraveler Vault Privacy (DTVP) 3.0, targeted at selective organisations in Australia. Launched in late 2013, DTVP 3.0 provides 100-percent hardware-based encryption to help enterprises safeguard business data and set security policies for end-users at an affordable price point, which makes it one of the hot-selling product lines among Kingston's encrypted drives.
Save Safely, Save Smartly
Aiming to offer security IT professionals, small-to-medium businesses and corporate end users who require electronic data protection, Kingston now offers a great opportunity for said organisations in Australia to experience the reliability of its DTVP 3.0 USB Flash drive for free. The encrypted USB drive provides affordable business-grade security with 256-bit AES hardware-based encryption using XTS block cipher mode, and is available with optional, easy to deploy and easy to use (no installation required) anti-virus protection from ESET/ClevX that protects the drive's contents from viruses, spyware, Trojans, worms, rootkits, adware and other Internet-borne threats.
Kingston – A Drive to Suit Everyone's Needs
With bestselling encrypted drive DTVP 3.0, Kingston has a broad range of solutions designed for the highest levels of government use to enterprises and organisations of all sizes:
IronKey™ S1000 – the ultimate security encrypted USB Flash drive – is designed specifically to meet the strictest standards and most demanding data-protection needs of sensitive military, government and enterprise information. Capacities: 4GB, 8GB, 16GB, 32GB, 64GB, 128GB
IronKey D300 with optional Management – includes an advanced level of security that builds on the features that made IronKey well-respected in safeguarding sensitive information. Capacities: 4GB, 8GB, 16GB, 32GB, 64GB, 128GB
DataTraveler 4000G2 with optional Management – offers affordable business-grade securityto safeguard 100-percent of confidential data. Capacities: 4GB, 8GB, 16GB, 32GB, 64GB
DataTraveler 2000 – features an alphanumeric keypad which allows users to lock the drive with a word or number combination for easy-to-use PIN protection, protecting 100-percent of data stored. Capacities: 4GB, 8GB, 16GB, 32GB, 64GB
IronKey Re-engineered at Kingston
Since early 2016, Kingston has been the proud owner of the entire USB technology and assets of IronKey, a long-time leading brand in encrypted USB Flash drive solutions. Kingston continues the IronKey brand and tradition of delivering FIPS 140-2 Level 3 certified solutions to customers who need the highest level of encryption and security. With the IronKey brand, Kingston demonstrates its commitment as the global leader in trusted encrypted solutions for mobile data. 
Customer Service Guaranteed
DTVP 3.0, as well as Kingston's full line of encrypted DataTraveler and IronKey USBs, is backed by a five-year warranty, free technical support and legendary Kingston reliability. Now is the best time to re-examine company security policies with professional help from Kingston. The free trial program is a limited time offer and only while supplies last. Terms and conditions apply. Visit http://kings.tn/dtvp30 for more information. 
Kingston can be found on:
Facebook: http://www.facebook.com/KingstonBlogFansClub.en
YouTube: http://www.youtube.com/user/KingstonAPAC