Hardware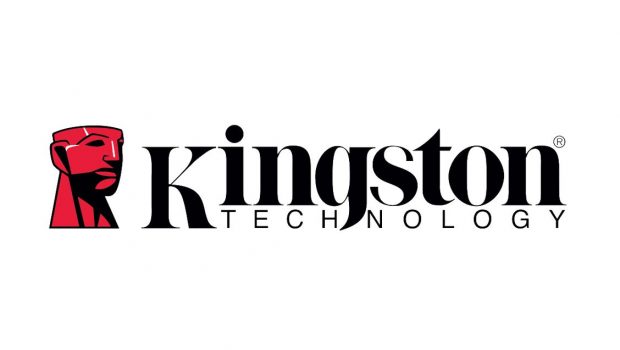 Published on July 15th, 2019 | by Tony Smith
Kingston KC2000 1TB Review
Summary: The Kingston KC2000 ticks all the right boxes when it comes to an affordable NVMe SSD!
Kingston's KC2000 NVMe PCIe SSD delivers powerful performance using the latest Gen 3.0 x 4 controller and 96-layer 3D TLC NAND. With read/write speeds of up to 3,200/2,200MB/s1, KC2000 delivers outstanding endurance and improves the workflow in desktop, workstation and high-performance computing (HPC) systems. The compact M.2 design gives greater flexibility, increasing storage but also saving space. Available in capacities from 250GB–2TB2 to meet your system's needs.
Superior NVMe speeds, ultimate flexibility
– Kingston
Kingston KC2000 1TB Review
Kingston have just released their latest NVMe PCIe SSD with their KC2000 series (form factor M.2 2280) that boasts the latest technology, including a 96-later 3D TLD NAND memory plus a Silicon SMI 2262EN controller for almost lightning fast read and write speeds which makes it ideal for those looking to upgrade or wanting to build their own PC.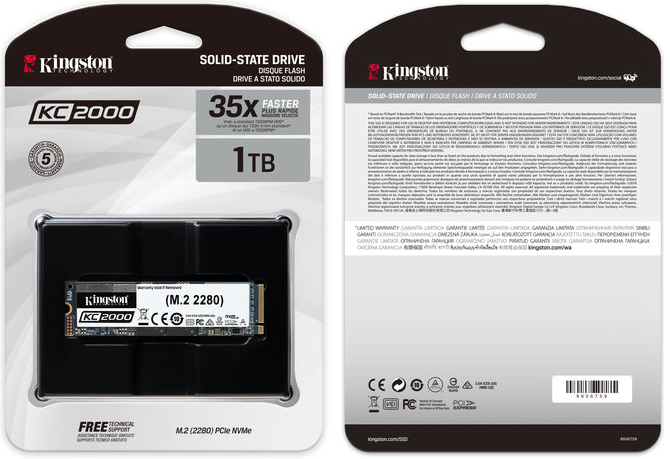 With four different sizes, we checked out the 1TB version which possesses read speeds almost six times faster than traditional SSD's, including speed write speeds that are over four times faster. The Kingston KC2000 also supports a full-security suite (TCG Opal 2.0, XTS-AES 256-bit & Microsoft eDrive) and is affordably priced at around $285.00AUD (July 2019).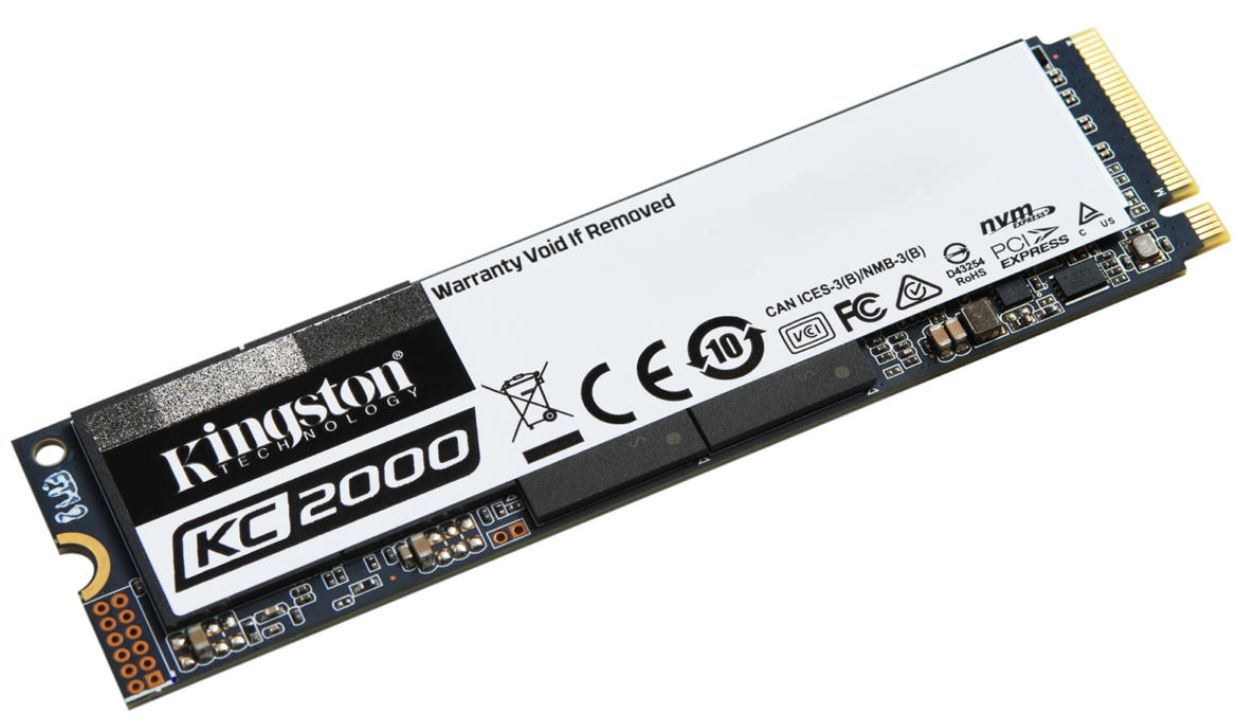 Unlike standard SSD's, your motherboard needs to be NVMe PCIe SSD ready or alternatively you can purchase an additional adapter card. Adding to the features of the drive is a TBW (Total Bytes Written) score of 600TBW plus a five year warranty to ensure additional piece of mind for the user.
Installation of the 1TB KC2000 was easy and once installed into our motherboard, our Bios automatically detected the drive as did Windows 10. With that said, the KC2000 is indeed a tiny hard drive with a measurement of just 80mm x 22mm x 3.5mm and a weight of just 10 grams.

The Kingston software that comes with this drive is available via a download and is quite a useful program. Not only does it show the latest firmware updates, it also gives you a snapshot of your drives health, including if there are any critical warnings or temperature issues. As mentioned, you can easily add security to the drive in order to ensure that your data is safe. Furthermore, it's great that Kingston have included Microsoft eDrive support as well.
Benchmarks
In order to test the KC2000, we used a variety of benchmarking programs to determine its overall speed and while it is not the fastest NVMe PCIe SSD available, for its price and results, it does make for a worthy contender for those looking to upgrade, particularly if you're on a budget. Needless to say, we did reach the speeds advertised by Kingston.
CrystalDiskMark 6.0.2
Read (MB/s)
Write (MB/s)
Seq Q32T1
3144.4
2275.3
4KiB Q8T8
1189.1
1071.4
4KiB Q32T1
347.9
245.9
4KiB Q1t1
52.61
129.2
As you can see from the results from CrystalDiskMark, our tests were very similar to those reported by Kingston. Another program we used was AS SSD that scored this unit as a midrange drive, however it did beat some of the faster competitors on a couple of these tests. While the drive is quite fast for sequential readers, it does struggle a little at the other end of the spectrum if it is accessing multiple files. Nonetheless, it is still a very fast NVMe PCIe SSD, especially when compared to standard SSD's.
AS SSD IOPS
4K 64T Write
332172
4KB 64T Read
351891
512B Write
51012
512B Read
19721
4K Write
48182
4K Read
15201
16MB Write
129.31
16MB Read
172.31
With real-world "tests", Windows 10 booted up almost instantaneously and copying a 500GB file had the drive keep a constant speed of 1.32GB/s. Gamers will also be pleased that Final Fantasy XIV benchmark scored the KC2000 at a respectable 19.61 seconds which is a very good speed for a mid-range NVMe PCIe SSD. All in all, the Kingston KC2000 delivers affordability and performance.
Final Thoughts?
In conclusion, the Kingston KC2000 provides some exceptional value and performance with four different sizes to suit your needs. While an all-round honest NVMe PCIe SSD, the Kingston KC2000 is a great choice for those desiring to upgrade their systems or those wanting to build a new PC with all the benefits of this technology such as NVMe PCIe Gen 3.0 x 4 Lanes, Silicon SMI 2262EN controller and 96-layer 3D TLC NAND memory. Add in a 5-year warranty, including tech support and you're well on your way for that "need for speed".
Recommended!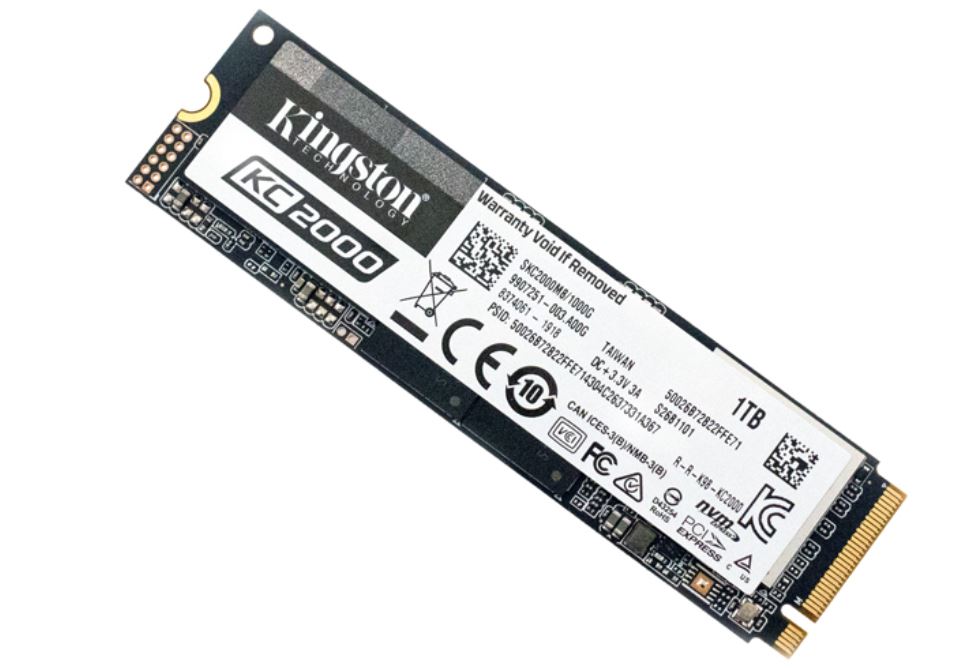 Specifications
Form factor: M.2 2280
Interface: NVMe™ PCIe Gen 3.0 x 4 Lanes
Capacities: 250GB, 500GB, 1TB, 2TB
Controller: SMI 2262EN
NAND: 96-layer 3D TLC
Encrypted: XTS-AES 256-bit Encryption
Sequential Read/Write
250GB – up to 3,000/1,100MB/s
500GB – up to 3,000/2,000MB/s
1TB – up to 3,200/2,200MB/s
2TB – up to 3,200/2,200MB/s
Random 4k Read/Write
250GB – up to 350,000/200,000 IOPS
500GB – up to 350,000/250,000 IOPS
1TB – up to 350,000/275,000 IOPS
2TB – up to 250,000/250,000 IOPS
Total Bytes Written (TBW)
250GB – 150TBW
500GB – 300TBW
1TB – 600TBW
2TB – 1.2PBW
Power Consumption: .003W Idle / .2W Avg / 2.1W (MAX) Read / 7W (MAX) Write
Storage Temperature: -40°C~85°C
Operating temperature: 0°C~70°C
Dimensions: 80mm x 22mm x 3.5mm
Weight:
250GB – 8g
500GB – 10g
1TB – 10g
2TB – 11g
Vibration Operating: 2.17G Peak (7-800Hz)
Vibration Non-operating: 20G Peak (20-1000Hz)
MTBF: 2,000,000
Warranty/support: Limited 5-year warranty with free technical support
For more information, please visit – https://www.kingston.com/en/ssd/kc2000-m-2-nvme-3d-nand-solid-state-drive?Capacity=1TB