Hardware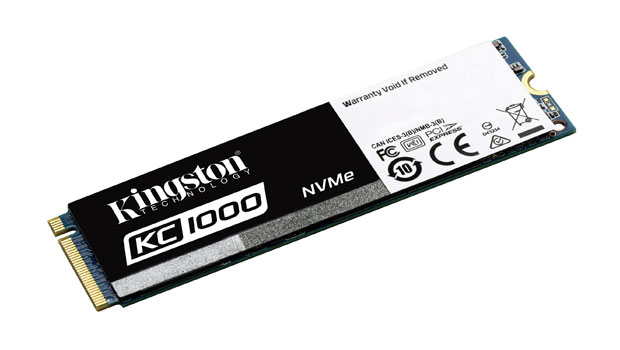 Published on September 21st, 2017 | by Tony Smith
Kingston KC1000 480GB Review (Kingston KC1000 480GB NVMe M.2 2280 SSD SKC1000/480G)
Summary: Kingston KC1000 480GB is a super charged SSD!
Kingston have just released their latest NVMe (Non-Volatile Memory Host Express) PCI express card and Impulse Gamer were given the opportunity to review their 480GB model which also happens to be a beast in its own right! With reduced latency and super-charged write/read speeds, the Kingston KC1000 480GB NVMe is over 2 faster than SATA-based SSDs and in traditional terms, 40 times faster than 7200RPM hard drives that makes this product an enticing option for PC users wanting to secure lighting fast speeds.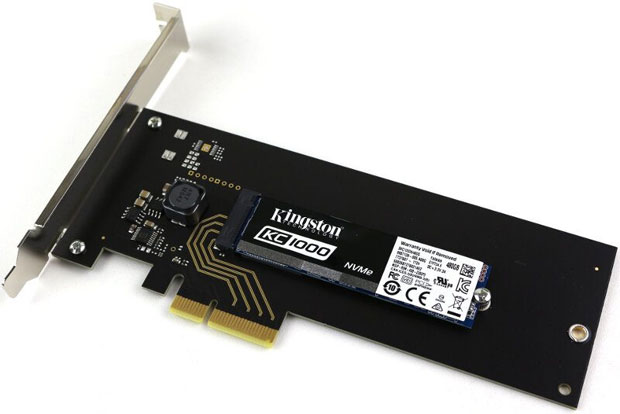 With capacities of up to 960GB, the Kingston KC1000 has some ridiculously fast read and write speeds which makes this product ideal for video editors, gamers and PC enthusiasts who want to push their systems to max. Furthermore, it delivers IOPS (Input/Outputs Per Second) of up to 290,000 for reading and 190,000 for writing. Also, it uses the latest PCIe Gen 3.0 interface, has an 8-channel Phison PS5000-7-E7 controller with 4 cores, including MLC NAND technology which can give the user data transfer speeds of up to 2700MB/s. It's also good that Kingston have decided to use MLC NAND opposed to the cheaper TLC NAND option.
The unit itself comes well packed from Kingston and it even contains an installation key for Acronis True Image HD which allows you to back-up and clone your data. There is also an getting started manual and a HHHL adapter. However should you have any issues with installation, Kingston offer free technical support and a 5-year warranty to ensure that all your data needs are met and more importantly, kept safe. The unit is quite green-friendly with an idle of just 0.11watts that does increase to 7.4watts when writing, however the average power of the unit is around 0.99watts.
Kingston KC1000 NVMe PCIe SSD Features and Specifications:
Form Factor: M.2 2280
Interface: NVMe PCIe Gen 3.0 x4 Lanes
Capacities1: 240GB, 480GB, 960GB
Controller: Phison PS5007-E7
NAND: MLC
Sequential Read/Write2:
• 240GB: up to 2700/900MB/s
• 480GB, 960GB: up to 2700/1600MB/s
Maximum 4K Read/Write2:
• 240GB: up to 225,000/190,000 IOPS
• 480GB, 960GB: up to 290,000/190,000 IOPS
Random 4K Read/Write:
• 240GB, 480GB: up to 190,000/160,000 IOPS
• 960GB: up to 190,000/165,000 IOPS
PCMARK®Vantage HDD Suite Score: 150,000
Total Bytes Written (TBW)3:
• 240GB: 300TB and .70 DWPD5
• 480GB: 550TB and .64 DWPD5
• 960GB: 1PB and .58 DWPD5
Power Consumption: .11W Idle / .99W Avg / 4.95W (MAX) Read / 7.40W (MAX)
write
Storage Temperature: -40°C to 85°C
Operating Temperature: 0°C to 70°C
Dimensions:
• 80mm x 22mm x 3.5mm (M.2)
• 180.98mm x 120.96mm x 21.59mm (with HHHL AIC – standard bracket)
• 181.29mm x 80.14mm x 23.40mm (with HHHL AIC – low-profile bracket)
Weight:
• 10g (M.2)
• 76g (with HHHL AIC – standard bracket)
• 69g (with HHHL AIC – low-profile bracket)
Vibration operating: 2.17G Peak (7-800Hz)
Vibration non-operating: 20G Peak (20-1000Hz)
MTBF: 2,000,000
Warranty/support4: Limited 5-year warranty with free technical support
Benchmarks
One of the programs we tested the drive with was CrystalDiskMark which is a free disk benchmark software app for PC. The reason we like this program is that it gives the user a good indication of how the drive will perform in the real-world. It also had similar benchmarks to what Kingston have provided and as you can see below, the speeds compared to a regular SSD unit are considerably faster with the KC1000.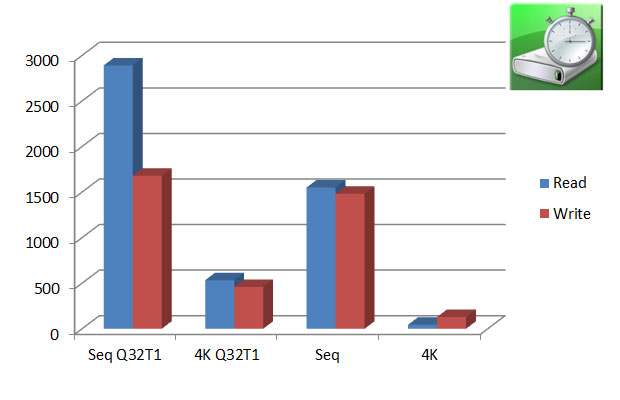 Although there is a difference between sequential speeds vs non-sequential speeds, the Kingston KC1000 480GB is a good example of why this technology is far superior.
| | | |
| --- | --- | --- |
|   | Read | Write |
| Seq Q32T1 | 2891 MB/s | 1679 MB/s |
| 4K Q32T1 | 533.1 MB/s | 459.3 MB/s |
| Seq | 1551 MB/s | 1481 MB/s |
| 4K | 44.25 MB/s | 129.5 MB/s |
Another test we used was PCMark8 Storage that attempts to mimic real-world programs on the drive itself. It's a great program to test the latest hard drives from around the world and more importantly, it allows you to compare your score with other hard drives. The Kingston KC1000 480GB scored a very respectable 5089 with a bandwidth of 533.21MB/s.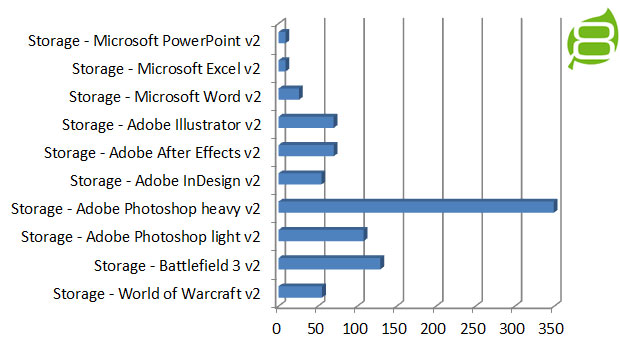 You can see the real-world scores below and the only program that pushed the drive was Adobe Photoshop which moves massive data around.
PCMark8 Storage Benchmark
Storage – World of Warcraft v2
55.2s
Storage – Battlefield 3 v2
129.2s
Storage – Adobe Photoshop light v2
107.9s
Storage – Adobe Photoshop heavy v2
349.3s
Storage – Adobe InDesign v2
54.5s
Storage – Adobe After Effects v2
69.9s
Storage – Adobe Illustrator v2
69.8s
Storage – Microsoft Word v2
25.8s
Storage – Microsoft Excel v2
8.8s
Storage – Microsoft PowerPoint v2
8.8s
Although benchmarking is subjective, you can get bogged down on statistics as a number of factors can influence speeds within your case, including software and operating systems. So the last program we tested the Kingston KC1000 480GB on was AS SSD Benchmark which helps in determining your drive speed through a handful of tests and powerful algorithms. Like the previous tools, this app mirrored Kingston's results with a sequential read of 24261,15MB/s and a write of 1401,80MB/s. For IOPS, it scored 219921 for read and 190001 for write. For 'real-world' tests, it scored the following;
| | | |
| --- | --- | --- |
| AS SSD  | Speed | Duration |
| ISO | 901,31 MB/s | 1,19s |
| Program | 513,10 | 2,63s |
| Game | 679,88 MB/s | 2,01s |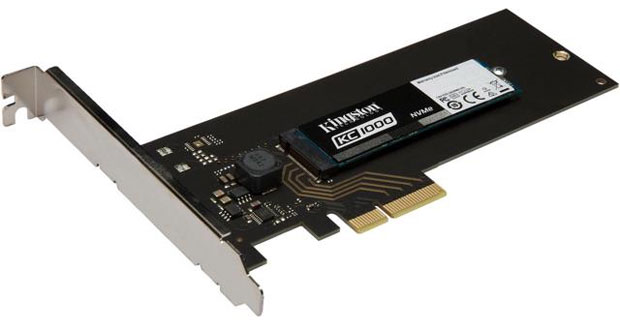 Final Thoughts?
The Kingston KC1000 480GB NVMe M.2 2280 SSD is a very impressive unit from this company that offers users some impressive and I must stress, impressive speeds. All in all, it's a well-designed product from Kingston that pushes the boundaries of your storage capacity in terms of speed and if you're looking for the next 'fast' hard drive for your PC, you really should consider the NVMe techology from Kingston and just to recap, it also comes with Acronis True HD, a 5-year warranty and free technical support should you come across any hurdles.
Recommended!