Hardware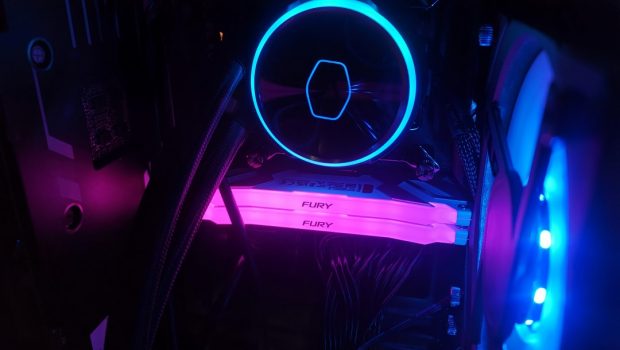 Published on May 21st, 2023 | by James Wright
Kingston FURY Renegade DDR5 RGB Memory Review
Summary: The Kingston Renegade DDR5 RGB RAM provides performance, colours and glorious white aesthetics!
Kingston Technology have given their FURY Renegade DDR5 Memory an aesthetically "popping" makeover with their bold new white heat spreaders that when matched with the dynamics and customisable RGB lighting, it really makes your memory standout from the crowd… not to mention a memory power-up.
So yes, white is indeed the new black!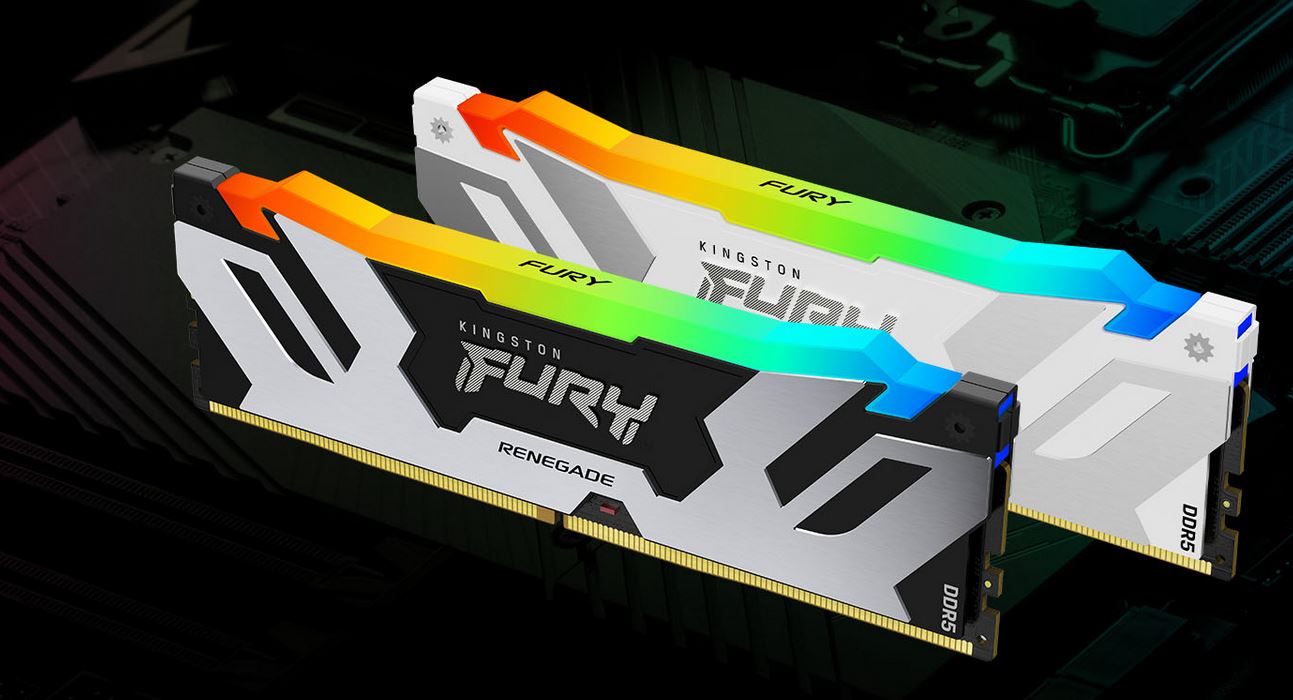 Additionally and like their previous DDR5 RAM modules, they are Intel XMP 3.0 Certified that easily allows you to tweak the memory settings, including the ability to overclock. Given that, the memory also comes with Kingston's lifetime warranty for additional peace of mind and yes, there is some speed behind these modules as well!
So who is the new Kingston FURY Renegade DDR5 Memory designed for?
At its core, its for Gamers, Content Creators, Streamers and PC Enthusiasts who want their rigs to stand-out from the rest and the only caveat is that you need a case with a clear glass panel. Of course, anyone looking for better memory performance fits the bill as well.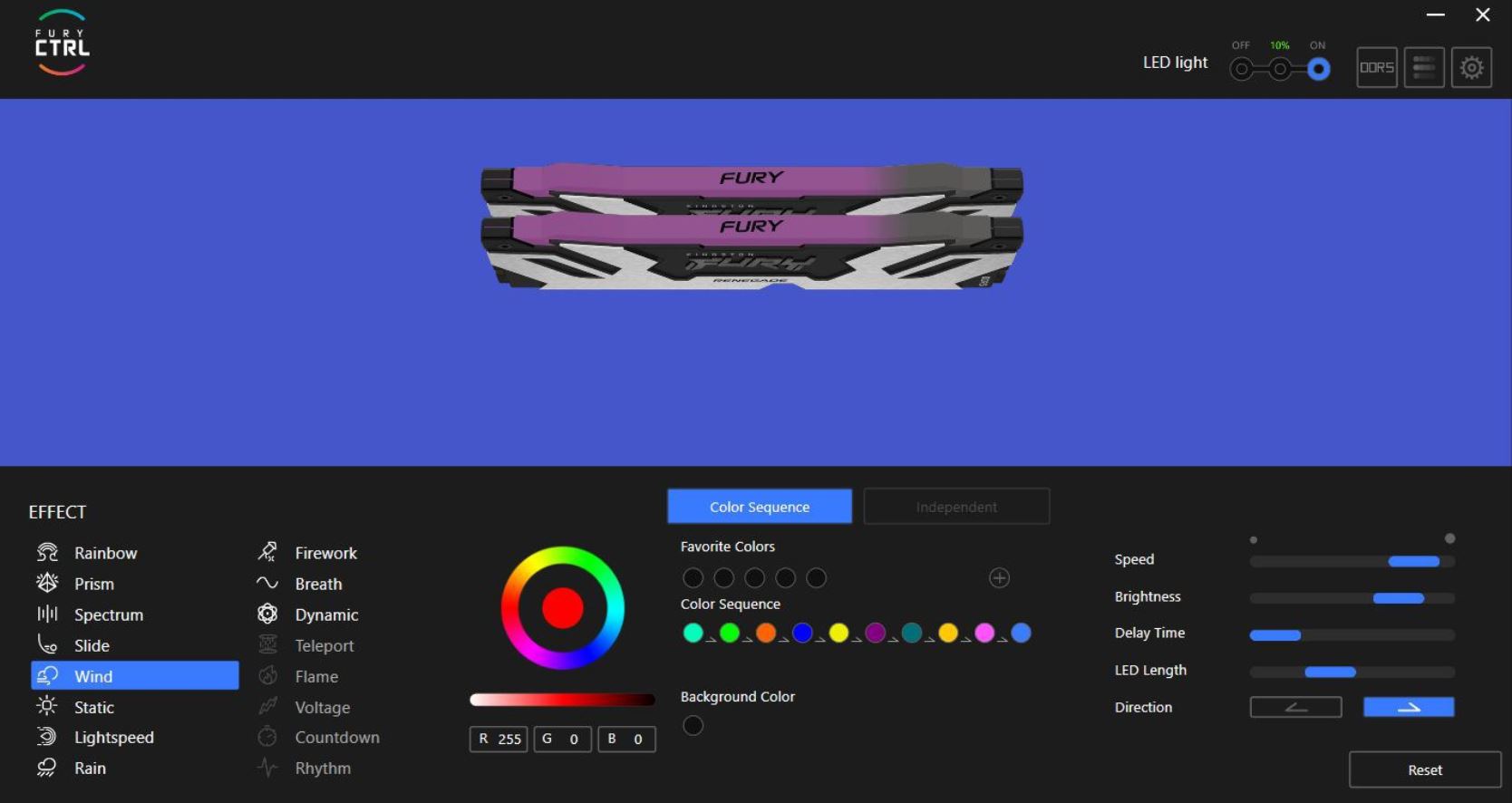 With the dynamic LED light bar, it supports the Kingston FURY CTRL RGB app that allows you customise the lighting for some fantastic coloured effects. Additionally, you can use one of the 18 included presets for colours/effects (e.g. rainbow, rain) and with the Infrared Sync Technology, it makes for a very smooth transition between other RGB devices.
As expected from Kingston, the RAM provides performance powered DDR5 capabilities with low latency and speeds of up to 7200MT/s that makes it ideal for gamers and PC enthusiasts looking to push to push their systems. In terms of sizes, the Kingston FURY Beast DDR5 is available in 8GB, 16GB, 32GB (reviewed) single modules, including dual kits up to 64GB. So if you're looking for both speed and visually appeasing aesthetics, then the new Kingston FURY DDR5 may suit your needs perfectly.
Features
Dynamic, customisable RGB lighting effects
Patented Kingston FURY Infrared Sync Technology
Engineered to maximise performance
Tap into extreme overclocking potential
Intel® XMP 3.0 Certified
Qualified by the world's leading motherboard manufacturers
Aggressive aluminium heat spreader design
Unboxing of the Kingston Renegade "White Knight" DDR5 RGB
Pure white DDR5 with RGB colouring!
For benchmarking, we tested the RAM with the following system;
Motherboard: ASRock Z790 Pro RS1
Cooler: Corsair iCUE H150i Elite Capellix (water Cooler)
Power Supply: Super Flower Leadex Platinum SE 1000W
Hard Drive: WD_Black SN750 SE NVMe SSD
CPU: Intel Core i9-13900K
Graphics: AMD Radeon RX 6800 XT
Case: Thermaltake V250 Mid-Tower
Operating System: Windows 11 Professional
As usual, benchmarking can be subjective and as a result your mileage may vary due to the components in your system, including potential conflicts. So it's best to check if your motherboard supports your new RAM. However it does help if you have the latest components and our first test was AIDA64. AIDA64 is a system information, diagnostics, and auditing application developed by FinalWire Ltd which provides a great benchmarking option for memory.
AID64 Benchmark
Power consumption vs Standard vs Performance Mode
The ASRock Z790 motherboard offers three PC modes with just a click of the mouse that include Power consumption, Standard and Performance with the later two offering more powerful tweaks. As you can see with results below from AID64, there is a noticeable different between Power consumption to Standard/Performance, particularly for read/write/copy times and of course lower latency that gives the gamer a slight edge.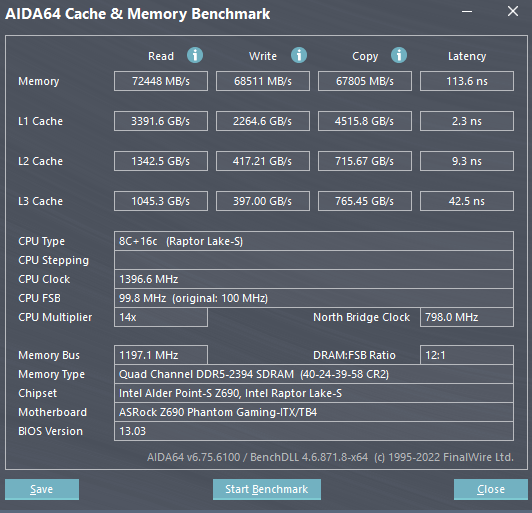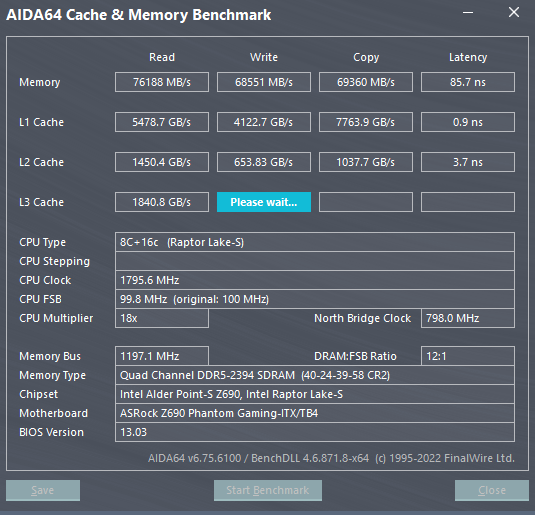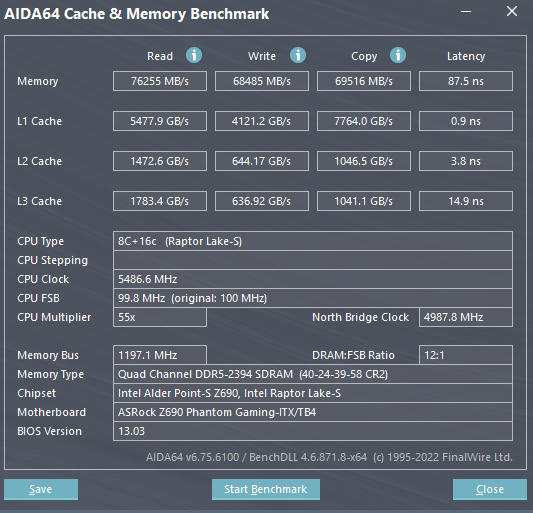 Next up was the PerformanceTest from Passmark that offers in-depth benchmarking and the ability to compare it with other users from around the world which in turn makes it a valuable tool to see where your RAM comes in place. Again, your mileage may vary.
PassMark – PerformanceTest Benchmark
Power consumption vs Standard vs Performance Mode
Like the above tests, we compared Power consumption, Standard and Performance modes on the ASRock motherboard that again showed a noticeable difference from Power consumption to Standard/Performance. Compared to Power consumption that showed a 33% percentile ranking, Standard jumped to 89% and Performance to 91% which scores the Kingston FURY Renegade DDR5 RGB Memory at a good place compared to its competitors.
Final Thoughts?
Again Kingston successfully tweaks their new FURY Renegade DDR5 RGB Memory for both performance and appearance. The white colouring really pops (no matter what colour your system) and when matched with Kingston's excellent FURY CTRL RGB app, you can really create some bold effects and colours that turns a static system into a truly dynamic one. Lastly the speed of the RAM perfectly suits a myriad of uses from content creation to gaming and everything in between.
For more information, please visit https://www.kingston.com/en/memory/gaming/fury-renegade-ddr5-rgb