Hardware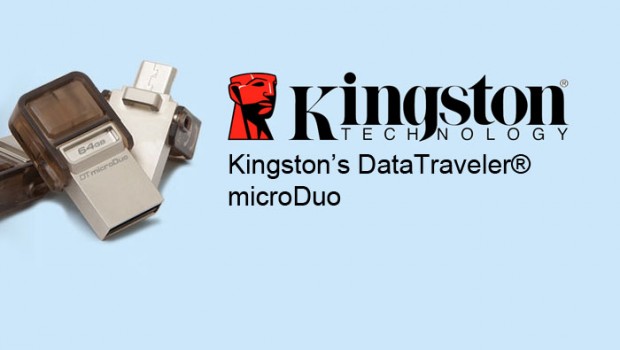 Published on April 6th, 2014 | by Admin
Kingston DataTraveler microDuo Review
Summary: If you're always running out of space on your Android smart phone or tablets than the DataTraveler microDuo may be the solution for you
DataTraveler microDuo
Developer: Kingston
Product: USB Flash Drive for SmartPhones and Tablets
Size: 8GB 16GB (Reviewed) & 32GB
This clever little USB from Kingston is the perfect accessory for your Android (4.0+) compatible device such as smart phones and tablets in order to easily transfer files between devices. No PC or Mac is required! The DataTraveler microDuo is also very small and measures in at just 27.63mm x 16.46mm x 8.56mm which is ideal for portability, although it's so small that it could also get easily lost. You just need to be a little careful.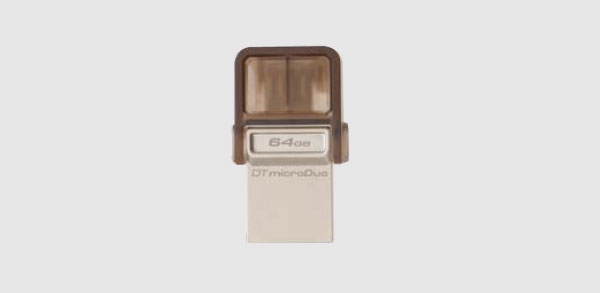 Features
Supports USB OTG (On-The-Go) functionality
Expanded storage for tablets and smartphones
For Android™ 4.0+ devices with USB OTG support
Easily transfer and back up files, photos and videos to free up space
Great for storing large files, including movies and music libraries, while travelling
The DataTraveler microDuo supports USB 2.0 and OTG (On the Go) functionality which means you just connect it to your smart device in order to easily transfer a variety of files such as movies, music or work. There are also a variety of devices that support OTG functionality that include Sumsung Galaxy S4 and the Sony Xperia. For full compatibility, please check the Kingston website.
In order to use the functionality of the DataTraveler, you simply move the protected cover from the microUSB port and connect it to your Android compatible device. Although microUSB ports are generally used for charging, by connecting the DataTraveler into your device, it gives your device an additional 8 to 32GB of storage capacity. This also means you can easily transfer files directly to the flash drive without the need for a PC or Mac.
In terms of transferring files, the product in essence is a plug and play device which means compatible devices will automatically detect the additional space without any convoluted setup. Another cool feature is that the DataTraveler comes with 5-years warranty that will probably outlast your smart phone or tablet. Also, although the DataTraveler only supports USB 2.0, it did produce some acceptable speeds in terms of read and write speeds.
Final Thoughts?
If you're always running out of space on your Android smart phone or tablets than the DataTraveler microDuo may be the solution for you as it offers three affordable options for additional storage. Best of all, it's small, lightweight and requires no installation by the end-user and transferring files such as photos or music has never been easier.
Recommended!
Specifications
Capacities1: 8GB, 16GB, 32GB, 64GB
Interface: USB 2.0
Dimensions: 27.63mm x 16.46mm x 8.56mm
Operating temperature: 0°C to 60°C
Storage temperature: -20°C to 85°C
Warranty/suppor:t 5-year warranty with free technical support
Compatible with: Windows® 8.1, Windows 8, Windows 7, Windows Vista®, Windows RT, Mac OS X v.10.6.x+, Linux v.2.6+