Hardware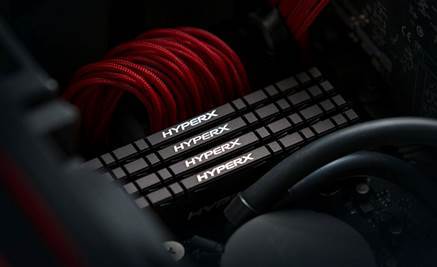 Published on May 13th, 2021 | by Adrian Gunning
Kingston Announces HyperX Predator DDR4 Memory High-Speed Additions
Kingston Technology, a world leader in memory products and technology solutions, today announced the release of three high-speed HyperX Predator DDR4 memory kits in 5000MHz, 5133MHz and 5333MHz frequency versions. Starting from late May 2021, the new frequency options will be available as 8GB modules in kits of two and include a black aluminum heat spreader and black PCB to complement the look of the latest PC builds by system builders and DIY PC enthusiasts.
Kingston's ultra-fast HyperX Predator DDR41 memory was used to set the overclocking world record2 at 7200MHz last month and at 7156MHz in March.3 HyperX Predator DDR4 offers high-performance memory paired with a bold and aggressive style. The new flagship frequency available for purchase has expanded to 5333MHz with a latency of CL20. HyperX memory modules are Intel® XMP-ready with certified profiles optimized for Intel's latest chipsets and compatible with many of AMD's latest chipsets.
"Following record-breaking overclocking announcements using HyperX Predator DDR4 frequencies, we are excited to expand its offerings with the latest high-speed additions," said Kingston. "The new products offer premium components with faster speeds, high performance with maximum reliability and great aesthetics providing more options for gamers building a new PC."
The Kingston HyperX Predator DDR4 family of products is available in 2666MHz to 5333MHz with latencies from CL13 to CL20. HyperX Predator DDR4 is available as 8GB to 32GB single modules and kits of two, four and eight with capacities of 16GB to 256GB.
Availability
Kingston HyperX Predator DDR4 modules are 100 percent factory tested at speed and backed by a lifetime warranty. Predator DDR4 modules are available through HyperX's network of retail and e-tail outlets. Customers will be able to purchase the new frequency options starting from late May 2021, for more information on HyperX DDR4 and global availability, please visit the HyperX Memory webpage.
Kingston HyperX Predator DDR4 High-Speed Addition Specifications: 
Capacities: 16GB (kits of 2)
Frequencies 5000MHz, 5133MHz, 5333MHz
Latencies: CL19, CL20
Voltage 1.55V, 1.6V
Operating Temperatures 0°C to 85°C
Dimensions: 133.35mm x 41.24mm
| | | | |
| --- | --- | --- | --- |
| Predator DDR4 High-Speed Addition | Frequency | Latency | Capacity |
| HX450C19PB3K2/16 | 5000 | CL19 | 16GB (Kit of 2) |
| HX451C20PB3K2/16 | 5133 | CL20 | 16GB (Kit of 2) |
| HX453C20PB3K2/16 | 5300 | CL20 | 16GB (Kit of 2) |
1The specification of the extreme overclocking modules listed on this page may be beyond the capabilities of your AMD or Intel system hardware. Careful selection of all system components (e.g. CPU, motherboard, PSU) is required to ensure these modules will function as intended.
These kits are thoroughly tested and verified in the factory to run at the listed speed for XMP Profile 1. As a backup, a 2nd XMP profile at a slower clock speed is included so you can still achieve great performance if your system cannot handle the highest speed XMP profile.
As a guide you can find the processors and motherboard HyperX used to perform the Intel XMP certification on this page: http://www.intel.com/content/www/us/en/gaming/extreme-memory-profile-xmp.html. This is not a guarantee of compatibility in your system configuration. We cannot guarantee compatibility with all systems; these modules should be installed and used at your own risk.
Only select AMD and Intel based motherboards are able to achieve speeds of DDR4-4000 and above. Check motherboard Qualified Vendor Lists (QVL) to verify Predator high speed support on the motherboard vendor website and/or Intel XMP certified list. Premium system cooling (CPU and case) are required for high speed memory stability. On Intel platforms, X or K series processors are recommended
2World overclocking record of 7200MHz set on April 23, 2021
3World overclocking record of 7156MHz set on March 31, 2021