Hardware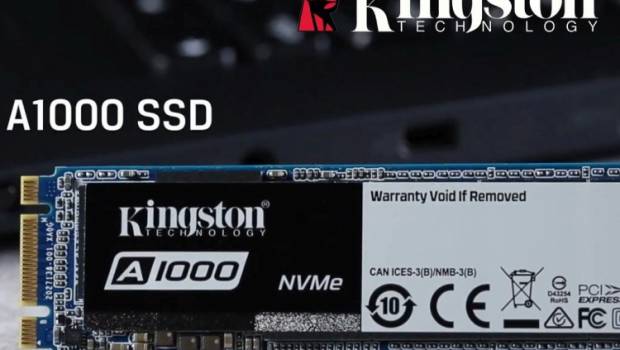 Published on May 13th, 2018 | by James Wright
Kingston A1000 PCIe NVMe SSD 480GB Review
Summary: Kingston A1000 PCIe NVMe SSD 480GB may be an entry level model but it definitely packs a speed injection
Although labelled as an entry-level PCIe NVMe SSD (Solid-state Drive), this M.2 drive is far from entry level thanks to its Gen 3.0 x2 interface, 4-channel Phison 5008 controller and 3D NAND Flash. It potentially offers "sequential" speeds of up to 1500MB/s (read) and 1000MB/s (write) on the 960gb model that makes this an ultra-responsive SSD.
With that said it's the next evolutionary step from SATA III as developers now maximise PCIe NVMe SSD technology which makes it up to 20 times faster than traditional hard drives and twice as fast as current SATA SSDs. Thankfully this technology is similarly priced to current SATA SSDs which does make it accessible and affordable if you're thinking of upgrading.
The Kingston A1000 PCIe NVMe SSD is also available in three sizes that include 240GB, 480GB (reviewed) and 960GB  with a limited 5-year warranty. Besides the speed, one of the most fascinating aspects about this SSD is its tiny size (80mm x 22mm x 3.5mm) and it uses a M.2 2280 form factor with a multi-purpose SFF connector. This does limit the technology to newer notebooks and laptops but with that in mind, it will increase the overall life of these products.
Technical Specifications
Form Factor: M.2 2280
Interface: PCIe NVMe Gen 3.0 x2 Lanes
Capacities2: 240GB, 480GB, 960GB
Controller: Phison 5008
NAND: 3D TLC
Sequential Read/Write1:
240GB: up to 1,500/800MB/s
480GB: up to 1,500/900MB/s
960GB: up to 1,500/1,000MB/s
Random 4K Read/Write:
240GB: up to 100,000/80,000MB/s
480GB: up to 100,000/90,000MB/s
960GB: up to 120,000/100,000MB/s
Power Consumption: 0.011748W Idle / 0.075623W Avg / 0.458W (MAX) Read / 0.908W (MAX) Write
Dimensions: 80mm x 22mm x 3.5mm
Operating Temperature: 0°C to 70°C
Storage Temperature: -40°C to 85°C
Weight:
240GB: 6.4g
480GB: 7g
960GB: 7.6g
Vibration operating: 2.17G Peak (7-800Hz)
Vibration non-operating: 20G Peak (20-2000Hz)
Life Expectancy: 1 million hours MTBF
Warranty/support3: Limited 5-year warranty with free technical support
Total Bytes Written (TBW)4:
240GB: 150TB
480GB: 300TB
960GB: 600TB
Benchmarking
Benchmarking is subjective and can be influenced by a number of factors from CPU speed to memory and even certain drivers that may be installed on your operating system. According to Kingston, the A1000 PCIe NVMe SSD 480GB model supports sequential read/write speeds of up to 1,500MB/s and 900MB/s.
Sequential speeds refer to large files and how fast this information is both written and read to the hard drive. Our first test was CyrstalDiskMark (Version 5.0) which is a popular free benchmarking program and upon completing the tests, this tool did mirror the reported scores from Kingston and produced the following impressive results;
Read (MB/s)
Write (MB/s)
Seq Q32T1
4K Q8T8
4KiB Q32T1
4KiB Q1T1
1591.2
862.1
593.8
41.88
859.9
599.4
572.5
135.3
Another test was ATTO Disk Benchmark, another popular free benchmarking tool that actually scored higher rates than provided by Kingston. The read scores from ATTO Disk Benchmark scored 1601 MB/s with a write of 955 MB/s.
We also tested AS SSD Benchmark that like CrystalDiskMark provided a similar results for its sequential read (1501.42MB/s) and write (910.31 MB/s) scores. Interestingly the 4K read (44.31MB/s) and write (129.4MB/s) speeds were also almost identical. The 4K test is how fast the drive accesses small blocks of data from random locations and the A1000 PCIe NVMe SSD may not be the fastest out of the gate but still provides a good above average score.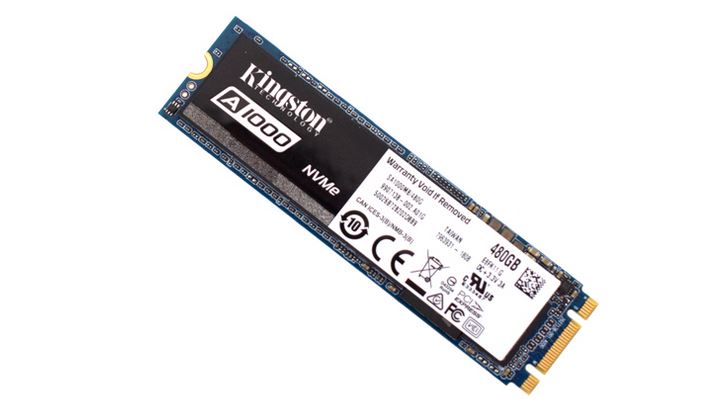 AS SSD Benchmark has another test which mirrors real-world usage with ISO, Program and Game. In relation to tests, ISO scored a respectable 921.33MB/s, followed by 730.71MB/s for Game and then Program at 501.54MB/s. What did push the drive into the realm of supersonic was ATTO Disk Benchmark that for sequential reads scored 1601 MB/s for read and 974MB/s for write.
On our test system, we did notice that the A1000 PCIe NVMe SSD shaved off a few seconds during the boot process for Windows 10 and applications did load faster. Whether this was loading Adobe Photoshop or a large excel file with complex formulas, it is quite a responsive PCIe NVMe SSD. Given the size of this drive, 960GB, it makes it ideal for gamers or designers who need space and more importantly speed.
Final Thoughts?
With a recommend retail price of $00.00AUD (May 2018), the Kingston A1000 PCIe NVMe SSD gives users almost "out of the world" speeds when compared to traditional hard drives and current SATA SSDs on the market. From our benchmarking and just general Windows user and gaming, we had no issues whatsoever and speed was always a highlight.
Furthermore, this is the future of "hard drives" and Kingston are definitely ahead of the game with this entry-level PCIe NVMe SSD which includes the latest excellent technology, easy installation and should you need support, Kingston offer free technical support. All in all, the Kingston A1000 PCIe NVMe SSD is an affordable and fast drive.
Recommended!