Books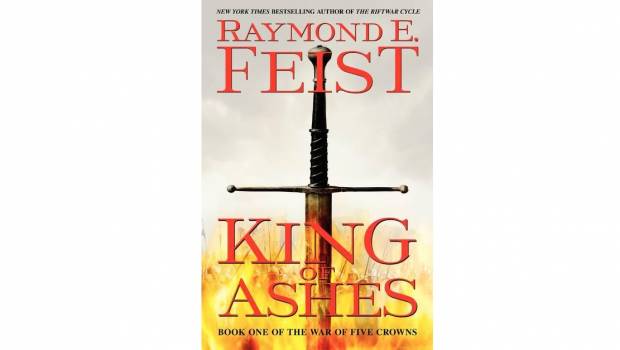 Published on December 19th, 2017 | by Admin
KING OF ASHES | RAYMOND E. FEIST
The master returns. The new novel from internationally bestselling author Raymond E. Feist will be published by Harper Collins in April 2018.
The world of Garn once boasted five great kingdoms, until the King of Ithrace was defeated and every member of his family executed by Lodavico, the ruthless King of Sandura, a man with ambitions to rule the world.
Ithrace's ruling family were the legendary Firemanes, and represented a great danger to the other kings. Now four great kingdoms remain, on the brink of war. But rumour has it that the newborn son of the last king of Ithrace survived, carried off during battle and sequestered by the Quelli Nacosti, a secret society whose members are trained to infiltrate and spy upon the rich and powerful throughout Garn. Terrified that this may be true, and that the child will grow to maturity with bloody revenge in his heart, the four kings have placed a huge bounty on the child's head.
In the small village of Oncon, Declan is apprenticed to a master blacksmith, learning the secrets of producing the mythical king's steel. Oncon is situated in the Covenant, a neutral region lying between two warring kingdoms. Since the Covenant was declared, the region has existed in peace, until violence explodes as slavers descend upon the village to capture young men to press as soldiers for Sandura.<
Raymond E. Feist is one of the world's leading fantasy writers. His Riftwar and Serpentwar Sagas have been global bestsellers for years. Born and raised in Southern California, Raymond E. Feist was educated at the University of California, San Diego, where he graduated with honours in Communication Arts. He is the author of the bestselling and critically acclaimed Riftwar Saga.
Cover to be revealed.
More than 20 million copies of Feist's books have been sold worldwide
All of Feist's backlist titles – 23 of them with HarperCollins – are in print.
Sales of The Magicianremain strong 35 years since it was first published, selling over 10,000 copies in 2016.
Magician's Endhas sold over 21,000 copies in Australia since it was published in 2013.
This brilliant new novel and series will take Feist's huge fan base on a brand new adventure.