Hardware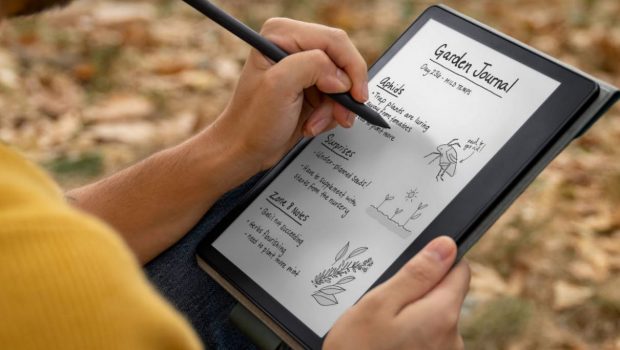 Published on July 13th, 2023 | by Adrian Gunning
Kindle Scribe Review (2023)
Summary: Kindle Scribe makes for the perfect notebook albeit expensive with kindle capabilities
The new Kindle Scribe from Amazon is a clever modern-day accessory for those that not only love to read eBooks but require an e-device that is perfect note taking, writing and drawing… welcome to Kindle Scribe!
For those unaware of Kindle (est. 2007), it provides users with a e-reader that allowed them to access their eBook service, including one off purchases or subscriptions and has access to around 50,000,000+ titles that is mind boggling. So the Kindle Scribe adds to this popular technology by introduced a pen.
If you have used a stylus (or capacitive stylus) pen on a smartdevice or notebook previously, you may have noticed that it doesn't create that pen to paper experience that well, however with the Kindle Scribe, it almost mimics the feel of writing on paper which is a feat in itself.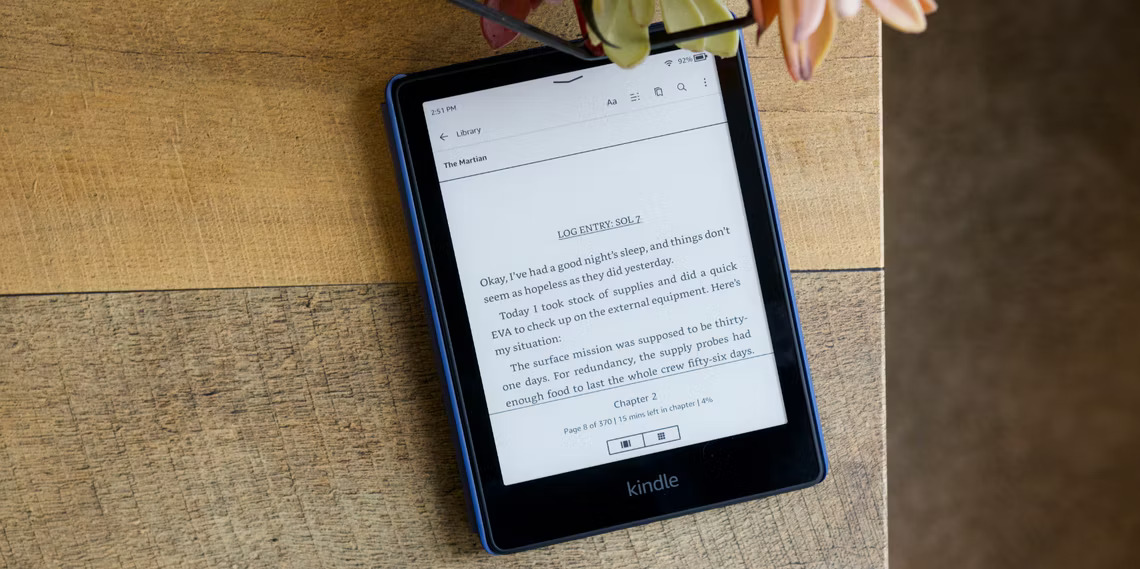 Supporting the user experience is a high quality and generous 10.2" 300ppi (pixels per inch) glare-free paper white display which is not only ideal for reading but through the magic of technology, creates an (almost) authentic writing experience once your brain forgets it is writing on a tablet. The Kindle Scribe is also available in three sizes – 16GB, 32GB and 64GB.
The Kindle Scribe is available in (tungsten) black and as indicated by Amazon, its internal battery can last up to 12-weeks with basic access of 30-minutes of reading per day. Nonetheless, using it religiously on a daily basis still boasts a very impressive battery life and to fully charge a flat Kindle Scribe, it takes just 2.5 hours via USB-C. This makes it perfect travel!
Further, Amazon ensure that the Kindle Scribe comes with everything you need, including an easy to follow setup process that will have your device up and running in no time. The version we reviewed comes with the premium pen (battery free) that has an eraser and shortcut button on it that allows you to swap between different pen types such as a pencil to highlighter. It should be noted that this option is not available on the basic pent.
Another feature of the pen is that it feels like a pen and the weight is well distributed that even creates the writing sound when you write or draw and you can magnetically attaches to the side of the Scribe when not in use. It's definitely one of the better eTablet pens available.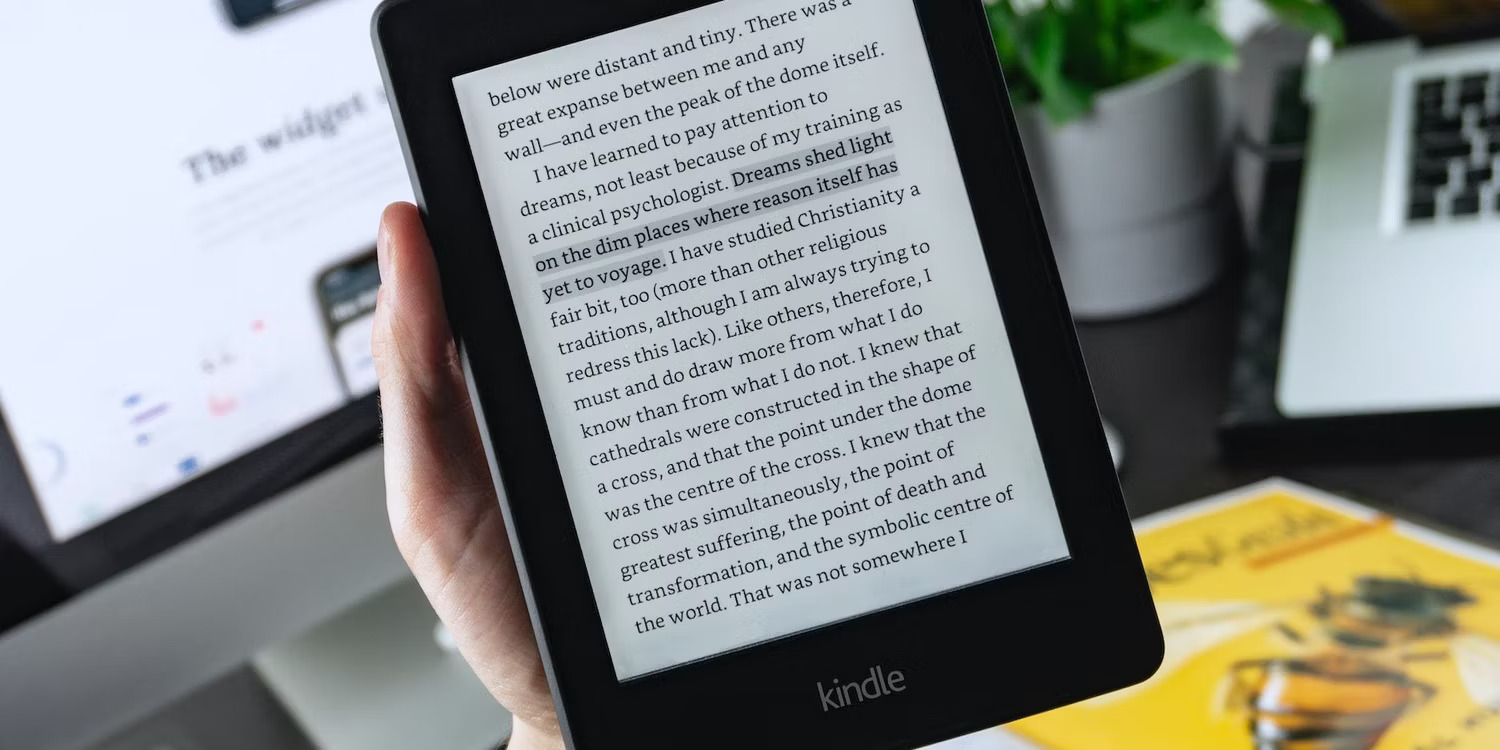 Kindle Scribe Highlights
The power of the pen
The Kindle Scribe comes with a pen that gives you more ways to use your Kindle than ever before.
Add handwritten notes to your books
Create handwritten sticky notes in millions of eBooks from the Kindle Store without cluttering up the page. Simply tap where you want to insert a note on the page to quickly capture that handwritten thought for later. Sticky notes are automatically organised by book, into one place, so you can easily navigate, browse, and export all your in-book notes and highlights.
Streamline your life's notes
Kindle Scribe is also a notebook and a journal with included templates like lined paper, blank paper, to-do lists, and more. Stop searching through stacks of paper—keep notes organised in folders, and search for notebooks by title to quickly reference later. Get access to your notebooks through the Kindle app sync feature.
Make notes in your documents
Easily import and mark-up PDF files or insert sticky notes on Microsoft Word documents and other compatible formats. Send them to your Kindle Scribe through your desktop web browser or via the Kindle app using the "Share" button on your iOS or Android device. Coming early 2023, you will also be able to send documents to Kindle Scribe directly through Microsoft Word.
Read and write in any light
Adjustable warm light and auto-adjusting front light provide a comfortable, personalised reading and writing experience, day or night. And with USB-C charging and a battery life that lasts weeks, you can immerse yourself in your content without the worry of finding a power outlet.
The Setup
Like other Kindle products, the Scribe is a well-designed piece of technology that has a power button and USB-C port in the side in its sturdy aluminium housing. There is also a bezel surrounding the screen and in terms of weight, it weighs 433 grams which is a considerable difference compared to the small 6" Kindle released last year that is 158 grams. However the scribe is larger (196 x 230 x 5.8mm) and does more but even so, it is still comfortable to hold with its weight carefully distributed.
Once linked to our network, the first thing that I noticed about the new Kindle Scribe was its display. Not only is it a large e-ink display but the quality is quite impressive thanks to its 1860 x 2480 resolution at 300ppi. This boasts exceptionally sharp text, although images are grey scale. So whether I was accessing eBooks, PDF or word documents, it definitely mirrors real-world print and can easily be read in a variety of different lighting conditions. The screen also adjusts to the brightness in the room, including switching into a night mode.
If you are familiar with other Kindle devices, the user interface (UI) is very similar with a few additional tweaks to the Scribe due to the ability of directly adding notes or using the sticky notes for file types that don't have this feature. This means accessing eBooks, PDF's or just a plain notebook is a breeze for the end-user and of course the ability to change digital pen types is great. Reading or writing is also available in both landscape and portrait modes.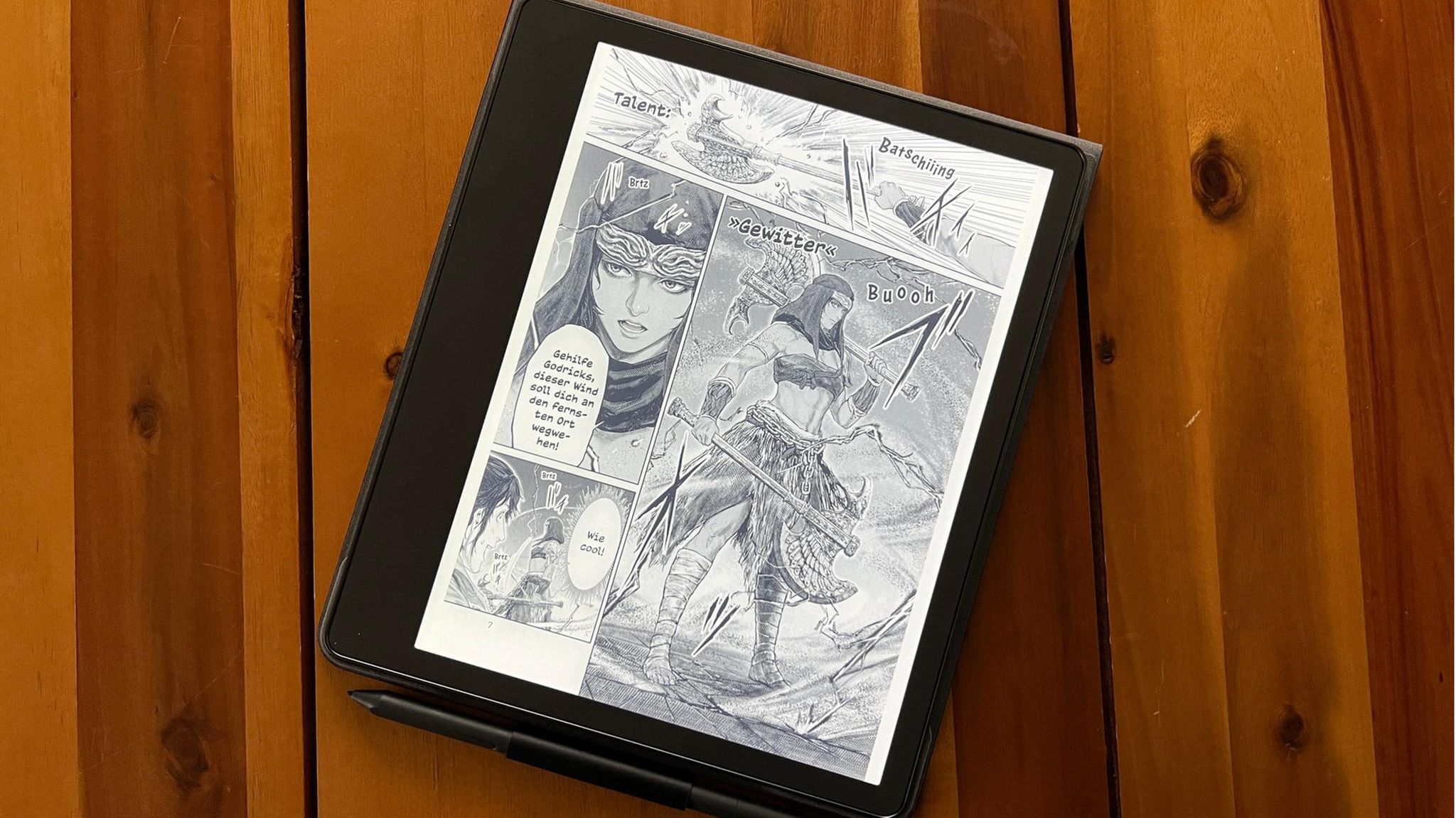 What about comics? It is possible on the Kindle Scribe, however it does make me yearn for a colour Kindle Scribe that would be phenomenal! While mainstream comics work a treat, Japanese Manga is the clear winner here in terms of its traditional black and white print media. While I digress, supporting the high quality e-ink display is the ability to create excellent drawings, sketches or notes that again mimics that real-world pen and paper feel. Speaking of drawing or writing for that matter, the Scribe and its premium pen creates a very real-world like experience.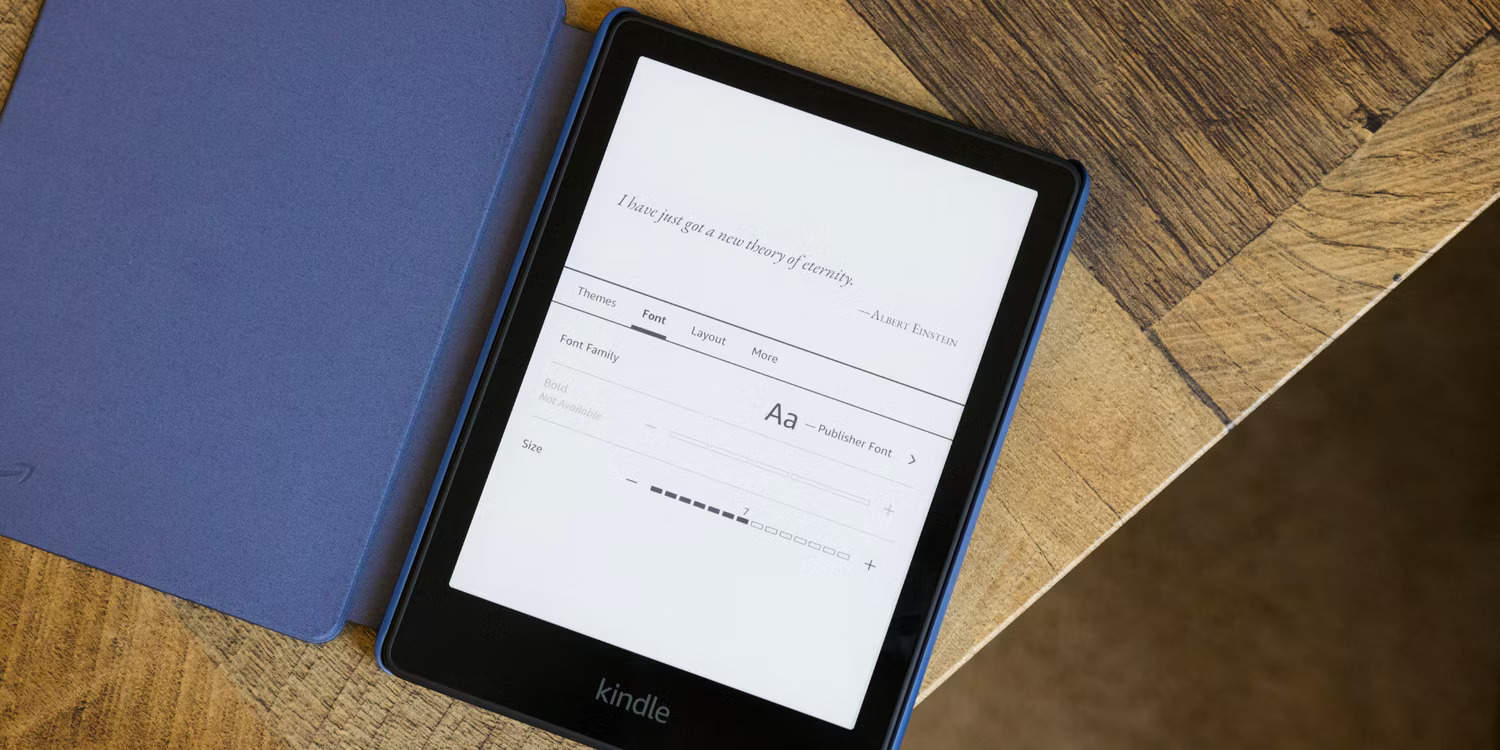 Adding to the user experience is the ability to add sticky notes to eBooks or direct notes to PDF's for example. However note taking on the Kindle Scribe is more restricted than the reMarkable 2 that offers more flexibility, control and export options, including converting hand written text to digital text. Sending files to the Kindle is quite easy and while you can manually do this by side loading the file once connected to your PC, you can also e-mail or send them via the Amazon website that then loads remotely onto the scribe.
When you are writing, the screen is super responsive to the pen with no delay whatsoever plus the screen is pressure sensitive that changes the thickness of the text. To keep the writing experience clutter free, there is a toolbar that can be expanded or minimise which allows you to choose between different pen types (e.g. pen, pencil), including a very handy undo and redo button. There's also plenty of different "paper" templates to choose from such as traditional lined-paper to planners and even sheet music.
iPad vs Kindle Scribe? While the iPad is basically a notebook in terms of functionality with a colour screen, the writing experience doesn't come close to what the Kindle Scribe offers. Additionally, the Kindle Scribe targets your inner creative muse, especially those that like to read. So if you want to keep e-distractions to an absolute minimum that has a considerable larger battery life, then the Kindle Scribe is the winner in that regard.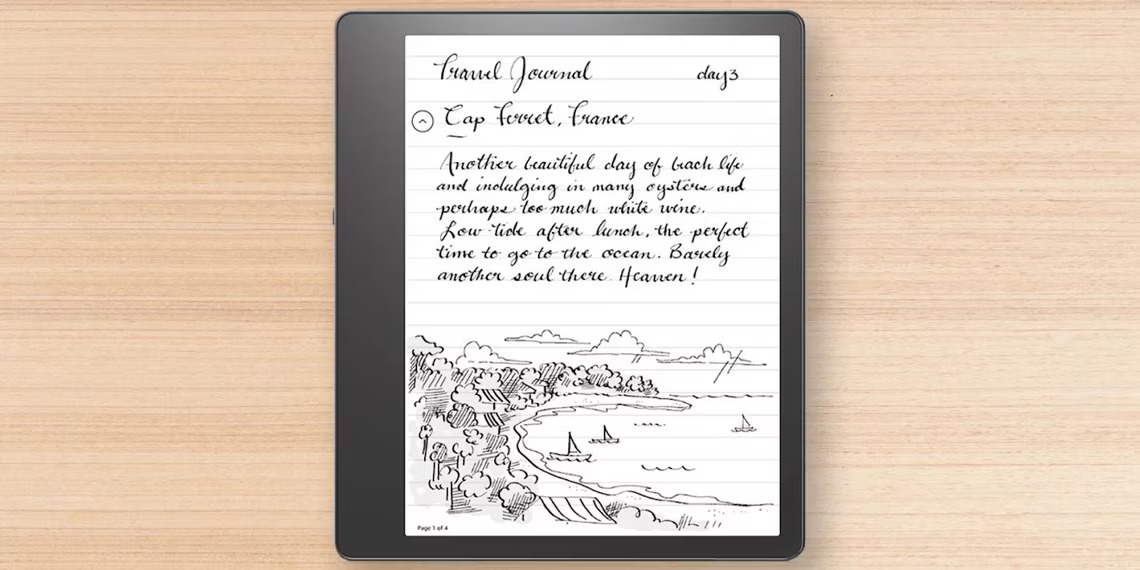 Final Thoughts?
Amazon is off to a good start with the Kindle Scribe and because one of the world's largest companies is behind this device, they are always updating it to make the user-experience even better. While sending files to the device, syncing with other cloud supports and platforms is a little rough or lacking, rest assured that Amazon are working to improve these slight shortfalls. However at the end of the day, the Kindle Scribe is ideal for those wanting less e-distractions in their lives and want the dual ability of reading, taking notes, illustrating and specific annotations.
Kindle Scribe specifications
Screen: 10.2 inch Paperwhite display.
Resolution: 300ppi.
Dimensions: 196 x 230 x 5.8mm.
Weight: 433 grams (stylus weight is an additional 14 grams).
Storage: 16GB (32GB and 64GB options available).
Connectivity: WiFi 802.11 ac/b/g/n supports 2.4 GHz and 5.0GHz. Security support for WEP, WPA, WPA2 and 3 using password authentication. Does not support connecting to ad-hoc (or Peer to Peer) Wi-Fi Networks. USB-C.
Button: Power on/off.
Type: 12 fonts and 50 font sizes.
Processor: 1GHz MediaTek MT8113
Battery performance: Up to 12 weeks' reading on a single charge, with a full charge taking approximately seven hours when connected to a laptop and less than three hours when connected to a 9W USB-C power adapter.
Supported file formats: Kindle Format 8 (AZW3), Kindle (AZW), TXT, PDF, unprotected MOBI, PRC natively; PDF, DOCX, DOC, HTML, EPUB, TXT, RTF, JPEG, GIF, PNG, BMP through conversion.
Languages: English, French, German, Spanish, Italian, Catalan, Portuguese, Dutch, Danish, Swedish, Finnish, Norwegian, Turkish, Japanese, Traditional Chinese.
Content: Instant, 24/7 access to Amazon's eBookstore with millions of titles.
Warranty: One-year limited warranty and guaranteed software security updates until at least four years after the device is last available for purchas