Comics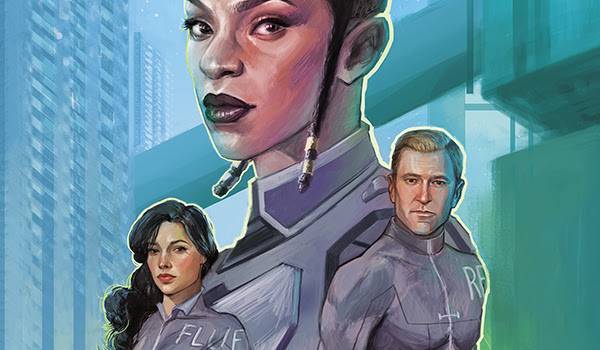 Published on April 20th, 2020 | by Sandro Falce
Killswitch Volume 1 Review
Summary: With a brisk pace and some interesting concepts, Killswitch has a lot to offer, however it all just feels a bit familiar.
Killswitch: Volume 1 collects the first 4 issues of Action Lab's sci-fi action series from writing team Jeffery and Susan Bridges, and features art from Walter Geovani (Red Sonja).
Set in a dark future, we're introduced to a world where clairvoyants, nicknamed Augurs, are hunted and experimented with by the government. When Major Regula visits the facility and sees how they are treated, she has to decide between helping them plan a daring escape or keeping this program running.
This title paints a very interesting future and you can tell the writing team are avid sci-fi fans. It's a story that feels important to them and I'm glad that they're getting it out in front of more people.
The art, as well, is brilliant. Not only are the character designs pretty much flawless, but the world itself is very well realised. Whether it be the darker sequences inside the facility or when you're outside in the city, the art is extremly polished.
The action is also incredibly impressive as well as shockingly brutal. I wasn't expecting this level of violence in a book like this, but it was a welcome surprise. It takes a while to kick in, but the 2nd and 3rd issues both feature some very fast-paced, high intensity action.
However, it's in the quieter character moments where I think this title falters. The dialogue is quite messy. Sometimes a character will say something that sounds like a queue for someone to reply, yet in the next panel the conversation has completely changed. There are moments where this sudden change happens for locations as well, and the reader is left not quite knowing exactly what happened. This style of storytelling can work sometimes, yet here it feels quite disorintating.
While I appriciate how fast paced this book is, I feel like this approach hurt the characters quite a bit. However it made for some pretty awesome action sequences, so I think a nice balance should be found if there are any future issues. Outside of that, there's some fun and intriguing ideas here that any fan of sci-fi will enjoy!
Killswitch: Volume 1 is out later this week!
Preview