Blu-ray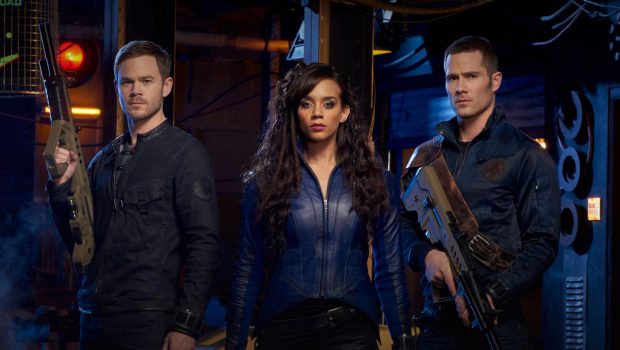 Published on May 23rd, 2016 | by admin
Killjoys: Season 1 – July 7, 2016
Universal Sony Pictures Home Entertainment is releasing Killjoys: Season 1 – available on Digital now and on Blu-ray and DVD from July 7, 2016.
From the producers of Orphan Black and the creator of Lost Girl comes Killjoys. Starring Aaron Ashmore (Smallville, Warehouse 13), Luke Macfarlane (Brothers & Sisters, Kinsey) and newcomer Hannah John-Kamen (Star Wars: Episode VII – The Force Awakens, Game of Thrones), Killjoys is a thrilling, sci-fi adventure in the vein of Firefly and Guardians of the Galaxy.
The series follows a fun-loving, hard-living trio of interplanetary bounty hunters sworn to remain impartial as they chase deadly warrants around the Quad, a system of planets on the brink of revolution. A motley crew that always has each other's backs, until a dark secret threatens to tear apart their trio for good.
Leading the team is Dutch (John-Kamen), a gorgeous, former assassin with a complicated past. Joining her; her loyal partner John (Ashmore), a witty, technical wizard with a vulnerable heart; and his estranged brother D'avin (Macfarlane), an elite soldier with an expertise in combat tactics. Together, these three Killjoys form a highly accomplished bounty hunter team, each with distinct and valuable specialties to offer as they navigate the culturally rich, politically complex and economically polarised worlds of the Quad.
Follow their adventures and discover their secrets with all 10 episodes back-to-back and uninterrupted.