PC Games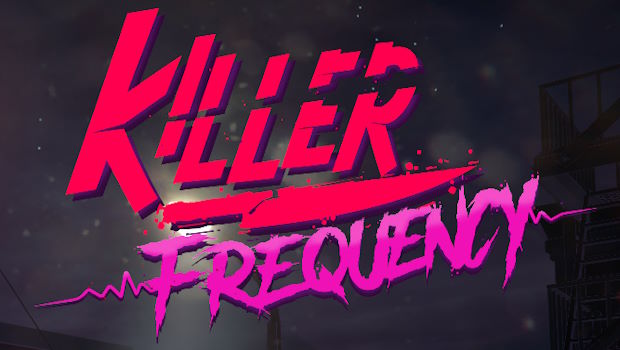 Published on July 14th, 2023 | by Chris O'Connor
Killer Frequency PC Review
Summary: Former big city radio DJ Forrest Nash is working the graveyard shift in small town Gallows Creek's radio station when things turn dark and the whole town will want to listen in to stay safe.
1987, a radio station in small town Gallows Creek, USA, former big city radio DJ Forrest Nash is about to start the graveyard shift… for some that name will be all to literal!
Killer Frequency is a horror comedy… so if you are worried if this might be too frightening for you… think Nightmare on Elm street rather than Saw or anything more graphic. Speaking of graphic… the game has an almost graphic novel feel to it thanks to the use of bold outlines around objects… making it feel like it would translate to a comic quite well… visually at least. That might help take some of the edge of what can sometimes be a bit of a tense experience.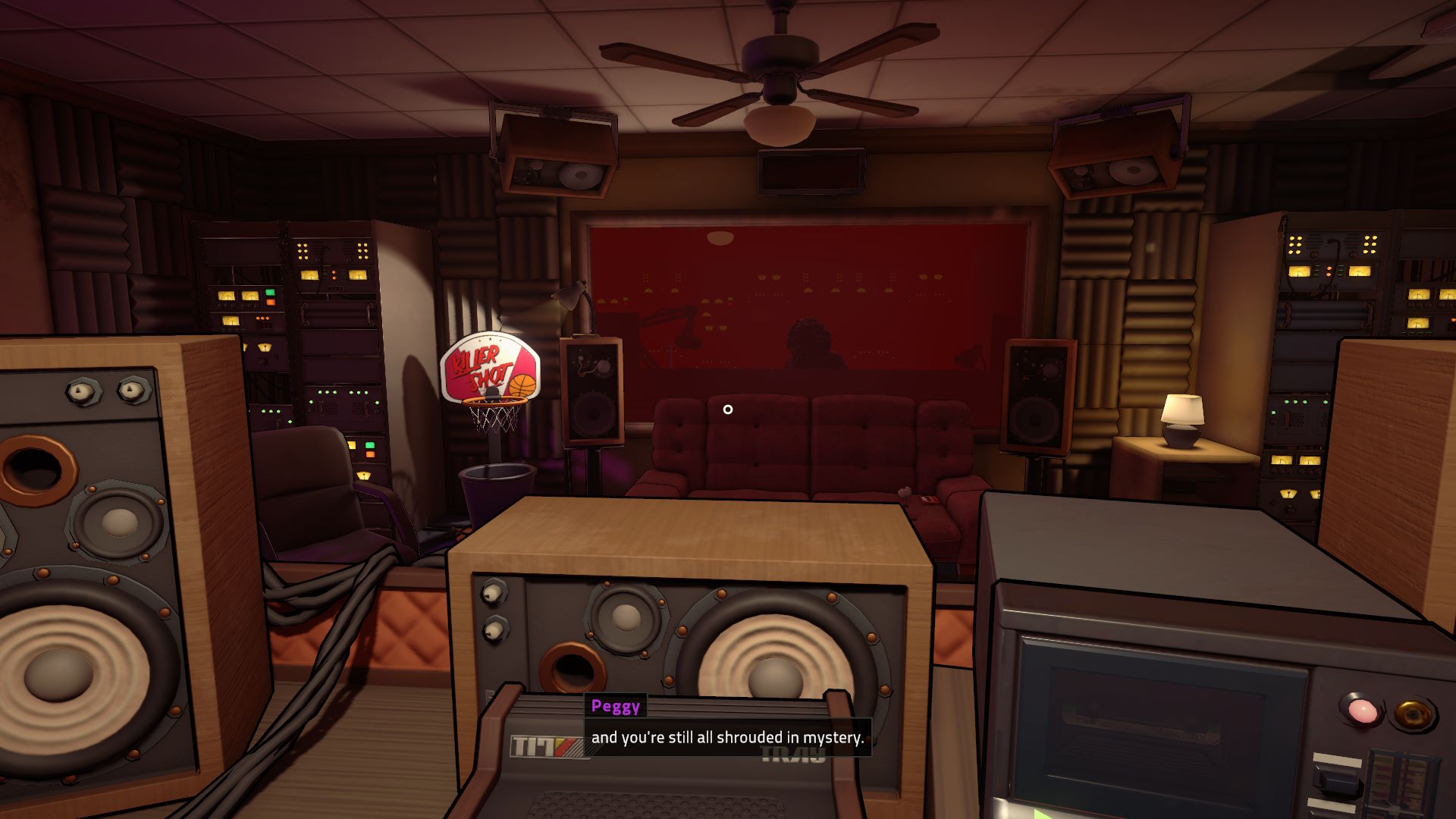 Things start simply enough with radio banter… a few songs, ongoing attempts at free on air promotion… but then things take a turn. The local police station experiences a horrible event that requires emergency calls to be routed to the radio station. What was going to be a simple graveyard shift becomes a case of potential life and death… and you are going to be the one with people's lives in your hands.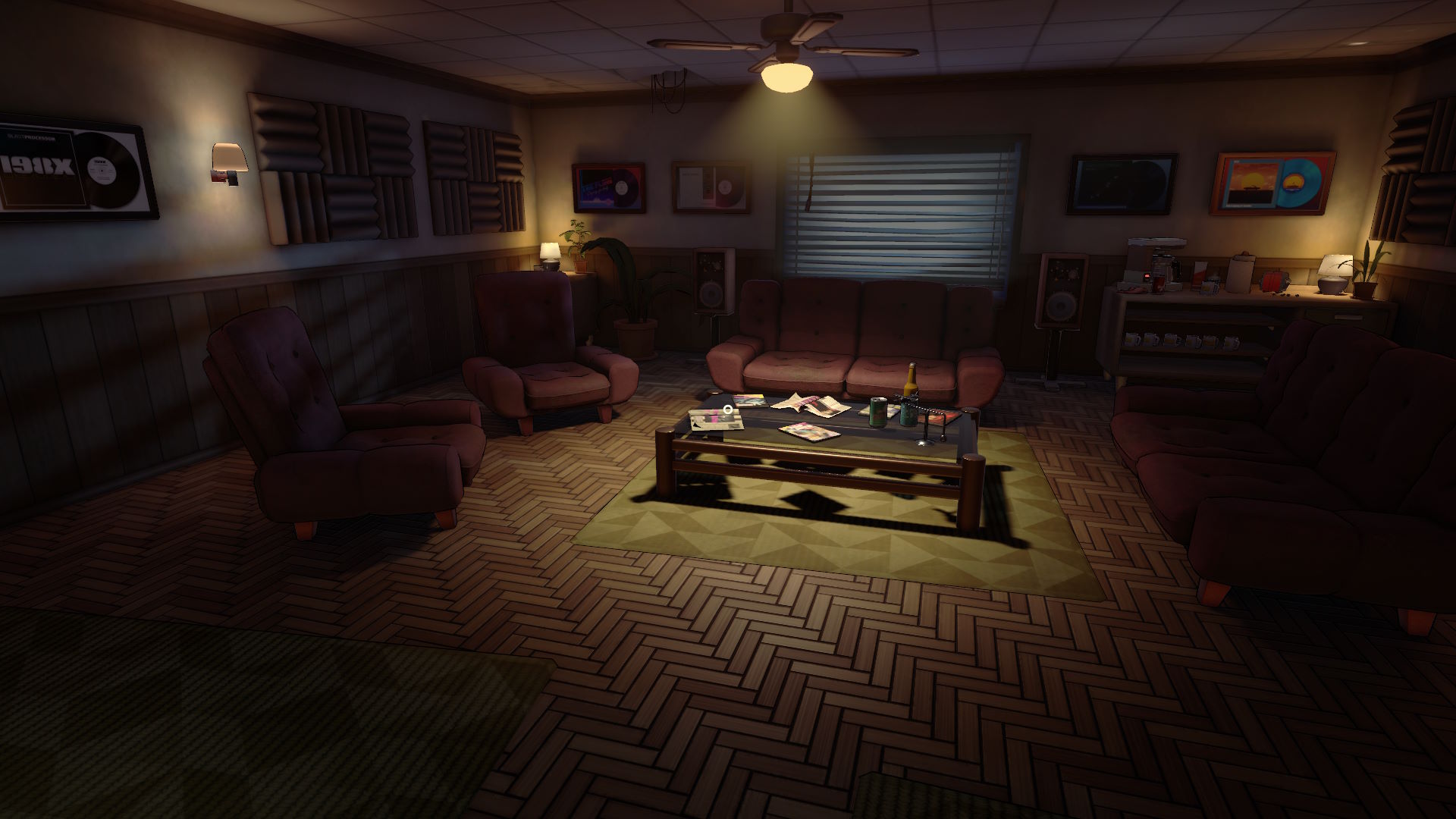 As the game goes on, you receive calls from people who fear they are the next target of the deranged killer and it's your job to get enough information from them to find out where they are and or what they have available that might help them escape the killers grasp. Your producer is with you to lend a hand and give advice, but you will need to search the studio high and low to figure out the best way to keep your listeners alive all whilst continuing to play music and perform all the other jobs of a radio DJ.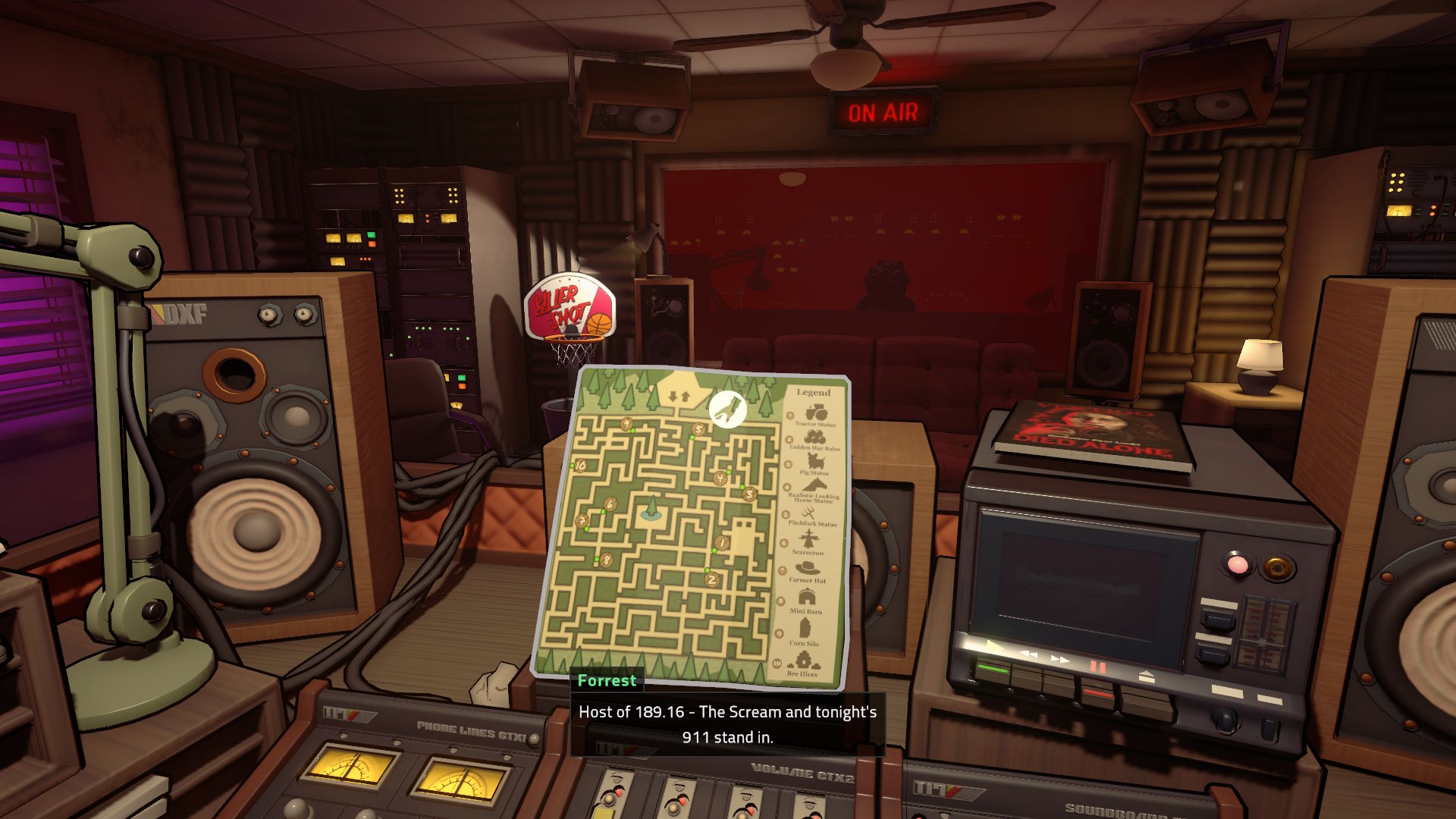 The one issue I did have with the game was perhaps somewhat ironic given the game is essentially thematically ensconced in sound… was with volume levels. As the DJ you have access to a cassette deck, record player and a sound board along with volume sliders for these. I don't know if I somehow changed a setting somewhere or if there was some other issue on my end… but when I returned to a game the day after I had started playing… the volume sliders didn't seem to work properly. The main conversations were at an ok level… but the sound board effects were barely audible and music and ads seemed soft also… despite sliding the volumes up and down. I'm willing to put this down to a glitch… but it was a little frustrating because after a while you do get a bit sick of the nuisance caller and a way to vent is to go to town on the sound board… but when you can't really hear it, it's not so much fun.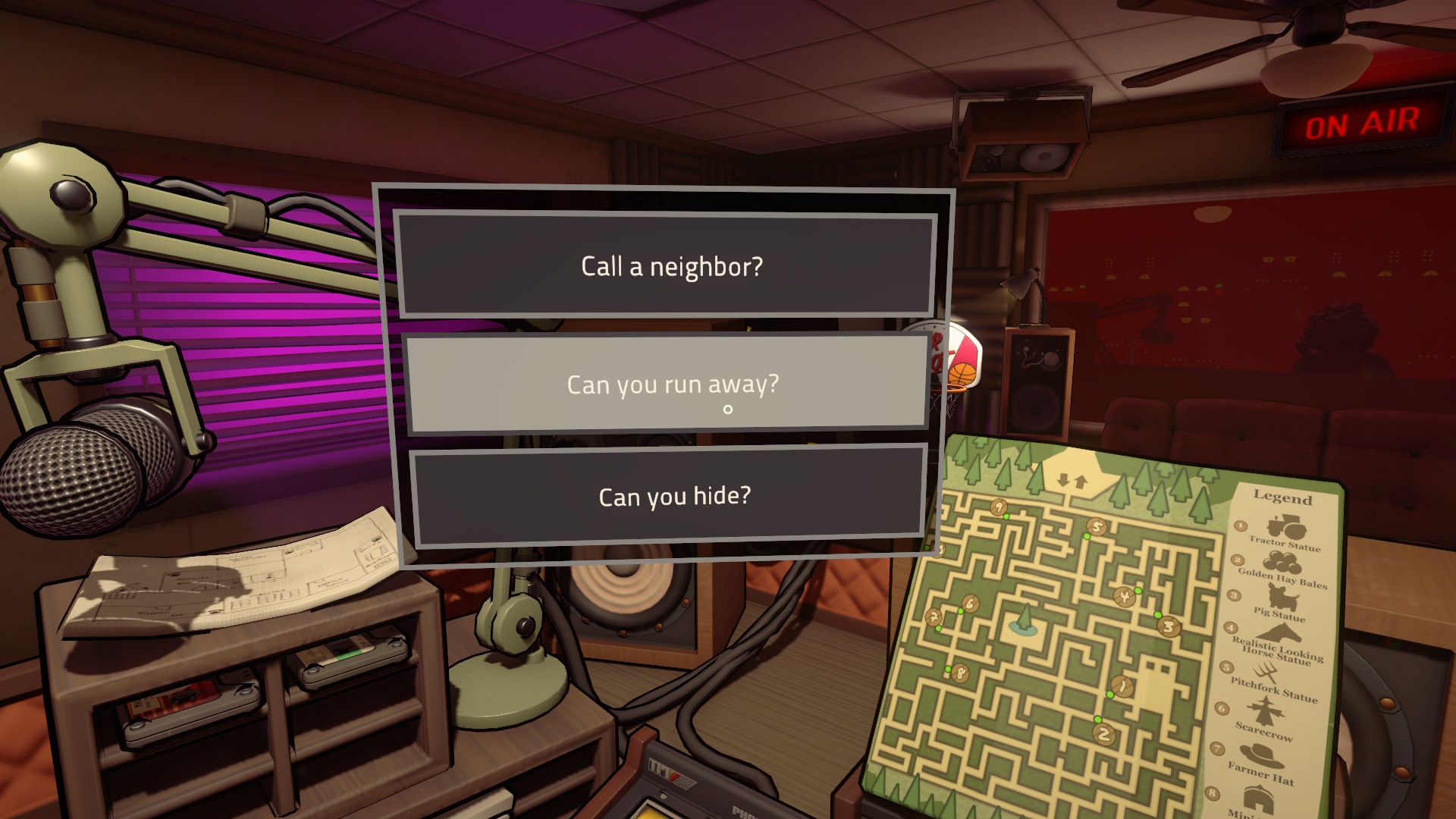 But the core game is a lot of fun! Figuring out what you have at your disposal to help the callers isn't too hard… but it does give you a chance to look around the station a bit more… it also starts to feel a bit more threatening when you have to venture further from your booth. What seemed like just listeners being in danger soon starts to feel closer and closer.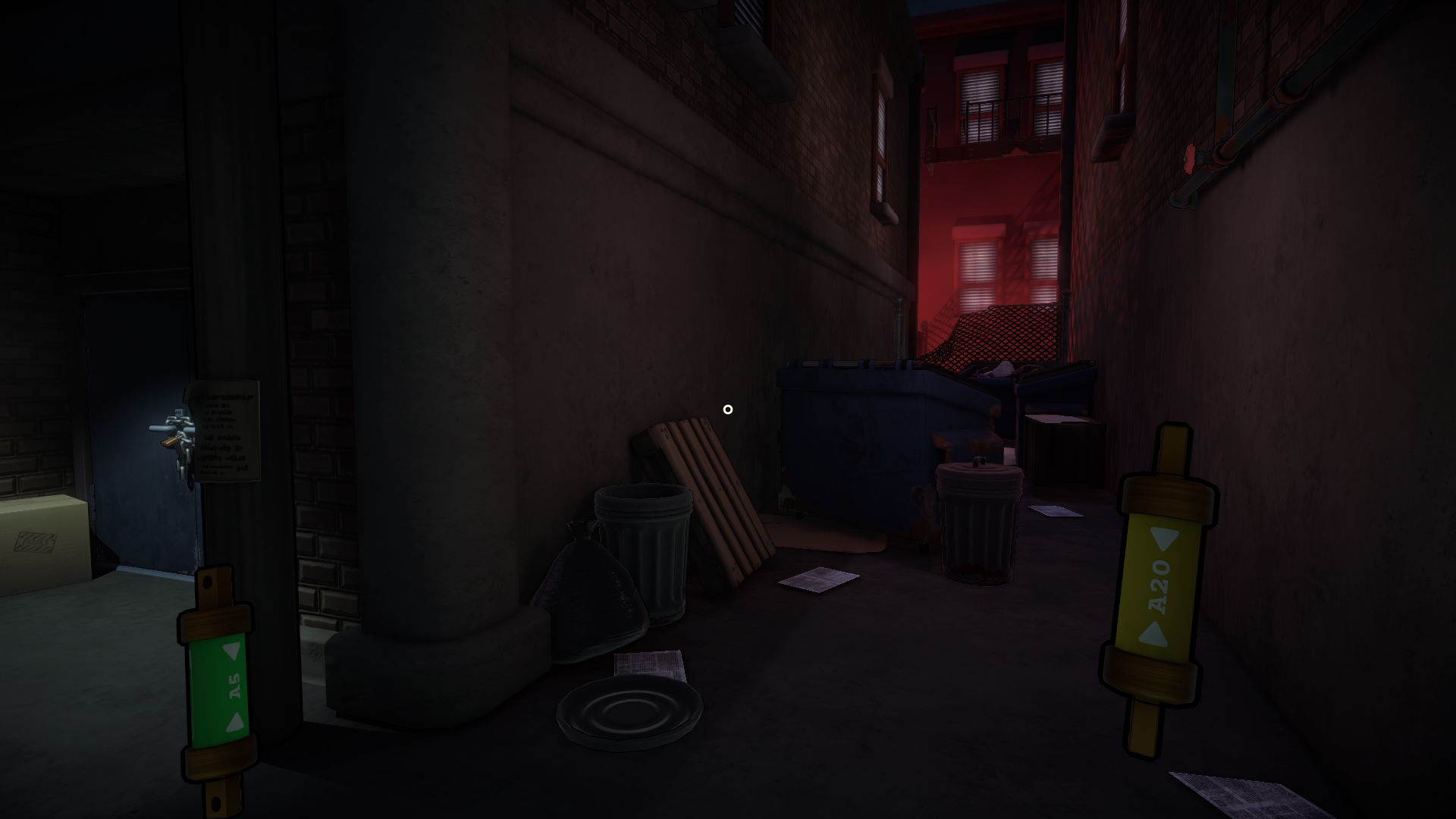 Final Thoughts?
Would I recommend Killer Frequency? Yep… even if you aren't really a horror fan (like me)… this isn't really the adrenaline pumping stuff… it's far more the "horror comedy" style and those semi cartoon style visuals do help take some of the edge off the tension. It's not a bad price but replay value isn't super high (unless you want to mess with the callers and find out what their fate is like if you choose different options). A fun game with an interesting style, grab it if you like your puzzle solving with some retro radio vibes.